You can make the argument that Joe Torre won't make the Dodgers a whole lot better in 2008, that his influence, even in the rosiest of scenarios, won't mean more than a handful of wins. It's a perfectly good baseball argument. It's almost certainly true.
The only trouble is it doesn't matter.
Not here. Not in Los Angeles.
What matters here and now is that Joe Torre is the freakin' manager of the Los Angeles Dodgers. The same Joe Torre who led the Yankees to 12 straight playoff appearances and won four World Series rings, the same Joe Torre who just got up out of Letterman's chair. He's the new headman in charge.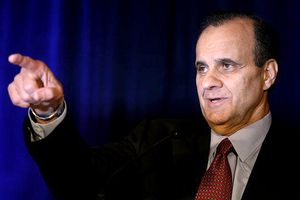 Michael Nagle/Getty Images
Torre brings a cache to the Dodgers they haven't experienced in almost two decades.
There's no analytic to assess the impact of this. It isn't a move measured in runs or even wins. It's an emotional event. It's a bolt, a shot of adrenaline, to a flatlined franchise. It's the first truly significant, truly resonant Dodgers event since Kirk Gibson wristed an Eckersley backdoor slider over the right-field wall. It's reason to have hope and pride if you're one of the Dodgers' faithful, and reason to pay attention and pay respect even if you're not.
The man Torre is replacing was most famous for leaving Pedro Martinez in too long in a crucial playoff game for the Red Sox. The Dodgers' manager before him was best known for squabbling with the team's young-gun general manager. The Dodgers had some success on the field (not enough), but the impact of Grady Little and Jim Tracy on the public perception of the team, on the local feel for the Dodgers, was negligible at best.
Feel matters. As Roger Angell points out in this week's New Yorker, in addition to a boatload of wins and a fistful of rings, Torre has "presence," an undeniable and enduring "touch of class." He comes to Los Angeles hungry, looking to prove something to himself, to the Chavez Ravine faithful, and to the Hank Who Would Be Steinbrenner back in New York. He comes to Los Angeles vetted as a leader by every player not named Sheffield who ever played for him. But most important of all, he comes to Los Angeles with an aura, as an embodiment of unflappable, battle-forged confidence. He comes to the city and the franchise with the one thing for which there is no shortcut in sports: cachet. A younger manager might come with promise. An up-and-comer might bring possibility, even achievement. Torre's got all that and a bag of chips. His bags are packed full of prestige. He's a star. He's a made man. He's someone whose every move bears the anticipatory, unspoken adjective "Hall of Fame manager," someone whose bearing and gravitas make the current commander in chief shrivel up with envy.
Ordinarily, we spend far too much time talking about how a man's intangibles influence, or don't influence, the players on his team, but it's hard to overstate the sway of a man like Torre. Just by wearing Dodger Blue, just by stepping to the microphone in center field at Dodger Stadium on Monday and saying, "Here I am. Let's do this," shifts the tenor of the whole enterprise. It can and will profoundly influence the way this community sees the Dodgers.
This city has been waiting for a move like this, waiting for the Dodgers to make some bold stab at the heart of the city, some gutsy reclamation of the preeminence that was once theirs. The last time they swung so hard for the fences they signed Daryl Strawberry to a five-year, $22 million deal. The Strawberry experiment was, of course, a disaster, and it cast a pall of vulnerability and uncertainty over the franchise that's never really disappeared. Until now. Suddenly the Dodgers, with a pride full of young lions and the game's most accomplished leader of the pack, are relevant. Significant. Important. Interesting.
And now, all of a sudden, the city, the attention of its sports fans, is seriously up for grabs.
Because Torre doesn't arrive in a vacuum, he arrives as part of a gathering storm.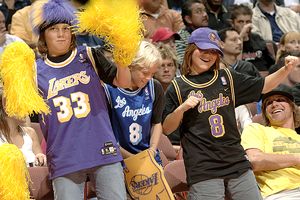 Noah Graham/NBAE/Getty Images
It's time for the Dodgers to replace the Lakers jerseys on the L.A. sports landscape.
Kobe Bryant wants out with the Lakers and Jerry Buss wants to move him. If he goes, even with Phil Jackson still around, the days of the Lakers' dominating the landscape, the days of purple-and-gold flags flying from the window of every third car you see on the Harbor Freeway, are officially over.
USC football, picked by everybody and their brother to go undefeated and win the national championship, their third in the past five seasons, unexpectedly loses to Stanford at home and Oregon on the road, and the next thing you know there are parking spots available at the tailgate.
Meanwhile the Angels, who -- with boastful billboards, a World Series title in 2002, a syntactically tortured name change and one Vladimir Guerrero in their corner -- have argued for a few years now that they've taken Los Angeles away from the Dodgers, are rumored to be gearing up for a big-ticket run at free agent Alex Rodriguez.
If Boston sports fans are living with an embarrassment of riches these days, L.A. sports fans are being treated to something that in its uncertain way is even more dramatic and compelling. We're watching the tides swirl and shift. We're waiting and wondering, unsure of how things will play out.
Once upon a time the Dodgers owned Los Angeles. Then it was the Lakers. And then it was SC. And now, in these strange, tumultuous, entertaining days, everybody's into the pool, everybody's kung fu fighting for our attention and wallets.
Maybe Kobe stays. Maybe the Lakers finally make a move for a second fiddle who can do more than stand and watch while he does his thing. Maybe Andruw Bynum even blows up.
Maybe the Trojans somehow still get to the Rose Bowl, and beat the crap out of Ohio State or Michigan.
Maybe the Angels land A-Rod, and it's game-set-match, Arte Moreno.
Maybe Torre paves the way for Rodriguez to wear blue, and the Dodgers' kids thrive under his leadership.
Maybe Kobe's gone, SC can't right the ship, the Angels sit on their hands like they've done since they signed Guerrero in 2004, and Torre, cachet and all, can't communicate with the kids. Maybe the whole thing's a mess and we all end up Red Sox and Patriots fans.
Everything's a maybe. Everything's a what's-next. That's part of what makes Torre's hiring so fun to watch. Though it's surely not a conscious crosstown throwdown, though it certainly has nothing at all to do with the whines and whims of Kobe, it plays in this environment as if it does, it plays as if it were a shot across the bow, a herald announcing, like Nuke LaLoosh, the Dodgers' presence with authority.
Beyond rooting interests, we're fascinated by sports because we don't know the outcome of games, because we get to watch the drama of their resolutions unfold, but it's more than that. What really draws us in is the prospect of athletes' proving themselves, rising up or shrinking, seizing a moment or getting kicked in the teeth by it. What really draws us in is when things are up for grabs and we get a chance to see who reaches for them and how.
From Torre's arrival to Kobe's possible departure to the A-Rod sweepstakes, L.A. is at the center of the up-for-grabs universe right now. There's chaos, but there's potential, too. The field is ripe for rises and falls. The stage is set for some team to prove itself.
There's nowhere I'd rather be.
Eric Neel is a columnist for Page 2. You can reach him here.