Dear Shaq,
If you're serious about this -- if you're for real -- then you better run. You better find it in you -- somewhere, somehow, some way -- to get up and down.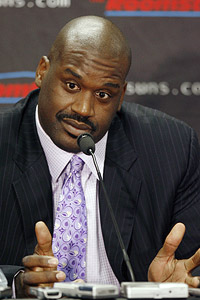 AP Photo/Ross D. Franklin
Hey Shaq, please don't screw up the Suns!
I don't want to hear about the feet, the knees, or the hips. And don't talk to me about your touches, either. Just move. Just keep it moving.
Grab the board, look for the outlet, and head on up. Make like you're Bill Walton, circa '77. Make like you're you, circa '95. Because this isn't just any team hungry for a ring that you're a part of now. (Though, of course, they are that.) This is the Phoenix Suns, practitioners of the elevated game, the game as God and the prelapsarian Pat Riley intended it.
The Mike D'Antoni Suns haven't been an NBA team so much as they've been an idea, an enlightenment principle. For years we were stuck in the muscle-bound, slow-it-down muck -- until the Suns showed us the light, showed us the game could be fun again. They made us believe. They made us want to watch. Don't take that away from us, big fella.
Don't walk it up. Don't back it down. Don't turn back the clock. Get some warm-hand Miyagi magic on those aching joints of yours, if you have to. Do whatever it takes.
Just don't be the Shaq we've seen in Miami of late. Don't even be the turn-of-the-century Shaq from L.A. Be some new thing, Daddy. Something you've never been before, some true and loyal Sun. It hangs on you. Not the title (that's almost beside the point). The future. The heart and soul of the game.
If you go slow, and force the Phoenix offense into one seven-seconds-plus set after another on the way toward the playoffs, all we're going to hear about is how the Suns' old approach was a kick, but it wasn't a legit way to compete for a championship. If you plod and plant, and they actually win this thing, yeah, you'll move the Suns ahead to a place they've never been before. But you'll also help move the game back to a place it should keep in its rearview mirror.
They -- and I'm talking about the dyed-in-the-wool Chuck Barkleys of the world, the keepers of some ancient truth whose only truth is that it's ancient -- want us to believe that the Suns' system is somehow deficient. They want us to think it's flawed, not worthy of the trophy. They want us to forget that, if it weren't for David Stern's hyper-constructionist interpretation of the rules last summer, the Suns might well be working on title No. 2 this season.
Prove them wrong, Shaq. Be more by being less -- by being a cog in a system, rather than the center of a new plan. Run man -- even if it hurts, and even if it hurts us to watch you. It's our only hope …
Sincerely yours,
Eric
Eric Neel is a columnist for Page 2. You can reach him here.