'Tis the season for complaining about the BCS … and an easy place to start is the USA Today coaches' poll.
The coaches' poll has the potential to contain much greater bias than the other major human polls -- Associated Press and Harris -- because the voters have a financial stake in the results. The AP told the BCS to stop using its poll in the BCS formula in December 2004, after which the BCS then commissioned Harris Interactive Inc. to conduct a replacement poll. Like the coaches' poll, Harris, which is voted on primarily by former coaches and players, comprises one-third of the BCS standings formula. (The other one-third share consists of an average of six other pollsters: Richard Billingsley, Wes Colley, Kenneth Massey, Jeff Sagarin, Peter Wolfe and the duo of Jeff Anderson and Chris Hester, who compile the Seattle Times poll.
It's also a poorly kept secret that many coaches don't actually fill out their own ballots. That task often falls to the sports information staff. Maybe that's not a bad idea, actually, since most coaches see only two games per week -- theirs and their next opponent's. Regardless, the inherent conflict of interest is nearly impossible to deny. Voters often try to pump up the rankings of teams they have played, subsequently boosting their own strength of schedule.
Interestingly, no fewer than 10 of the 61 voters (16.4 percent) submitted their final ballots as lame ducks. Eastern Michigan's Jeff Genyk, Wyoming's Joe Glenn, New Mexico State's Hal Mumme and Washington's Tyrone Willingham were fired. Auburn's Tommy Tuberville was either fired or left on his own accord, depending on whether you believe the school or the coach's mother. Purdue's Joe Tiller retired. Mississippi State's Sylvester Croom and New Mexico's Rocky Long resigned in recent weeks. Clemson's Tommy Bowden resigned way back on Oct. 13 … and Tennessee's Phillip Fulmer was persuaded to step down by the school.
This week, USA Today listed the full ballots for all 61 voters in its final coaches' poll of 2008, so Page 2 decided to take a closer look at five of the most interesting ballots:
Asterisks denote a team in that coach's conference.
Mike Leach, Texas Tech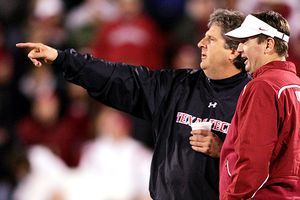 Tim Heitman/US Presswire
"Hey Bob, wouldn't it be funny to vote Texas No. 5?!"
1. Oklahoma*
2. Texas Tech*
3. Florida
4. Alabama
5. Texas*
6. USC
7. Penn State
8. Utah
9. Ohio State
10. Boise State
Full disclosure: Leach served as offensive coordinator at Oklahoma under Bob Stoops in 1999. Leach's former boss, Hal Mumme, is the only other voter to place the Red Raiders higher than No. 6.
Todd Dodge, North Texas

1. Texas
2. Oklahoma
3. Florida
4. Alabama
5. USC
6. Penn State
7. Utah
8. Boise State
9. Texas Tech
10. Ohio State
Full disclosure: Dodge played quarterback for Texas from 1982 to 1985.
Hal Mumme, New Mexico State

1. Oklahoma
2. Florida
3. Texas Tech
4. Texas
5. Alabama
6. USC
7. Penn State
8. Boise State*
9. Utah
10. Ohio State
Full disclosure: Leach served as Mumme's offensive coordinator at Valdosta State and Kentucky. Mumme was fired by NMSU on Dec. 2 with one year left on his contract.
Gene Chizik, Iowa State

1. Texas*
2. Oklahoma*
3. Florida
4. USC
5. Alabama
6. Texas Tech*
7. Utah
8. Penn State
9. Boise State
10. Ohio State
Full disclosure: Chizik served as co-defensive coordinator at Texas under Mack Brown for the 2005 and '06 seasons and graduated from Florida.
Rick Neuheisel, UCLA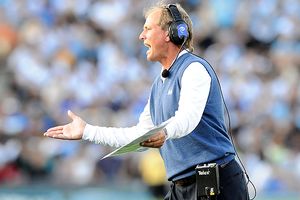 Lisa Blumenfeld/Getty Images
Dubious sources report Rick Neuheisel has supported Texas ever since T.J. Ford led the Longhorns to the 2003 Final Four.
1. Texas
2. Florida
3. USC*
4. Oklahoma
5. Alabama
6. Penn State
7. Texas Tech
8. Utah
9. Ohio State
10. Boise State
Full disclosure: Neuheisel also ranked Pac-10 foes Oregon at No. 11 and Oregon State at No. 17. The Ducks finished No. 13 overall in the final coaches' poll, and the Beavers finished No. 25. Neuheisel went 2-0 against both Oklahoma and Texas as coach of Colorado from 1995 to 198. As coach of Washington from 1999 to 2002, he lost to Texas in the 2001 Holiday Bowl and didn't play Oklahoma.
Other notes of interest

• Rutgers coach Greg Schiano, a former Penn State assistant, voted the Nittany Lions No. 4. The only other coach to rank the Lions that high was from the Big Ten, Wisconsin's Bret Bielema.
• Florida's Urban Meyer is the only coach to have voted his own team No. 1. Meyer also voted Mississippi No. 12. Ole Miss, which handed the Gators their only defeat, finished No. 24 overall in the final coaches' poll. Texas' Mack Brown voted his team No. 2, behind the Gators. Oklahoma's Bob Stoops doesn't vote in the poll.
• Of the seven SEC coaches with a vote, South Carolina's Steve Spurrier was the only one not to vote Florida No. 1. He ranked Oklahoma and one of his former assistants, Stoops, No. 1. The six who did rank the Gators No. 1 were Croom, Fulmer, Meyer, Tuberville, Georgia's Mark Richt and LSU's Les Miles. Richt was the only one of the group to vote another SEC team, Alabama, at No. 2.
• Spurrier wasn't the only former Florida head coach to not vote the Gators No. 1. Illinois' Ron Zook also ranked Oklahoma ahead of Florida.
• Baylor's Art Briles, a former Texas Tech assistant under Leach, actually voted Texas one spot higher than the Red Raiders.
• Briles, Leach, Michigan State's Mark Dantonio and Rutgers' Greg Schiano gave Texas its lowest rankings, at No. 5.
• Neuheisel was the only coach to rank Oklahoma outside the top three.
• Only eight coaches ranked Florida outside the top two: Chizik, Dodge, Leach, Colorado's Dan Hawkins, Nebraska's Bo Pelini, Missouri's Gary Pinkel, UTEP's Mike Price and Ohio State's Jim Tressel. All eight placed the Gators at No. 3.
• Only one voter ranked Utah lower than No. 9. Only one voter ranked Boise State lower than No. 11. It was the same guy -- Pinkel. He had Utah at No. 15 and Boise State at No. 16. Pinkel ranked Missouri No. 18, which is five spots higher than it finished overall.
• Only one of the five voters who placed Boise State ahead of Utah is from outside the WAC -- Florida State's Bobby Bowden. The others are Mumme, Fresno State's Pat Hill, Boise State's Chris Petersen and San Jose State's Dick Tomey.
• Hill gave Boise State its highest vote, at No. 6. Petersen voted his team seventh.
• Three voters placed Utah as high as No. 5: Utah coach Kyle Whittingham, former Utah coach Meyer and a fellow Mountain West coach, Wyoming's Joe Glenn.
Thomas Neumann is an editor for Page 2. You can contact him here.