Commentary
Page 2 goes offbeat with Tim Brown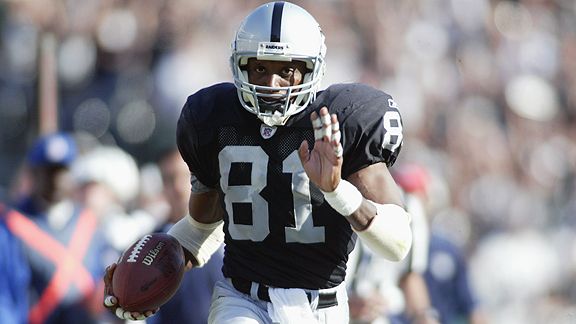 Jed Jacobsohn/Getty ImagesAfter 1,094 receptions and 105 all-purpose touchdowns, Tim Brown's final route likely ends in Canton.
One of the advantages of working at ESPN is the access we have to sources.
Sometimes they can be procured right here on our Bristol campus. Take this example. We recently spotted football legend Tim Brown in one of the hallways here at the Worldwide Leader. Brown, of course, was the 1987 Heisman Trophy winner at Notre Dame and a nine-time Pro Bowler with the Raiders who ranks fourth in NFL history in receptions and receiving yards.
Brandishing a notepad, we accosted the surefire future Pro Football Hall of Famer and pretended to be someone important. Despite undoubtedly being tempted to notify security, Brown was kind enough to answer our offbeat questions. Here's what transpired:
Page 2: If you could change one thing about the world, what would it be?
Brown: I really think we could all be a lot more kind to each other. You see people be kind to each other for a reason, but there's not true love behind their actions. It's because, "This guy's my boss," or "I wanna get with this girl." There's something to be gotten out of it, and if you're going to be a true Christian, like I am, then you have to try to be nice to everybody. It's a difficult thing to do, but the one thing I teach my kids: "It doesn't matter who you're dealing with, you have to be kind to them."
What cause is most important to you?
Right now, I'm working diligently on childhood obesity and trying to help prevent that. We've teamed up with youth sports organizations all around the country, trying to change their fundraising habits. A lot of these organizations fundraise by selling cookies and candies and all that kind of stuff. So we've brought in some alternative ideas for them to be able to use that would actually produce more money for them and also be a lot lighter on the belt. … Childhood obesity turns into adult obesity, and then diabetes is a risk.
What's on your iPod that would surprise people?
You know what, I have absolutely nothing but gospel music on my iPod. Well, I take that back. I've got a little Luther Vandross. (Laughs.) A little Anita Baker. A little Freddie Jackson. That's just who I am, man.
What sport do you like that would surprise people?
I love NASCAR. I'm trying to get involved with NASCAR. I think it's a great American sport, and it will be even better when all of America is involved with NASCAR.
NASCAR's reputation isn't exactly one of being inclusive to minorities. What are your thoughts on that?
[+] Enlarge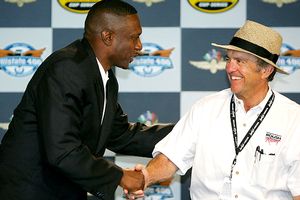 Streeter Lecka/Getty ImagesBrown has explored partnering as a NASCAR team owner with legendary racing figure Jack Roush.
I believe a little bit more help needs to be extended from the France family and the head people at NASCAR. Right now, they support [inclusion], but they're not really willing to make something happen. Because what I think they should do is form a diversity [racing] team, and just to get the ball rolling until it catches on. I'm not saying they should support that team forever -- but for a couple years, until they can find sponsors and get this thing up and running. I think if they would do that, they would gain millions and millions of new fans.
Having the Confederate flag at the races is something that would have to go away. You may lose a couple hundred folks, but you're going to gain thousands and thousands more people.
If you hadn't chosen to attend Notre Dame, where would you have gone to school?
Probably, unfortunately, it would've been SMU. It would've been the home choice. [Brown is a Dallas native.] Everybody else was really cheating so bad, and SMU was probably the top dog as far as cheating, but it was right there at home. Being a mama's boy -- like I still am -- it would've been very enticing to just stay there. It's a very good school academically, also, so it wouldn't have been the worst place to get a degree from. But I'm glad things worked out the way they did, simply because the Heisman and graduating from Notre Dame is one thing. But really, being away from home and having to deal with that situation and man up -- when you want to go home and you absolutely can't, and you just have to find a way to deal with it -- I think really taught me more than I could ever learn being at home.
Where do you keep your Heisman Trophy?
When I built my house back in '95, '96, I actually built a place in the wall for the Heisman.
One of your former teammates, Jerry Rice, is widely acknowledged as the greatest wide receiver ever to play the game. Do you agree?
I think you have to agree with that. I actually think Jerry is the greatest football player of all time. I know there's Jim Brown and a lot of other great football players, but there won't be and has never been another player that played 20 years, to dominate his position and to have the championships and everything to go along with it. I saw Jim Brown the other day, so if you see him, don't tell him I said that. (Laughs.) Even though he's on a cane, he still looks like he could take me.
So who's the second-greatest receiver ever to play the game?
I'll quite frankly say there's no one out there who went through as much as I went through to get to where I had to get to. I played with 21 different quarterbacks in my 17 years. I played under seven different coordinators and six different head coaches, and if you look at my numbers, they stayed consistent the whole time -- even with all the turmoil that was going on all around me. I never had a real No. 2 receiver. … On top of that, while catching balls, I was still returning punts for a lot of years. So while a lot of those guys were resting on fourth down, I was out there getting my head banged around.
I will put my career up against anybody's. Certainly, when you combine everything I did, returning punts and kickoffs, I don't think there's another receiver to make the Pro Bowl at another position [kick returner] and end up in the Hall of Fame. I don't think that's ever happened. I think I've done some things in the NFL that will never be done again.
Although you missed out on the first ballot this year, you're a lock for the Pro Football Hall of Fame. Have you decided who's going to introduce you at your induction?
It would definitely be my big brother (Don Kelly). He was the one to encourage me to start playing football. I think because of his instruction and leadership -- I was 9 or 10 years old. He actually used to take me out and stand 10 or 15 yards away from me and throw the ball at me as hard as he could and tell me "Look, if the ball goes through your hands, it's gonna break your nose. So, you can knock the ball down, but don't let it go through. If you knock it down, you've got a chance to catch it on the bat, but if it goes through …" So after many, many times knocking the ball down, I finally got to the point where I could snatch that thing out of the air. So I sort of credit him for my hands and the ability to catch the football.
Which athlete, living or dead, would you pay to see compete in his or her prime?
I think there are two guys. One would be Jesse Owens. I think what he did back in those times was the most incredible thing an athlete could ever do. I mean it's one thing to be dealing with the physical pressure to perform, but to have that kind of mental pressure around, I just don't understand how difficult that must have been for him.
The other one is similar, Muhammad Ali, with some of the things he was able to accomplish. When he was in his heyday in the early '70s, I was 6 or 7 years old and just starting to figure the sports thing out, and he was someone I found myself looking up to.
What are the top three things the Raiders need to do to return to greatness?
No. 1, they have to get a coach that has a game plan and not just go along with Al Davis' game plan. Jon Gruden didn't go along with Al Davis' game plan, but he had a plan, and the plan worked. If the plan is working, Al will go along with it. He's going to fight you, but eventually he'll go along with it.
[+] Enlarge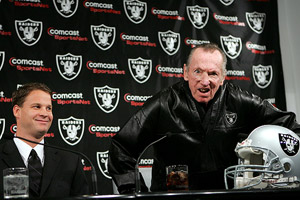 Justin Sullivan/Getty ImagesBrown says Raiders owner Al Davis needs a coach with a plan. Apparently Lane Kiffin didn't fit the bill.
No. 2, they have to get veteran leadership in the locker room. The one thing the Raiders are known for is having great veteran leadership. I left in '04. Rich Gannon broke his neck and was out by the third game of the year. Jerry wanted out, and they trade him after the sixth game of the year. Suddenly they went from having one of the more veteran teams -- especially on the offensive side of the ball -- to having nothing. They've never really been able to replace that, and with everything that happens in the Raider organization, you'd better have some leadership in the locker room. Otherwise, it's going to be a crazy, crazy situation.
The third thing they need to do, and I don't necessarily think it will ever happen, but it would be good to see Al bring in a football guy. He had Bruce Allen for a while, but once Bruce left they've never really had someone in that position who can at least give Al an alternative to what he might be thinking.
Is it time for the Raiders to call it a day and convert JaMarcus Russell into an offensive lineman?
(Laughs.) I think at this point, he's going into Year 4, and he signed a [six-year] deal. I could see Al giving this guy one more year at quarterback and then a year to sit on the bench and then cut him. … I think if they would've taken Calvin Johnson, they would've been much further down the road. With all the great quarterbacks who have come out in the past three or four years, they could've easily grabbed one of those guys. But Al saw the big arm, and he fell in love with him.
Are you part of the Raiders cruise to the Mexican Riviera? Considering you'd be taking to the high seas with Jack Tatum, Ken Stabler and a veritable boatload of Raiders fans, are you at all concerned about your safety?
They're calling me. I'm trying to be a part of it. But I'm a little concerned. My wife wants our kids to go, but I don't want my kids around Raider Nation. (Laughs.)
Let's play word association: Greatness …
Jerry Rice.
Heisman …
Legacy.
Al Davis …
Misunderstood.
How so?
The way I explain it is that Al is like that dog in the neighborhood that barks a lot and nobody want to get near him because everybody thinks he so dangerous. But if you ever have the nerve to go up and rub that dog on the head, that dog is just gonna lick you like any other dog. That's how Al is. If you ever can get beyond all the noise that you hear from him and just have a conversation with him, you'll realize he's just a normal guy.
When I signed a contract with the Broncos [in 1994], he had a week to match the contract. And at that time, we were at it. We had been fighting over the markets, all the deals and that stuff. So I went into his office, and I had a legal pad with 21 things outlined. I had a six-hour conversation with him. After that conversation, I realized, first of all, that's an ordinary man sitting on the other side of the table.
And he's a reasonable guy. I mean, there's some things we agreed to disagree on, but at the same time, I felt that he was certainly misunderstood then. Even now, his problem is that he has to have this "grrrrr" [makes growling noise] because he doesn't have a coach who's gonna do that. He doesn't have any players right now who are gonna do that. So who's gonna stick up for the organization if he doesn't?
What's your favorite place in the world to visit and why?
I am a Maui nut. I've been to the Bahamas, Jamaica and Europe and those kind of places. But you go to Maui and you don't have to worry about the language or driving on the wrong side of the road or any of those things. I can just go and chill out and relax.
What's the one book you would recommend everyone would benefit from reading?
The Bible.
If you didn't become a pro athlete, what vocation would you have gone into?
Actually, I went to Notre Dame to become a computer scientist. Now what that meant at that time, I had no clue. Then I was told that instead of 120 hours, I was going to need like 168 hours. So I realized, hmmm, added that up and decided that's not gonna work out. So I went into sociology with a minor in business, but really I think I probably would've become a preacher.
What's the most inspirational piece of advice you've ever received?
My parents, unfortunately, didn't get the chance to get an education because, growing up in Louisiana, they literally had to help their families by picking cotton. The one thing they always encouraged me to do was to reach for the stars as far as my education and don't be limited by anything that people might say about me.
I believe that the positive message they gave me certainly led me to be positive moving forward in thinking that I can do anything that I wanted to do in life. … I left home when I was 17 years old, going to Notre Dame, thinking that I could conquer the world. And it was all because of the encouragement they had given me.
Thomas Neumann is an editor for Page 2.