Commentary
Joe Maloof dishes on Money Cup, Kings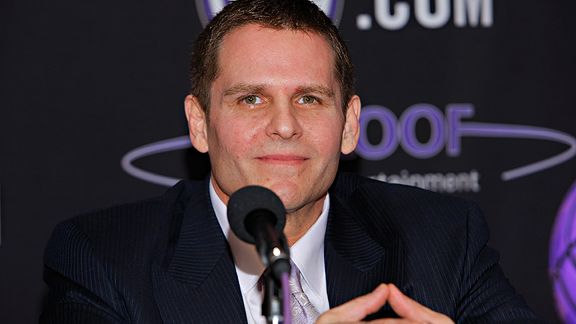 Rocky Widner/Getty ImageBesides owning the NBA's Kings, Joe Maloof and his family run the Money Cup skateboarding events.
Joe Maloof is part of a family business estimated to be worth more than a billion dollars.
He's widely recognized as co-owner of the NBA's Sacramento Kings and the Palms casino in Las Vegas. He famously enjoys a playboy lifestyle.
Still, his formative years in New Mexico weren't drastically different from those of his peers. He listened to heavy metal and rode skateboards, errr, a skateboard ... once.
"I got on this kid's skateboard in Albuquerque, where I'm from, and there was this underground parking lot," Maloof explained during a recent visit to ESPN. "So I started at the top, and I went down ... and I hit this drain at the bottom and I flipped and I flew, and I never got back on one."
Even though Maloof never pulled off an ollie or a rail slide, the spill couldn't derail his interest in the sport. Not even close. In recent years, he and brother Gavin set out to create the world's premier skateboarding event, ultimately holding the first Maloof Money Cup in Costa Mesa, Calif., in 2008.
This weekend, the Money Cup makes its New York debut with a $250,000 purse at Flushing Meadows in Queens. The Maloofs got permission to build replicas of 14 iconic New York skate spots as part of a street course which will subsequently be open to the public.
[+] Enlarge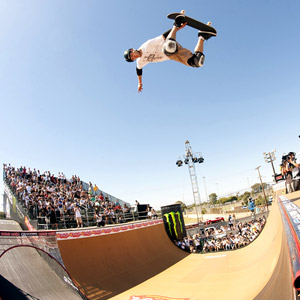 Michael Burnett/Blixah/Getty ImagesPierre-Luc Gagnon takes flight during the 2009 Maloof Money Cup competition in Costa Mesa, Calif.
The 2008 and '09 events in Costa Mesa attracted some of the biggest names in skateboarding, including Shaun White, Ryan Sheckler, Bucky Lasek and Paul Rodriguez Jr. The Money Cup returns to Costa Mesa for a third time Aug. 4-8 at the Orange County Fair, and the Maloofs expect to aggressively grow the franchise nationally and globally.
"When we get involved in something, we like to go 100 percent at it," Maloof said.
Upcoming plans include a 2011 event in Kimberley, South Africa, and potential expansion to Chicago.
Of course, Maloof doesn't merely rub elbows with the biggest names in skateboarding. He socializes with the biggest names in everything. This is a man whom Brad Pitt once rhetorically asked at courtside, "Let me get this straight. You and your brothers are single -- never been married? You own basketball team and a casino?" Then Pitt just stared at him. Needless to say, if your lifestyle impresses the likes of Brad Pitt, you probably lead a captivating life in the company of fascinating people.
Such as Jay-Z ...
"I was pretty intimidated to meet him," Maloof said. "I have a lot of respect for what he's been able to do throughout his life."
... and Walt Frazier.
"I had an opportunity to take him through the Palms on a little tour about a year ago, and I really liked him," Maloof said. "I was in awe of what he did back in the '60s with the Knicks. He got my attention. I really enjoyed meeting him."
... and Barry Bonds, a close friend and neighbor of brother-in-law Paul Nassif.
"Barry Bonds is a heckuva guy. If you ever have an opportunity to meet him, he's really different from how he's portrayed publicly."
... and Joe Namath, one of Joe's favorite athletes when he was a child.
"When we had that great run in the old rivalry days against the Lakers, I met him at the Beverly Hills Hotel. I saw him walking, and I ran like a little kid to go meet him," said Maloof, who was pleasantly surprised when Namath told him he followed hoops and recognized him.
... and Reggie Jackson.
"Reggie is a good friend of ours. He comes to the Palms a lot, but unfortunately some of the younger people call him 'Reggie Miller,'" Maloof laughed. "I get a kick out of that."
Meantime, it's The Summer of LeBron and Page 2 would be remiss to not broach the subject of arguably the most sought-after free agent in NBA history. If LeBron James elects to leave Cleveland, likely destinations include Chicago, New York or Miami. By most accounts, Sacramento would be a highly unlikely landing spot for James. But if you own the Kings, don't you at least make a phone call?
"I have to be very careful [about potential fines from the NBA], because he's still a Cleveland Cavalier," Maloof said. "He's very talented. He's a game-changer. Any franchise that has LeBron James is automatically going to sell out every game. The corporate sponsorships are going to be huge. He brings a swagger to your franchise, not only locally, but worldwide."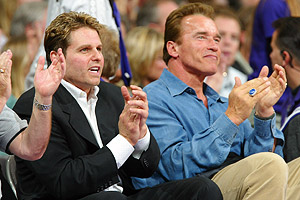 Rocky Widner/NBAE/Getty ImagesJoe Maloof, pictured with California Gov. Arnold Schwarzenegger, on the Kings' summer plans: "We're in the running for any top free agent."
So how would Maloof sell a free agent on the Kings, a team which hasn't had a winning season since 2005-06?
"I think the future of our franchise is very bright," Maloof said. "We have one of the youngest teams. We have the Rookie of the Year [Tyreke Evans] and the [No. 5 pick in the draft], and we have cap space. We're going to be at $33 million next year, and the cap is estimated to be about $56 million. ... We're in the running for any top free agent."
Eight years ago, the Kings were one of the NBA's top teams when they suffered one of the most agonizing and controversial losses in league history. The Kings lost Game 6 of the Western Conference finals against the Lakers 106-102, in a game where Los Angeles enjoyed a 40 to 25 advantage in free throws -- including 27 by the Lakers in the fourth quarter alone. Sacramento went on to lose Game 7 at home in overtime.
"When we lost that game, I called one of my good friends, Coach [Jerry] Tarkanian, and he said, 'You know what? You'll never get over that loss -- never in a million years,'" Maloof said. "And I haven't. I think about maybe once a day. It's unbelievable. ... It's always there. So I asked Tarkanian, 'When do you forget about it?' He said, 'When you win the title, you'll forget about it a little bit.' So we have to get back there and try to win it. Otherwise, I'll remember it until my grave."
Rumors have circulated that the Maloofs would be tempted to move their franchise to Las Vegas if a new arena isn't built in Sacramento. In addition to operating the Palms, the family was instrumental in helping Vegas land the 2007 NBA All-Star Game. But Maloof quashes the notion, insisting that southern Nevada doesn't have a suitable arena or a large enough local television audience.
"I really don't think there will be a team in Las Vegas for years to come," Maloof said.
The Maloofs' involvement in sports goes far beyond the Kings and Money Cup.
Joe Maloof and his three brothers all played college football, and his sister played tennis in college. Joe played defensive back at New Mexico in the late '70s -- "I was mostly a benchwarmer," he said with a chuckle -- where he was teammates with future NFL players Preston Dennard, Robin Cole, Randy Rich, Bruce Herron and Steve Meyer.
Joe's father, George Maloof, bought the Houston Rockets in 1979. When George died in 1980, the duties of running the team fell to his widow, Colleen, and five children, Adrienne, Gavin, George Jr., Joe and Phil. The majority of the responsibility fell to Joe and Gavin, who were 25 and 24, respectively, at the time. The Rockets reached the 1981 NBA Finals under their direction, but the family opted to sell the team in 1982.
The Maloofs owned the Birmingham Fire football team of the World League in the early 1990s. Later, the family explored buying the NBA's San Antonio Spurs and the NHL's Tampa Bay Lightning. Ultimately, they purchased a minority stake in the Kings in 1998 and assumed controlling interest of the franchise in 1999.
If the Maloofs expand their ownership footprint, Joe said it would likely take place in the NHL. For one thing, NFL and Major League Baseball rules preclude owners from having gaming interests. For another, brother Gavin is a hockey fan. It's no coincidence that the NHL's postseason awards gala will be held at the Palms for the second consecutive year later this month.
Ultimately, Joe Maloof points to his father for instilling in him and his siblings the people skills that have allowed them to become successful entrepreneurs and marketing gurus.
"A family business is very difficult to run," Maloof said. "The dynamics in a family business are fragile. You have to respect everybody involved, and everybody has to have their own space. You don't learn that at Harvard. You don't learn that at Yale. You learn that at the University of George Maloof."
Thomas Neumann is an editor for Page 2.