Commentary
Jerry Rice runs deep routes with Page 2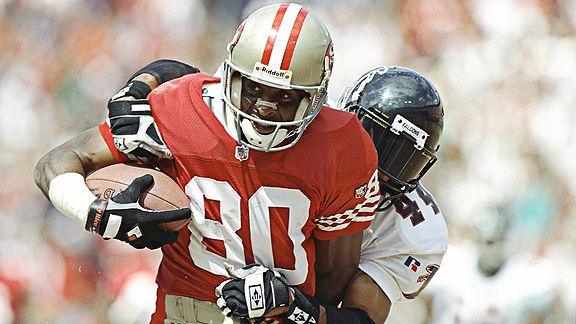 Doug Pensinger/Getty ImagesJerry Rice enters the Hall of Fame on the first ballot, six years removed from a storied 20-year career.
Jerry Rice is the finest wide receiver to ever play the game of football.
That point is not up for debate. He easily leads the NFL's career lists in receptions, receiving yards, receiving touchdowns and total touchdowns. There's even an extensive Wikipedia page devoted to the NFL records owned by Rice.
To the anticipation of many fans -- and the surprise of none -- Rice will be inducted into the Pro Football Hall of Fame on Saturday, with former 49ers owner Eddie DeBartolo Jr. serving as his presenter.
HALL OF FAME COVERAGE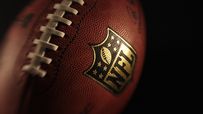 Check out ESPN.com's coverage of this year's ceremonies in Canton. HOF index
NFL bloggers on the 2010 class:
• Mike Sando on Jerry Rice
• Matt Mosley on Emmitt Smith
• Pat Yasinskas on Rickey Jackson
• James Walker on Dick LeBeau
• Kevin Seifert on John Randle
• Bill Williamson on Floyd Little
• Matt Mosley on Russ Grimm
So naturally, when Page 2 had a chance to speak to Rice this week, we wanted to ask him about professional golf, "Dancing with the Stars" and music … oh yeah, and his football legacy, too.
Here's what transpired:
Page 2: What does Hall of Fame induction mean to you?
Jerry Rice: It gives me an opportunity to thank so many people, and I look at it just like a celebration. It's gonna be a lot of fun. A lot of people are coming, and we're gonna have a great time.
Is there any chance you will shed a few tears?
You never know what's gonna happen or what your emotions are going to be onstage. So, right now I'm just trying to prepare myself for everything that's gonna happen around me. There's gonna be a lot going on, and I have to be ready 100 percent because they say when you're getting inducted, you have so many obligations, and you can't really enjoy it like you want. But when you come back, it's totally different. You really get the full effect of what's going on. You can relax. You can enjoy all the festivities.
Who's the most talented teammate you ever had?
I would say Joe Montana, because he was like magic the way he could drop back and break down a defense … and he didn't hold onto the ball that long. He was very, very good at making quick decisions.
Who's the best defensive back you ever faced?
Even though I didn't like him that much, Deion Sanders … or Darrell Green. Those guys got in front of me, and it was on.
You hold a number of NFL records. Which one are you most proud of?
[+] Enlarge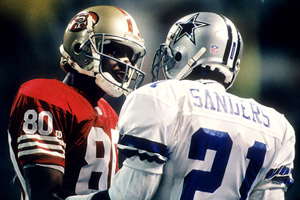 Joseph Patronite/Getty ImagesRice has respect, if not affection, for Deion Sanders.
I never played in the NFL for the records, but I would say probably when I broke Jim Brown's record of 126 [total] touchdowns. It happened on a Monday night [Sept. 5, 1994] against the Raiders … and when I went over to the Raiders, Al Davis would always remind me of that.
Your son, Jerry Jr., plays wide receiver at UCLA. What's the most important piece of advice you've given him about college football?
Just enjoy it. If you enjoy the game, you're gonna work hard and you're gonna play hard. So [don't] take it so seriously. As a parent, I don't try to put pressure on him. I just go there for support, and if he needs advice then I'm there for him.
You've done some acting in recent years. Is that something you plan to continue?
Yeah, it's a lot of fun doing movies and stuff like that. The part about that is you step out of your boundary, and you're willing to take a risk. So I enjoy doing it, and it's always challenging.
OK, here's a tough one. Which was the bigger challenge for you, professional golf or "Dancing with the Stars"?
Both! Playing on the Nationwide Tour was a great challenge. It was a learning experience for me. But I would also say when I did "Dancing with the Stars," it was like I stepped out of my boundary. Both were very difficult, but I'm willing to take that chance and also take the criticism behind it.
What kind of music do you listen to these days? What's on your iPod?
I don't have an iPod or anything like that, but music-wise I like hip-hop. I like John Legend. I like Alicia Keys. I like Jay-Z. … It really depends on my mood, and I like variety.
What athlete or athletes would you pay to watch compete?
LeBron James and Dwyane Wade. I would love to see Michael Jordan and also Larry Bird compete all over again. Jack Nicklaus. Arnold Palmer. Lee Trevino. Tiger Woods. I wouldn't mind coughing up some bucks to see those guys.
How about a little word association? When I say the word "football," what comes to mind?
[+] Enlarge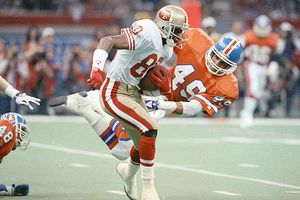 AP Photo/Ed ReinkeRice runs for extra yardage during San Francisco's blowout victory over Denver in Super Bowl XXIV.
Fun.
Family?
Responsibility.
Terrell Owens?
A fighter.
Forty-Niners?
Tradition
Raiders?
The commitment to excellence.
If you hadn't become a professional athlete, what career would you have chosen?
Probably something with my hands. I never thought I'd be catching footballs for my livelihood. … But I was always Mr. Fix-It around the house.
What kind of an honor is it to have your name on the stadium [Rice-Totten Field] at your alma mater, Mississippi Valley State?
It's a great honor, because you know that you did everything the right way. So to have my name up there and also to have had the opportunity to play in the SWAC, it means the world to me.
In terms of your legacy, how do you want fans to remember your career?
I just want fans to remember that I played football the right way, not for being in the spotlight or being an entertainer. I loved the game, and I respected the game, and I always gave it 100 percent.
Jerry Rice is teaming up with Procter & Gamble to promote its "Take it to the House" program, which features a football family photo contest, a weekly texting competition where fans predict which NFL player will have the longest play from scrimmage and a blogger fantasy league. Prizes include annual supplies of products such as Gillette, Febreze and Old Spice; a series of $10,000 donations to winners' communities on behalf of NFL PLAY 60; and a trip to the 2011 Pro Bowl.
Thomas Neumann is an editor for Page 2.