Commentary
Page 2 quiz: The legendary trash talkers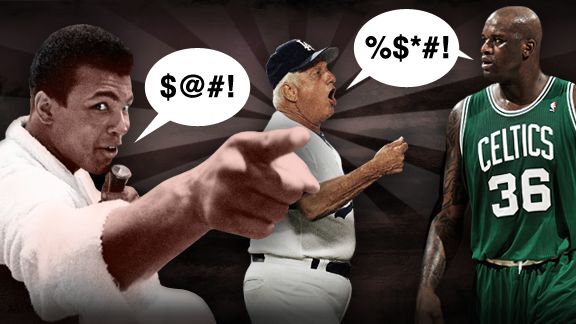 ESPN.com Illustration
The New York Jets spewed a blizzard of trash talk prior to Sunday's playoff victory over the New England Patriots.
It made for a great sideshow, providing a week's worth of entertainment leading up to kickoff. The rhetoric became so intense that the NFL issued a stern warning.
This week, the Jets are eerily respectful. They have nothing controversial to say about their next opponent, the Pittsburgh Steelers.
Booooring.
Nevertheless, Page 2 intends to navigate you through the doldrums of a smack-free week. Stretch your brain muscles as we present a quiz about some of the greatest trash talkers in history:
1. Who denied calling Detroit Pistons forward Charlie Villanueva "a cancer patient" and instead claimed to have said, "You are cancerous to your team and our league"?
(a) William Shakespeare
(b) Lord Byron
(c) Kevin Garnett
2. Which tennis player said, "I'm [expletive] going to take this [expletive] ball and shove it down your [expletive] throat, you hear that?" to a U.S. Open official?
(a) John McEnroe
(b) Jeff Tarango
(c) Serena Williams
3. Which NBA player once dubbed Ervin Johnson, his teammate at the time, "Tragic Johnson"?
(a) Sam Cassell
(b) Latrell Sprewell
(c) Gary Payton
4. Which NFL linebacker apologized publicly for using a gay slur against an opponent by saying, "I didn't mean to offend anybody but Kellen Winslow"?
(a) Terrell Suggs
(b) Shawne Merriman
(c) Joey Porter
5. Which NBA owner has referred to Lakers coach Phil Jackson as a "big ole hypocrite" and "Jeanie Buss' boy toy"?
(a) Joe Maloof
(b) Donald Sterling
(c) Mark Cuban
6. Which NBA player referred to Chris Bosh as "the RuPaul of big men"?
(a) Dwight Howard
(b) Rasheed Wallace
(c) Shaquille O'Neal
7. Which Jets player said Patriots coach Bill Belichick "is one Mo Lewis hit from being fired"?
(a) Antonio Cromartie
(b) Shaun Ellis
(c) Bart Scott
8. Which NFL coach, when asked about his team's execution, said, "I'm in favor of it"?
(a) Rod Marinelli
(b) Rich Kotite
(c) John McKay
9. Which major league manager said Kurt Bevacqua "couldn't hit water if he fell out of a [expletive] boat" and described Darryl Strawberry by saying, "He is not a dog; a dog is loyal and runs after balls"?
(a) Lou Piniella
(a) Whitey Herzog
(c) Tommy Lasorda
10. Which NFL player famously said of Terry Bradshaw, "He couldn't spell 'cat' if you spotted him the 'c' and the 'a'"?
(a) John Matuszak
(b) Lyle Alzado
(c) Thomas "Hollywood" Henderson
11. Which major league pitcher, referring to the New York Yankees, said, "When you use the words 'mystique' and 'aura,' those are dancers in a nightclub, those are not things we concern ourselves with on the ball field"?
(a) Pedro Martinez
(b) John Rocker
(c) Curt Schilling
12. What heavyweight boxer said, "My style is impetuous; My defense is impregnable; and I'm just ferocious; I want your heart; I wanna eat his children; Praise be to Allah," of a potential fight against Lennox Lewis?
(a) Mike Tyson
(b) Mike Tyson
(c) Mike Tyson
13. Which opponent said, "Just remember, the mailman doesn't deliver on Sundays, Karl," to Karl Malone as he prepared to shoot free throws in an NBA Finals game?
(a) Michael Jordan
(b) Dennis Rodman
(c) Scottie Pippen
14. Who famously told opponents to "kneel before Zod!"?
(a) Bill Belichick
(b) Al Davis
(c) General Zod from "Superman II"
15. Which former UCLA football player slapped the USC program by saying, "Everybody can cheat and win BCS bowls and go 14-0 and the coach skips town -- anybody can do that"?
(a) DeShaun Foster
(a) Karim Abdul-Jabbar
(c) Maurice Jones-Drew
16. Which former heavyweight boxer said that Joe Frazier "should donate his face to the U.S. Bureau of Wildlife?"
(a) Muhammad Ali
(b) Muhammad Ali
(c) Muhammad Ali
17. Which coach maligned the Tennessee football program by saying, "You can't spell Citrus without UT"?
(a) Nick Saban
(b) Houston Nutt
(c) Steve Spurrier
18. Which tennis player, when asked what separated him from then-No. 2 Pat Rafter, said, "10 Grand Slams"?
(a) Roger Federer
(b) Andre Agassi
(c) Pete Sampras
19. Which player said, "I want all of you to know I am winning this thing; I'm just looking around to see who's gonna finish up second," prior to the first NBA 3-point contest in 1986?
(a) Craig Hodges
(b) Kyle Macy
(c) Larry Bird
20. Which NHL coach said of referee Don Koharski, "You fell, you fat pig! Have another doughnut!"?
(a) Mike Keenan
(b) Larry Robinson
(c) Jim Schoenfeld
Answer key: All answers are (c); any answer accepted for Nos. 12, 16.
Rate your knowledge of trash talking:
• 0-5 correct answers: Verbal victim
• 6-10 correct answers: Mediocre maligner
• 11-15 correct answers: Inspired insulter
• 16-20 correct answers: Doctorate in disrespect
Thanks to David Schoenfield, Patrick Hruby, DJ Gallo, Dave Wilson and Jim Caple for assistance in compiling this quiz.
Thomas Neumann is an editor for Page 2.