Commentary
Jerry Springer owes his life to Yankees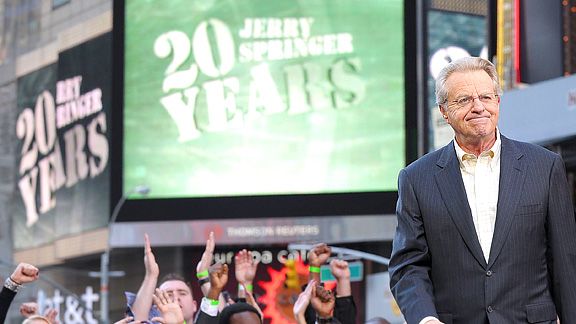 Michael Loccisano/Getty ImagesJerry Springer's 20-year run in daytime television has provided him with access to the sports world.
Jerry Springer might not be here today if not for the New York Yankees.
The famed talk show host and former politician has pledged his baseball allegiance to the Bronx Bombers ever since they saved his skin -- albeit indirectly -- as a 6-year-old in Queens, N.Y.
"I live and die with the Yankees," Springer told Page 2 on a recent visit to ESPN headquarters. "That's my greatest passion."
But Springer almost never made it to Yankee Stadium. He almost never became mayor of Cincinnati or enjoyed 20-plus years as host of "The Jerry Springer Show." But thanks to the Yankees, he did all those things and ultimately became a character of Americana.
The year was 1950. Springer's family had recently emigrated to the United States from England, where they had fled as German refugees during World War II. When it came time for young Gerald Springer to attend school in America, his mother sent him to class wearing typical English schoolboy attire.
"I wore my blue shorts, a jacket, a bow tie, a beret and knee socks," Springer said. "I had a bloody British accent, and the kids beat the heck out of me and ripped my suit. Next day, I go back to school, same thing happened."
Not surprisingly, Springer became scared to go to school. So his mother began asking around about how young Gerald could be accepted by his new peers. Told that American boys love baseball, she marched her son to Gertz department store in the Jamaica section of Queens in search of a "baseball outfit."
Without knowing anything about the sport, she wound up purchasing a youth Yankees uniform bearing No. 8 on the jersey.
"So I wore it to school the next day," Springer said. "Nobody touched me. Nobody beat me up. Nobody teased me, because at that time, like 1950, if you had your own baseball uniform, that was like, 'Wow,' and kids were nice to me. So I was afraid to go to school in the first and second grade without wearing my Yankee uniform."
[+] Enlarge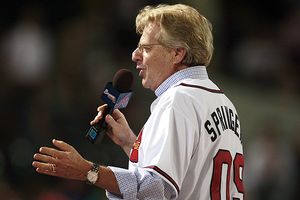 AP Photo/John Bazemore Springer sings "Take Me Out to the Ball Game" at a 2009 Padres-Braves game in Atlanta.
Springer has been loyal to the Yankees ever since -- to the extent that he has attended numerous fantasy camps to play ball alongside former players such as Mickey Mantle, Yogi Berra, Whitey Ford, Moose Skowron, Mickey Rivers and Hank Bauer. Springer said he won the "Iron Man" trophy at one such camp for catching a doubleheader each day for a week as his shins became completely blackened from bruising.
At a camp finale in 1988, Springer was catching for Ford when Mantle walked to the plate before a crowd of thousands in attendance to see Yankees alumni play at Fort Lauderdale Stadium in Florida. Struck by the personal significance of the moment, Springer became incredibly nervous.
"My glasses are fogging up because I'm starting to well up, and I can't stop shaking," Springer said. "I run out to the mound, and Whitey, in his thick New York accent, says, 'Whattdya doin'?' I said, 'Whitey, I can't stop shaking.' So he rooooolled his eyes, put his arm around my shoulder like I'm a little boy, standing on top of the mound, and he says, 'Get the blank behind the plate. Mantle hasn't hit in 20 years, and he's skunk drunk.' ... So I get back behind the plate, and [Mantle] flew deep to left. It doesn't get any better than that."
In addition to his love for the Yankees, Springer closely followed the NBA's Bulls during the 18 years when "The Jerry Springer Show" was filmed in Chicago. He had season tickets seven rows off the court during the team's championship heyday and said he was acquainted with a number of Bulls players.
Springer didn't struggle to recall his most memorable personal experience with the Bulls. It was a night when he was dining with friends at Gibson's Bar & Steakhouse on Chicago's famed Rush Street. Halfway through the meal, several Bulls players, including enigmatic forward Dennis Rodman, entered the restaurant. A little while after that ...
"As I'm leaving, I'm going by the table with Dennis Rodman, and he says, 'Jeeeerr-ay Springer!'" Springer said. "He picks me up and puts me on his knee. ... I'm a grown man. I'm in my late 50s then. And he wouldn't put me down. So, [it's funny] at first, but then you really feel stupid. You know, your legs ... (Springer pretends to flail about wildly as if his feet can't touch the floor) ... and he says, 'C'mon Jeeeerr-ay, tell me about the show!' And he's so strong, you know, what could I do? So I would just sit there on his lap, and people are laughing. So I became his doll. ... It wasn't pretty."
On the heels of Springer painting that mental picture, Page 2 posed a few quick questions for the dean of daytime dysfunction:
Page 2: As a former mayor of Cincinnati, what do you think of the movement to make Opening Day for the Reds a legal holiday there?
Springer: I think it's great. The city already has the Findlay Market parade every Opening Day. ... The Reds are really the crown jewel of their sporting history, and the truth is, kids cut class on Opening Day. It's kind of informally, everyone takes off. So I like the idea of making it a holiday.
Which Yankee would make the best guest on "The Jerry Springer Show?"
In the past, of the ones I knew, I'd say Joe Pepitone. Joe was just a totally fun guy. He'd wear these wigs. At the dream camps, he was just the center of attention because of how funny he was.
Would you support the inclusion of chair throwing as an Olympic sport?
Well, no. Because in some Oriental countries, it's bamboo. In some countries, they have to throw a heavy wood. In other countries, it would be light. It's not an even playing field. So until they can correct that, I would say that chairs should stay on the floor.
Thomas Neumann is an editor for Page 2.