Is this a compelling NFL season or not?
From: Thomas Neumann
Re: A Season on the Blah
Gentlemen,
With two weeks remaining in the NFL's regular season, perhaps a dozen teams actually can consider themselves Super Bowl contenders.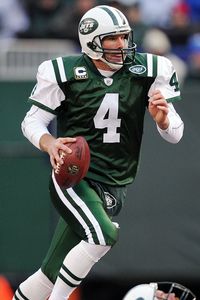 Evan Pinkus/Getty Images
Welcome to the 2008 NFL season, where you can lead the league in picks and still make the Pro Bowl.
On the surface, this scenario seems great for the league, its fans and even us cranks in the media. Parity is alive and well. Somewhere, Pete Rozelle is pumping his fist in affirmation.
Only problem: I'm bored.
If my favorite team isn't on TV, there's not a single squad I feel I need to watch this season. [Editor's note: Thomas' favorite team is the Chargers. When offered the opportunity to amend the preceding sentence, he declined.] Parity isn't the culprit. The 2008 NFL season strikes me as sloppy. There seems to be an extraordinary amount of bad football. Detroit is 0-14. Three other teams have only two wins. Buffalo scored 54 points one week, then three points in each of its next two games. The AFC West and NFC West might be the two worst divisions in league history. Each of the league's top teams, recordwise, appears to have at least one glaring weakness. It's just not an inspiring season.
Last year we had the ultracompelling Patriots. In the wake of a major cheating scandal, they scored the most points in league history en route to the first 16-0 regular season. You either loved them or hated them. Regardless, you watched them.
Maybe what this season lacks is a front-runner, a team we all can either get behind … or vilify. Think the 2007 Pats, the 1989 49ers or the 1985 Bears.
This year, we have … the Titans? Tennessee is piloted by retread QB Kerry Collins, who was once discarded by the Raiders, and its leading receiver has 547 yards. The Steelers are completing fewer than 60 percent of their passes and rushing for 3.6 yards per carry. The defending champions, the Giants, have lost two in a row and have been plagued by injuries and off-field distractions. New England, while serviceable, obviously isn't the same without Tom Brady. Dallas has offered plenty of soap-opera fodder, but its games haven't come close to living up to the hype. Carolina might be the most balanced team in the league, but Jake Delhomme has a passer rating of 82. Panthers games are hardly captivating if you're not a fan of the team.
I've watched the NFL my whole life, but this season is falling significantly short for me. I'd rather watch college football, college hoops, the NBA or the NHL.
Am I wrong?
---
From: Jim Caple
Re: Not in Your Backyard -- And That's the Problem
Yes, Thomas. You are wrong.
Why is that fans are never satisfied? When the Yankees are winning in baseball, it's somehow horrible for the sport because there is no parity. "Everyone knows who's going to win.'' "My team doesn't have a chance.'' "There needs to be a salary cap.'' But when there is clear parity in the NFL, it's somehow horrible because the Patriots or the Cowboys aren't dominating the league anymore.
Cast your vote
Is the 2008 NFL season better than 2007? Which rookie class is better? Do you prefer parity or
a dominant bully? Poll page
Yes, fans like a powerful villain to root against. What would "Star Wars'' be without Darth Vader? I'll tell you what -- "Star Wars: Episode I -- The Phantom Menace." Featuring Jar Jar Binks. Dynasties give fans a consistent cast to compare teams and games against.
But much more important than having a national villain is having a local hero. To paraphrase Tip O'Neill, all sports is local. And if the local team isn't doing well, then the fact that there's a big bully thousands of miles away winning every week isn't going to stop you from turning your attention to the local college or NBA team.
That's why parity is good. The more teams that are in contention, the better the odds that your team could go to Super Bowl. And that means more interest.
Perhaps the real reason this season isn't doing it for you is that parity hasn't reached your team. Trust me, I know how that is. I live in Seattle.
---
From: Patrick Hruby
Re: The 2007 NFL Season Got Drunk
If Thomas is wrong, I don't want to be right. Barring some spectacular, unforeseen turn of events -- like Jim Brown coming out of retirement to run for 450 yards against the Arizona Cardinals, which is either shortchanging Brown or overestimating the Cards' rush defense -- I think the current NFL season will be remembered (and probably quickly forgotten) as one giant hangover.
After all, last season was special: beyond the near historic, ultrapolarizing, gotta-watch Patriots, you had Brett Favre's last-dance whirl on the wayback machine, the electric debut of Adrian Peterson, the improbable transformation of Eli Manning, a clutch of very good contenders (Colts, Jags, Cowboys) and plenty of entertaining off-field drama and malfeasance (the Tony Romo-Jessica Simpson romance; the Chronicles of Pacman).
To paraphrase President Bush: The league got drunk.
By contrast, this season has been a whole lot of meh, from a disappointingly circus-free "Hard Knocks" -- T.O. running shirtless on the beach is the best HBO could come up with? Really? -- to Tom Brady's injury to Matt Millen not being on hand to kick around anymore to a slew of sloppy, erratic games to a league-wide quarterback regression that has left: (a) 147-year-old Kurt Warner as a born-again MVP candidate; (b) teams reverting to single-wing Wildcat formations.
(Well, except the Washington Redskins. Even though they can't crack the 30-points-in-a-game barrier and have Antwaan Randle El, a freaking awesome college option quarterback, toiling away as a resoundingly average wide receiver … 7-7 with a bullet!)
In fact, take away Detroit's all-out efforting toward 0-16 and Al Davis' sublimely kooky canning of Lane Kiffin, and you're left with a ho-hum league where the Colts somehow still keep winning games, Chad Pennington somehow is a playoff-contending quarterback and zzzzzzz …
Heck, even Pacman has been mostly quiet. No wonder we're paying so much attention to the refs.
And Jim: Be thankful you don't live in Detroit.
---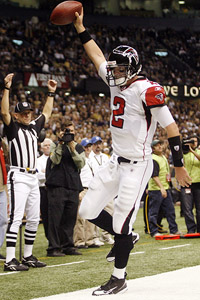 Crystal LoGiudice/US Presswire
The success of the Falcons' rookie quarterback, Matt Ryan, is just one reason to enjoy the 2008 season.
From: Dave Schoenfield
Re: Right Here, Right Now, Watching the World Wake Up to Joe Flacco
I'm with Jim. What do you guys want? We're headed for the highest-scoring season in NFL history. Yet within that context, the Steelers have one of the greatest defenses the league has ever seen. We have rookie quarterbacks leading potential playoff teams (Matt Ryan and Joe Flacco) and believed-to-be washed-up quarterbacks leading potential playoff teams (Favre, Warner, Pennington, Collins).
Most importantly, every game is a crapshoot. Who will win? Who will lose? We don't know! Doesn't that make it more fun and entertaining? The unpredictability of it all? The luck involved? The fact that one bad timeout by Andy Reid might cost his team a game, if not a shot at the playoffs?
I do, however, miss Brady.
---
From: Kevin Jackson
Re: The Music of Sam Spence Was Featured at my Wedding
As the only person on this chain who actually owns NFL season tickets and has attended seven regular-season and two, uh, exhibition games in the past four months, it's no surprise that I'm going to come to the defense of the league. [Editor's note: Kevin owns Seahawks season tickets. So it's really more like nine exhibition games in the past four months.] Bottom line: We won't really know until the playoffs. That's how every season is remembered anyway.
All I know is the league has been filled with incredible drama this season. Much of it is sordid off-field stuff, involving firearms tucked into sweatpants and roommates drawing up secret plays by candlelight. But I can honestly say that I was highly compelled to watch Sunday night's Giants-Cowboys game. Nothing could have pulled me away, even though I don't particularly like either team. It might have been the draw of watching dueling circuses under the same big top. (Or maybe it was that I had two fantasy players on the field.) Either way, I couldn't wait to see which highly distracted team would prove to be less distracted. And I wasn't alone. That game drew a rating of nearly 14 and ranks as NBC's highest-rated Sunday-night program of the year.
Every week, something happens in the NFL that leaves everyone talking: Witness Santonio Holmes' "was-he-in-or-was-he-out" TD catch Sunday in Baltimore. I was in the gym when that happened, and the entire place stopped as sweat-soaked runners hopped off their treadmills to get a closer look at the TVs.
Sure, it was the only TD of the game, breaking up a 59-minute field goal fest. And yes, these two teams will be in the playoffs with their punchless offenses. None of that matters. We remember the ending.
---
From: Patrick Hruby
Re: The Journey, not the Destination
People jumped off their treadmills to peep the TVs? Kevin, may I humbly suggest that you enter the 1990s and find a gym where the treadmills have their own individual screens? It's really the best way to run and watch E!'s "101 Hottest Hotties Countdown" at the same time.
Anyway, I digress. You say we remember the ending. True enough. But you're missing the point. The point is that we're talking about everything that leads up to the ending -- which really does matter if you have to sit through it. (Otherwise, why watch the NFL at all? "SportsCenter" highlights should suffice.)
A free toothbrush on your way out of the dentist's office does not nullify the root canal that came before it; plenty of out-of-work investment bankers are going to party hard this New Year's Eve, but none of it will rectify the Wall Street carnage of the previous 12 months. Football fandom is no different: Even if Sebastian Janikowski boots a 100-yard field goal with no time remaining, you've still wasted an afternoon you will never, ever get back watching the 2008 Raiders. Or flip it around: Were all those years of Denver and Buffalo getting bushwhacked in the Super Bowl horrible seasons for the league as a whole?
An exciting finish is the cherry on top. The game or season leading up to said finish is the double-fudge sundae. When a truly somnambulant squad like this year's Redskins can play in a tough, competitive division and still not be mathematically eliminated from playoff contention -- well, I still maintain that someone replaced this year's ice cream with frozen manure.
Besides, there's more to football than parity and competitiveness and on-any-given-Sunday-anyone-can-win. Winning isn't everything. As Thomas mentioned, there's quality of play. An aesthetic quality to the action on the screen. Flow, if you will. That sweet spot between offense and defense, scoring and the lack thereof, spectacular plays and grinding, gritty drives. I haven't seen that sweet spot hit very often this year; every game feels like San Antonio-Detroit in the NBA Finals. Check, please!
To put things another way: last season's Super Bowl was awesome. Dramatic fourth quarter. Incredible ending. Untouchable story line. But from start to finish, the Pats-Giants regular-season finale was probably a better football game.
---
From: Thomas Neumann
Re: My moment of clarity
Upon further review … I've come around. It's been a fantastic NFL season. I can't wait to watch Bengals at Browns this Sunday while I simultaneously dial up 49ers at Rams on satellite radio. Sweeeeet!
All the while, I'll be replaying this clip of my personal 2008 NFL highlight on my laptop.