Commentary
A crash course for Caps-Pens Game 7
Updated:
May 14, 2009, 3:12 PM ET
By
Page 2
The NHL game of the year will take place Wednesday night in Washington, D.C. -- Penguins versus Capitals, Game 7. The series has been a classic, so good, in fact, that we're declaring you must keep an eye on Game 7, even if you don't follow or care about hockey.
To prepare you for this evening's festivities, we've assembled the following lists -- seven of them with seven items each; get it? -- to bring you up to speed.
SEVEN REASONS THE PENS-CAPS SERIES IS A BIG DEAL
1. Magic Johnson versus Larry Bird brought a generation of basketball fans out of their seats. Sidney Crosby versus Alex Ovechkin is hockey's version some 30 years later. It's just not that often that the game's two greatest players get to face off in a playoff series. It never happened for Wayne Gretzky and Mario Lemieux -- man, we got robbed there. But Crosby and Ovechkin have shown us why we crave this so much. And despite all the hype, they've lived up to it and then some. It's been a series for the ages, and they've held the central roles, combining for 13 goals and 10 assists in the first six games. Wow.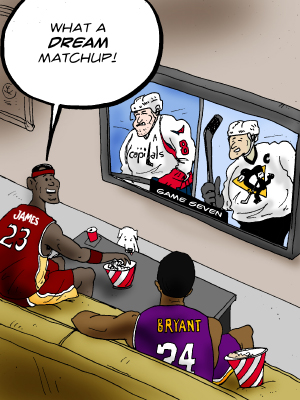 Kurt Snibbe
2. The forgotten superstar. Hello, my name is Evgeni Malkin. I led the NHL in scoring this season, and I've been nominated for the Hart Trophy, awarded to the NHL MVP. But somehow, despite those lofty credentials, I've taken a backseat to the Crosby-Ovie show. Perhaps he'll steal the spotlight in Game 7.
3. This is how the game should be played. Sure, it's been sloppy at times -- but we've had goals galore and in bunches, plus end-to-end action that brings back memories of the '80s Oilers led by Gretzky & Co. For a game that still is struggling to find new fans in the United States, having great players isn't enough. You also need to play an appealing style. Both teams have answered the bell on that count.
4. Remember 1994? That was when the New York Rangers defeated the Vancouver Canucks for the Stanley Cup, and hockey has never been more popular in the U.S. than it was right then and there. Well, it still has a ways to go, but with this second round of the playoffs -- with the Crosby-Ovechkin showdown for the ages and the hockey revival in Chicago -- the NHL might be garnering more attention than it has since those finals 15 years ago. Game 7 on Wednesday night could be the defining moment in the game's possible re-emergence in America.
5. Get a preview of the 2010 Winter Olympics hockey tournament. Russia and Canada are considered the gold-medal favorites for Vancouver next year, and we've gotten a glimpse of the main characters in this series. Ovechkin and Malkin will play on the same team for Russia, along with Caps sniper Alexander Semin, Penguins blueliner Sergei Gonchar and perhaps even Washington rookie goalie Simeon Varlamov. Crosby will lead the charge for Canada and might find an Olympic teammate in Caps blueliner Mike Green. And the defending Olympic champions are from Sweden -- Washington star center Nicklas Backstrom hopes to fend off all comers in Vancouver.
6. Hockey hatred. The players will downplay it, but these two teams just don't like each other. Ovechkin's controversial knee-on-knee hit on countryman Gonchar in Game 4 underlined the nastiness in this burgeoning rivalry. Throw in the incident in a Moscow bar in the summer of 2007 between Malkin and Ovechkin, and you have a real-life grudge match here.
7. Game 7. In any sport, a seventh playoff game rocks. Throw in the six previous reasons to watch, and you've got a game Wednesday night that is bound to go down in hockey history. Is overtime too much to ask for?
-- Pierre LeBrun
SEVEN REASONS THE CITY OF WASHINGTON NEEDS THIS
1. Because even Tim Geithner can't help the Natinals' Nationals' bullpen.
2. Because Gilbert Arenas' surgically repaired knee is a bigger mystery than President Barack Obama's upcoming Supreme Court pick.
THE STANLEY CUP PLAYOFFS
For full ESPN.com coverage of the 2009 Stanley Cup Playoffs, click here.
3. Because it's nice to see something get accomplished without having to dump cash on a political action committee and/or kowtow to somebody on an appropriations subcommittee.
4. Because Dan Snyder probably is still trying to figure out a way to trade for Mark Sanchez.
5. Because for roughly three hours, we can forget about our crummy public schools, crummier traffic and the fact that Marion Barry still holds an elected office.
6. Because D.C. United is in first place and, like you, we had to look that up.
7. Because even though we're a bunch of insular, out-of-touch Capitol Hill fat cats who waste your money by spending it on, well, you, we're also human. (Except Geithner. That guy's an android.)
-- Patrick Hruby
SEVEN REASONS THE CITY OF PITTSBURGH NEEDS THIS
1. The Pirates are 13-19 and have lost 12 of their past 14 games, and Steelers training camp doesn't start until July.
2-7. See No. 1.
-- David Schoenfield
SEVEN KINDS OF PLAYOFF BEARDS
6. The Follicles Died Of Old Age
7. The One Week Of Growth
-- DJ Gallo
SEVEN WACKY NAMES TO REMEMBER
1. Simeon Varlamov: Patrolling the Capitals' net since veteran Jose Theodore was given das boot after Game 1 of the first round against the New York Rangers, the rookie has been as cool as a cucumber. And he has helped bridge the gap in North American-Russian grammatical relations. With the help of an interpreter, he held court with media types to make sure they pronounced his name correctly. It's not VAR-la-mov. It's Var-LA-mov. Oh, by the way, his first name is SEHM-yahn.
[+] Enlarge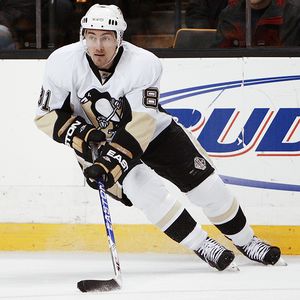 AP Photo/Winslow TownsonMiroslav Satan does not hail from the netherworld. He's from Slovakia.
2. Miroslav Satan: This poor man. The ridicule (and plays on words) he has had to endure. Lucifer? No. Beelzebub? Nope. "Runnin' with the Devil"? Nada (and we hope any Van Halen reunion involving David Lee Roth will not involve the resurrection of that song live). It's MEER-o-slav shuh-TAN.
3. Dan Bylsma: Pat, I'd like to buy a vowel. OK, seriously, it's BILES-mah. If you need help with the first name, we can't help you.
4. Alexander Semin: We know you're out there, people. You know who you are. You and your creative "mispronunciations." The shame. There's no sea here. It's SEH-mihn.
5. Shaone Morrisonn: OK, now you're just messing with us. For the record, Shaone rhymes with "fawn." Think Jim from The Doors for the last name.
6. Brooks Laich: We are under a Barry Melrose-enforced mandate that we're not allowed to make fun of anyone from Saskatchewan. But we ask: Can Brooks rock the lavender pinstriped suit? We think not. What's not to "LIKE" about that last name?
7. Hal Gill: Thank you, Hal. Thank you.
-- Joy Russo
SEVEN RANDOM FACTOIDS THAT HAVE NO PREDICTIVE VALUE FOR WHICH TEAM WILL WIN GAME 7
1. The road team has won the past six Game 7s that have gone into overtime in the NHL playoffs.
2. Although Sidney Crosby and Evgeni Malkin will be playing their first Game 7, teammates Pascal Dupuis and Ruslan Fedotenko have each played two previous Game 7s, and each scored a total of three goals in those games.
3. Of the 125 series that have gone seven games, the team trailing after Game 5 (in this case, the Capitals) has won the series 60 times (48 percent).
4. There have been 22 Game 7 shutouts -- 17 won by the home team.
5. Capitals All-Star defenseman Mike Green -- who scored 31 goals in the regular season, including a goal in a record eight games in a row -- has scored just once in the playoffs.
6. Calder Cup playoffs: The top farm clubs of the Pens and Caps tangled Tuesday night in Game 7 of the second round of the AHL postseason. The Hershey Bears eliminated the Wilkes-Barre Scranton Penguins 3-0, as the home team won for the seventh time in the series. Pittsburgh coach Dan Bylsma coached the Baby Pens earlier this season, and Washington coach Bruce Boudreau coached Hershey as recently as last season.
7. In 21 career games against each other, Crosby leads Ovechkin in wins 14-7; Ovechkin leads in goals (15-14) and plus/minus (plus-12 to plus-5).
-- ESPN Stats & Information
FLEM'S SEVEN RANDOM FAVORITE HOCKEY MOMENTS
1. Until 1980, the Detroit Red Wings played at Olympia Stadium in downtown Detroit. But they didn't demolish the old red-brick barn until 1986, I think. So as a teenager, you could squeeze through the loosely chained-up doors behind the building and run around on the rink pretending to be Terrible Ted Lindsay. (At least that's what I heard.)
2. In the spring of 1997, with the Red Wings playing in the Stanley Cup finals against the Philadelphia Flyers, I was dispatched to Philly to do a profile of Detroit's nasty, bone-crunching enforcer, Vladimir Konstantinov -- a player who, one teammate told me, would cross check his mother if she were standing in the crease. Anyway, "Vlad The Impaler," as he was called, was dead asleep taking a pregame nap in his hotel room when I woke him up for our chat. (Pro athletes value their naps the way the rest of us guard our ATM codes.)
[+] Enlarge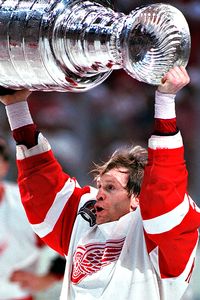 AP Photo/Tom PidgeonKonstantinov hoisting the Stanley Cup back in '97, before his tragic accident.
Besides Vladdie's childlike bedhead, I remember two things from our talk in the hotel lobby. One, he grew up in the Russian fishing town of Murmansk, which is far above the Arctic Circle. As a child, Konstantinov and all his friends would put on their hockey equipment, wait for the sun to come out for an hour or two late in the afternoon, then rush out and skate their hearts out before the sky went inky black again. (As he spoke, the world shrank right before my very eyes when I explained to him that my friends and I did the same thing -- with slightly better lighting, of course -- growing up in Michigan.) And two, when a pear-shaped guy dressed in a too-small Red Wings jersey butted into our chat asking for an autograph, Vladdie lectured him on his manners for several minutes and then, very politely, asked him to wait until we were through.
(I'll also always remember how, after Konstantinov was nearly killed in a limo accident after the '97 Stanley Cup finals, the Red Wings have continued to stand by him and support him.)
3. In the 1980s, Detroit-area Burger Kings gave away sets of painted Red Wings glasses that included the team's fighting duo of Joey Kocur and Bob Probert. Years of fisticuffs had turned Kocur's cinderblock right paw into something resembling a canned ham. And Probert -- one of the game's all-time great goons (I mean that in the nicest way, Probie) -- once was found at the Canadian border with drugs in his tighty whities. God I love hockey.
4. (TIE) (A) Spring 2002, Game 7 of the Western Conference finals: Detroit 7, Colorado 0. (B) Spending the day on the roof of the St. Pete Times Forum in Tampa, Fla., with the Lightning's mascot, who was camping out up there during the team's run to the Cup. I think the poor guy was suffering from heatstroke or something because he kept reminding me, in midsentence, that technically he wasn't supposed to be able to talk.
5. Many moons ago, before I was hired by Sports Illustrated, the magazine asked for an original writing sample. I chose as my topic the Detroit tradition of octopus hurling. (Back in the days of goalies without face masks and rinks encircled by a chain-link fence, you needed eight wins to capture Lord Stanley's Cup -- hence the gag-inducing, suction-cupped, eight-legged UFOs.) As part of my reporting, I got to chat on the phone with the legendary Gordie Howe -- maybe the biggest bad-ass ever in professional sports, who nevertheless admitted in his own awesome down-to-earth way to being scared of the stinky cephalopods. I got the job, but it was just as much a thrill to know that a childhood hero was a simple nice guy and not a prima donna.
6. When the Hurricanes made their Stanley Cup run in 2006, I went to Raleigh, N.C., to do a story on Detroit native and puck magician Doug Weight. Watching practice one morning from a corner of the rink behind the Canes' net, I made a mental note of the poor aim of Weight and his teammates. That is, until I realized I was standing in front of a tiny hole in the Plexiglas used by photographers. It seems the boys were having a contest to see who could be the first to hit the clueless ESPN guy in the spleen with a slap shot.
7. A little while back, the Stanley Cup was put on display by the minor league hockey team in Charlotte, not too far from where I play in an adult hockey league in North Carolina. Maybe you have to be from Detroit to get this, but it meant a great deal to me to have my daughters -- both awesome skaters -- see firsthand the engraved name of Red Wings legend Steve Yzerman, a guy who has spent his entire life in the hockey limelight without ever letting a single person down. (How many stars can say that?)
After games, the Charlotte Checkers let you skate on the ice with the players. So I encouraged my girls to skate over and introduce themselves to the players, who were incredibly gracious and friendly despite having lost 4-0. Beaming with pride after my kids skated back to me, I asked them how the introductions went. And my youngest said, "Wow, Dad, he smelled just like your hockey bag."
Greatest compliment in the world, if you ask me.
-- David Fleming
MOST SENT STORIES ON ESPN.COM