Commentary
Rasheed Wallace, Paul Pierce on stage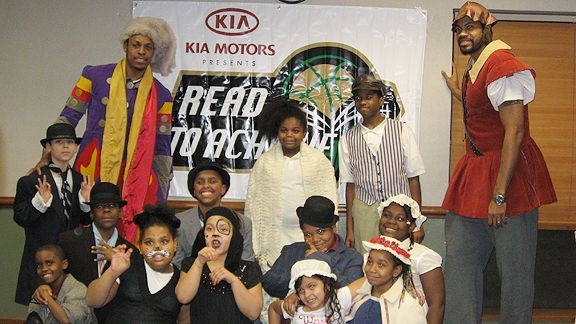 Maria Burns Ortiz for ESPN.comRasheed Wallace and Paul Pierce perform in the "The Clever Boy and the Terrible, Dangerous Animal."
BOSTON -- Sure, Boston Celtics guard Ray Allen starred with Denzel Washington in "He Got Game," but that's so Hollywood.
Paul Pierce and Rasheed Wallace are men of the theatre.
The Celtics stars took the stage Tuesday afternoon, scripts in hand, to perform the "The Clever Boy and the Terrible, Dangerous Animal" with kids from the Ellis Memorial After School Program. The performance was part of the NBA's Read to Achieve program.
The two went over their lines briefly in preparation, but had not thought to ask Allen for any acting advice.
"Oh my God, I should have," Pierce said afterward. "He played in a whole movie, huh? Maybe next time."
"But he's never played in a play," The Truth added. "I think I've played in more plays."
First-time actor and star of the title role Wallace rated his own performance "so-so," but his teammate saw great potential.
"Rasheed is great," Pierce said. "He's always great. I really think he should give up basketball and get into acting."
The Read to Achieve program is designed to promote children's literacy. Players spoke about the importance of reading -- from reading to their kids to reading scouting reports. Having players come into the community to encourage a love of books gives kids another perspective as to why reading is important, said Erin DeMarco, the development and community relations manager for ReadBoston, which helped put together the event.
"I know how my wife feels now when she asks me to zip her up in her dress," Wallace said, drawing a comparison to the costume he wore for the play. "I had to get someone to zip this up, and it's kind of tight across the back."
Of course, it's probably tough to find comfortable costumes for 7-footers. Correction, almost 7-footers. When Wallace revealed he was only 6-foot-11, one of the kids reassured him that he'd probably grow to seven feet in "like maybe seven months."
"It is pretty tight," Pierce said of his costume, using the word in the literal sense. "My shoulders are kind of big for it, but I like the threads."
However, the 2008 Finals MVP added, he and his "Mayor" character didn't quite share the same taste.
"I'm a little more traditional," he said when asked whether he would consider wearing the outfit for Halloween. "I'm more of a 'Star Wars,' 'Return of the Jedi' type of costume."
So it meant a lot that he was willing to trade in his stormtrooper armor for a long, brightly colored coat and furry hat.
"To see them as the mayor and the clever boy, to see them in these crazy costumes," DeMarco said, "it's unbelievable how willing they are and how selfless they are to be able to give themselves to the community like this."
As with all show debuts, the performance wasn't without a slip-up or two. In the opening minutes, Wallace delivered a very convincing, "Look, that must be the other village!" only to realize he'd delivered that line just moments before. But as he does on the court, he rebounded.
"I jumped the gun a little bit, but it's all right," Wallace said of the flub. "It's part of being on Broadway."