Commentary
These guys could be two-sport stars
Updated:
May 26, 2009, 12:56 PM ET
By
Tim Graham
| Special to Page 2
Randy Moss' visceral reaction revealed the question certainly was fun to consider.
Could he compete as a NASCAR driver?
"Woo, man!" Moss replied.
But the New England Patriots receiver quickly checked his excitement. As part-owner of Randy Moss Motorsports, which employs two drivers on the NASCAR Camping World Truck Series, he knows racing isn't as simple as it looks.
[+] Enlarge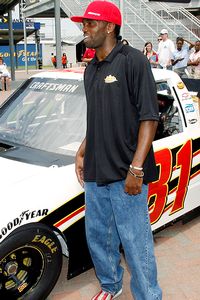 Geoff Burke/NASCAR/Getty ImagesIf Randy Moss gives up football, maybe he'll get behind the wheel of one of his NASCAR trucks.
"My biggest concern would be not trying to wreck the field," Moss said.
Moss, like LeBron James, was a two-sport star in high school who many think could have cut it in either the NFL or NBA. Moss claimed he and James are "in that category where you really don't see a lot of athletes come around that often" -- able to play multiple sports at a high level.
But Moss isn't so sure he could hack it on the asphalt unless maybe he was by himself.
"I think I could handle the car. I think I could sit in the car and run it as fast as it'd go," Moss said. "But there comes a point in time in my head where I wouldn't want to wreck the field, and I'm talking about a 10-, 15-car pileup.
"My concern would be putting on the brakes and having somebody right on your butt or somebody six inches on the side of you. That is something I have to tip my hat to those guys."
For the record, Moss does consider drivers to be athletes. His team includes veteran Mike Skinner, who gave Randy Moss Motorsports its first victory at the O'Reilly Auto Parts 250 in April, and youngster Tayler Malsam. He drives the No. 81 truck.
In them, Moss sees many skills that would translate onto the football field.
"The one big trait would be the focus and the tunnel vision those guys have to keep the whole race," Moss said. "One slipup or one false move, that could be your life. That could be a crash. That could be wrecking the field.
"One of the main things in football, I have to stay focused while I'm on the field. When I'm over there on the sideline I'm able to relax a little bit, take a drink of water and gather myself. Even when they're in the pit stop they still have to remain focused.
"I have a lot of respect for those guys because that is a dangerous sport that they play."
Here are other athletes who could excel at a second sport:
SAM BRADFORD: GOLF

A couple of springs ago, Oklahoma quarterback Sam Bradford had three weeks of free time. He pulled out his golf clubs, scraped the rust off the swing that made him a starter on the Putnam City North High golf team, and shot a 63. Here's why we slap a couple of sponsor logos onto his Ashworths and put him on the PGA Tour: Bradford, at 6-foot-4, 218 pounds, with a vertical leap of 33 inches, has Tiger's athleticism.



Bradford completes more than two of every three passes, accuracy that would pay off from the tee. More important, he plays smart. Bradford has led the NCAA in passing efficiency in each of his two seasons, throwing 86 touchdowns and only 16 picks. That proves he doesn't beat himself, a skill all great golfers possess. Last but not least, he is an honors student in finance. Who could schmooze better with CEOs in those Wednesday pro-ams?
--Ivan Maisel

CARL EDWARDS: BOXING

In this corner, wearing the checkered-flag trunks and weighing in at 185 pounds, Carl "The Missouri Mauler" Edwards. Hey, don't laugh. You know him as one of NASCAR's top drivers, but Edwards has all the tools to get it done in the ring.



First, his fitness is second to none. The man showed off his washboard abs on a cover of ESPN The Magazine three years ago. He's just as ripped now, if not more so. And this guy has one heck of a punch. Well, at least a heck of a fake punch, as was witnessed when he made teammate Matt Kenseth flinch with a fist pump in a well-known YouTube moment.



That also proved that Edwards, normally quite the gentleman, has a violent side, which can come in handy for a boxer. Edwards is also fearless. Moments after his car became an exploding missile while slamming into catch fencing at Talladega last month, he climbed out of the mangled machine and ran across the finish line.



Now that's a guy determined to "go the distance."
--Terry Blount

RAFAEL NADAL: SOCCER

The world's No. 1 tennis player reluctantly gave up organized soccer at age 14, but he still has the pedigree (his uncle Miguel Angel Nadal played with Barcelona), the physique (6-1, 188) and the passion. Rafa is a fan of Real Madrid and has trained with that team. The Spaniard, a natural right-hander who learned to play tennis left-handed, is also ambidextrous with his feet. He'd be a valuable, prolific forward who would combine power, speed and agility.
--Bonnie D. Ford

DEJUAN BLAIR: FOOTBALL

The NBA scouting report on Pittsburgh forward DeJuan Blair reads something like this: A powerful post player with unbelievable rebounding skills, an enormously wide wingspan and incredibly strong hands. Sounds like an NFL tight end, right?



Blair, who bolted for the NBA draft after averaging 15.7 points and 12.3 rebounds as a sophomore, is big enough, strong enough and athletic enough to become a pass-catching tight end in the NFL. Blair never gave football much of a chance while attending Schenley High School in Pittsburgh. He tore the ACL in both of his knees during high school but still has extraordinary quickness and agility for a man his size (6-7, 250).



More important, Blair plays the game with great passion and drive. Blair led the country with 5.6 offensive rebounds per game last season, a sure sign he wanted the basketball more than his opponents. Blair also isn't afraid of contact in the paint, and he probably wouldn't be afraid of running a pass route across the middle, either.
--Mark Schlabach

CARL CRAWFORD: FOOTBALL

A three-sport star at Davis High School in Houston, Crawford was one of the most gifted prep athletes in Texas history. In football, he was an all-state option quarterback who signed a letter of intent with Nebraska; in basketball, he averaged 25.9 points per game as a senior and UCLA offered him a scholarship; in baseball, he hit .563 and the Rays made him a second-round pick. Crawford chose baseball, and while the two-time All-Star made the right decision, it's also apparent he could be a star in the NFL.



At 6-2, 215 pounds and possessing blazing speed, we see Crawford as a prototypical running back or shutdown corner. As a running back, Crawford would also be a threat out of the backfield, as his baseball and basketball skills show that he has good hands. If he switched to defensive back, the smart thinking he shows on the baseball diamond -- he has 25 stolen bases this season -- translate to a heady corner who would play the game without many mistakes.
--David Schoenfield

ALEX OVECHKIN: SOCCER

Bend it like Ovechkin? Growing up, Ovechkin excelled at soccer and hockey, and while we're pretty sure he made the right choice, we can also see him as a bruising, fearless forward scoring goals in bunches for Manchester United. Many of the traits that made Ovechkin the NHL's top goal scorer this past season translate perfectly to soccer: his insatiable desire to put the puck in the net, an unmatched creativity and the ability to fire off the perfect shot at top speed. There's no denying his fitness -- no winger had more ice time than Ovechkin this season. Plus, if he'd do this to retrieve a soccer ball, you know he loves the sport.
--David Schoenfield

TIM HOWARD: FOOTBALL
The most freakish athlete to ever play for the United States national soccer team is also the player who just might make the best crossover to the NFL.



If goalkeeper Tim Howard decided to forgo the football played with the feet for the pointier version played on the gridiron, he'd leave behind thousands of disappointed fans at his English club, Everton. But Howard has the prototypical blend of size, speed and agility to be a fearsome defensive back in the NFL. He certainly passes the eyeball test. At 6-3 and 210 pounds, Howard has frame you want to see in a run-support safety, and judging from his fearless mentality in handling crosses in the English Premier League, Howard would be quite a ball hawk, too. His hands obviously would lend well to snagging an errant pass. His footwork, much improved since his move from MLS to Europe, also means that he could match up well in coverage against slot receivers and tight ends.



Plus, with his booming right leg, Howard could handle kickoff duties and field goals for his NFL team. It'd be enough to put the fans on their feet, yelling "Timmmmmay!"
--Kristian Dyer

PHIL MICKELSON: FOOTBALL

Surprised? He wasn't our first choice, either, but an informal straw poll of his fellow players named "Lefty" (who throws righty) as the man with the organizational skills, strategic know-how and attention to detail needed to play quarterback. He's got the arm strength, too; last fall, Mickelson broke one of his brother's fingers with a pass during their annual Turkey Bowl.



"He tried to catch it, but I threw it a little too hard," Mickelson said with a grin. "I'm a drop-back passer. I'm not much of a scrambler."



So, uh, don't expect an option attack anytime soon.
--Jason Sobel

Could LeBron Play in the NFL?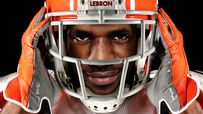 Could LeBron James make the transition from NBA MVP to impact NFL player? You might be surprised by what the experts say.
Story
MORE COVERAGE
PODCAST
MOST SENT STORIES ON ESPN.COM