Page 2 staff
If Page 2 were in charge of these guys' professional lives, we'd make damn sure they get the perks they really need before we let 'em sign a contract . . .
Johnny Damon, Boston Red Sox: Requires free Purity shampoo, industrial-size; free OrganicWave Gel Megahold, industrial-size; one case, 'Verminator' Head Lice Removal System; lifetime supply of metal combs.
Kobe Bryant, Los Angeles Lakers: Requires complimentary legal counsel; free use of the owner's private jet (to and from Colorado only); guest spot on "Dr. Phil Family."
Freddy Adu, D.C. United: Requires customized Big Wheel; three X-Box consoles with EA Sports FIFA Soccer 2004. Rider: Mr. Adu must be paid his full salary but will appear only in the 61st minute of your 90-minute event.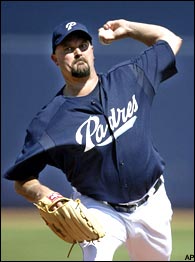 David Wells would love to have his own spread in the San Diego clubhouse.
David Wells, San Diego Padres: Requires personalized clubhouse spread of deep-fried Twinkies, chocolate-dipped bacon double cheeseburgers and McDonald's french fries (with stipulation that Mr. Wells receive ONLY the fries that have fallen out of the basket and settled at the bottom of the fry basin); a six-pack of Budweiser "for life"; personal physician on call 24-7 for gout treatments.
Tiger Woods, golfer: Requires 24-karat ball and chain.
Connecticut basketball fans: Requires minimum of 10 cars, suitable for flipping, torching and/or windshield-smashing; minimum of 10 piles of scrap lumber, newspaper, old clothing and/or other combustibles; 46,000 kegs of flat, warm beer. To be supplied by contractor for all personal appearances.
Damon Stoudamire, Portland Trailblazers: Requires yearly all-expenses-paid trip to Jamaica; complimentary hydroponic equipment; unlimited access to Washington State University horticulture labs; six-month supply of aluminum foil and resealable plastic bags.
Pete Rose, Hit King: Requires one Flowbee Precision Home Vacuum Haircut System; items suitable for autographing, including bats and balls pre-stamped '4,192'; $10,000 "walking-around" money.
Eric Lindros, Philadelphia Flyers: Requires private suite in the Mayo Clinic brain trauma wing.
Victoria Beckham, also known as Posh Spice, also known as Mrs. David Beckham: Requires one leash, very short, husband-sized collar; one "I'm Sorry" diamond ring, Harry Winston, platinum setting with a stone big enough to choke a pig. Big as the Ritz. Bigger even than the one Kobe gave Mrs. Kobe.
David Beckham, Real Madrid:
Requires two cellphones, text-message capable, MUST BE SECURE!; limousine service with driver who can keep his bloody mouth shut; assorted reading material, including "Spanish for Jocks," "Madrid on Less Than $50,000 a Day," and current issue of "Metrosexual Monthly." Also, requires personal assistant, must be old, fat, ugly and toothless with body odor and bad breath if Mrs. Beckham is accompanying client.
Paul Hornung, Notre Dame broadcaster: Requires autographed, updated edition of "The Bell Curve"; free skull-measurin' scientific calipers.
Anna Kournikova, tennis model: Requires one calendar from the year 2002 when Ms. Kournikova and Martina Hingis were winning doubles titles; voodoo doll and assorted pins and needles for sticking and gouging a likeness of that b-tch Jenny Finch; some of those tennis racquet thingies. Also requires one triple-wide trailer, fully-stocked with lingerie and pillows for the girl-fights Ms. Kournikova has with her sexy pals before their nightly "slumber party." (Ha! Just messin' with you.)
Chicago Cubs, Major League Baseball: Require six goats and a stone altar.
LeBron James, Cleveland Cavaliers: Requires unlimited number of tickets to playoffs at any NBA venue.
Roger Clemens, Houston Astros: Requires free storage hanger for retirement gifts.
Jim Harrick, Jr., former Georgia basketball assistant coach: Requires irrevocable tenure as an accredited professor of basketball science; academic robes; fancy stripes to wear on said robes; written permission from dean to skip graduation day activities.
Pedro Martinez, Boston Red Sox: Requires 9 p.m. game-day dinner reservations at finest restaurant in city in which he pitches.