We became Facebook friends about three months ago -- me, the Costco-outfitted sportswriter; C.J. Nitkowski, the Costco-outfitted baseball player.
In a day and age when the wall between jocks and journalists is wider than David Wells' midsection, the idea of two people like C.J. and I emerging as buds -- even via the Internet -- is hard to fathom. My job is supposedly to bring the C.J. Nitkowskis of the world down. His job is supposedly to avoid me (and my type) at all costs and -- when cornered -- offer the most clichéd, sleep-inducing words humanly imaginable.
Alas, C.J. Nitkowski is no ordinary baseball player.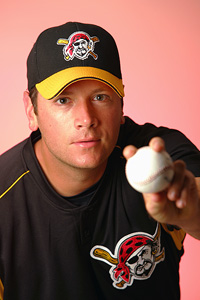 Jamie Squire/Getty Images
C.J. Nitkowski toiled in the Pirates organization in 2006 before going to play in Japan.
To start with, he blogs. And blogs. And blogs. And blogs. Following a 10-year, eight-team major league career, last season Nitkowski left America to sign with the Fukuoka SoftBank Hawks of Japan's Nippon Professional Baseball. What he initially perceived to be merely an opportunity to prolong his career as a left-handed relief specialist turned into an inspired literary buffet. "Here," he says, "there's just so much to write about."
Within minutes of reading his blog at www.cjbaseball.com, it becomes clear that this is a far departure from, say, Barry Bonds "writing" about his home run chase on barrybonds.com (it was well known that Bonds' posts were written by Barry Bloom of mlb.com). Nitkowski, who began his scribe career by contributing to the Houston Astros' Web site in 1997, is brutally honest and joyfully self-deprecating -- so much so that The Associated Press actually hired him last season to write a handful of pieces.
It is not hard to see why. Here, take a gander:
August 17, 2008: The last few weeks have been rough for me. I lost my job as the top lefty in our bullpen, my ERA in my last 4 games has gone from around a 2.50 to a 4.50. I'm hardly pitching in any games and my family has been back in the U.S. for what seems like months. Not a fun time for Nicochan.
What has been most disturbing to me is how I have handled this situation. Physically I feel fine, but mentally I have been grinding to get through each day and my attitude hasn't always been great. There have been days that I haven't wanted to be here. That's not like me. I usually handle adversity well, but this time around I have been on an emotional roller coaster of depression, anger and paranoia.
Losing my position in the bullpen is something that has not been easy for me to take, especially because I didn't think I deserved it. I have been thinking it through, trying to figure out what the root of my frustration is and I think I know.
Something that will never happen for me as a foreign Hawks player is that no matter what I do, I will never earn the complete trust of my coaching staff. That is hard for me to accept.
Put simply, Nitkowski is a different sort of cat -- eh, Hawk. Traditionally, Americans who wrap up their careers in Japan are -- all respect due to Bob Horner -- either fringe players with 12 career major league at-bats or desperate, last-rope hangers-on who envision one final fat paycheck on the way out the door. They've been released and released and released by major league teams, and finally -- at an agent's urging and the promise that, "They have McDonald's now!" -- take the Asian leap. Once in Japan, they insulate themselves, plopping down in front of the television in a desperate search for "Charles in Charge" re-runs or the "700 Club" or whatever reminds them most of home.
Although Nitkowski was, in some regards, a last-rope hanger-on who spent the entirety of 2006 in the Pirates' minor league system, the move to Fukuoka was, he insists, not about the money. "Obviously, the first choice is to play in the States and not inconvenience the family," he says. "But playing in Japan and experiencing a completely different culture was always something that'd intrigued me. My wife was into it, and my three kids are old enough that we could take the chance. I thought, 'Why not live a little?'"
Nitkowski is making $700,000 annually to play a game he loves and cherishes. He has learned to speak and write Japanese, digs the food (in moderation), appreciates the high level of competition and has seen a part of the world that, before 2007, was merely a colorful blob on the map. "I've never regretted this decision," he says. "If nothing else, it's opened my eyes."
Yet even in 2008, with loved ones a mere Facebook chat away and American TV readily available, Nitkowski admits the transition remains a tough one. When hungry, he often finds himself at the nearby Hard Rock Cafe, a restaurant he's frequented at least 20 times ("At home, maybe I'd go there once."). He buys much of his clothing at Costco, because, "I'm 6-foot-3, and it's impossible to find pants that size here," and is continuously craving turkey -- just so much as a single slice. "I don't think turkeys inhabit Japan," he says. "Either that, or they don't kill them."
Nitkowski's greatest adjustment has been playing for Sadaharu Oh, the legendary Japanese slugger and current Hawks manager. Because Nitkowski has an ethics clause in his contract, he is not permitted to rip his famously inept skipper -- but that doesn't completely stop him. "The problem on this team is that everyone is scared of him," Nitkowski says. "He's a very honorable man … certainly worthy of admiration. But as far as managing a game and relating to his players … well, not so good. Everybody is scared of him." In 2007, Nitkowski was sent down myriad times. Once, he says, the demotion came while his ERA was 1.40. Another time, he went three months without allowing a hit to a left-hander. "Then I hit a batter," he says, "and I was immediately demoted."
"It can be crazy," he says. "The other day it was a scoreless game in the fourth inning, our pitcher had first and third with nobody out, and we had three relievers up. Everything here is very on edge … very nervous. For me, that makes it a little harder to perform."
That said, Nitkowski wants back in 2009. Come the end of the day, baseball is still baseball. The challenge of pitcher versus hitter. The love of winning. The bonding between teammates -- Asian, white, black, whatever.
"I am blessed to play this game," he says. "I'd like to keep going."
When his career finally ends, Nitkowski already has an idea of what might come next.
"I'm beginning to think," he says, "of becoming a sportswriter."
Jeff Pearlman is a former Sports Illustrated senior writer and the author of "Boys Will Be Boys: The Glory Days and Party Nights of the Dallas Cowboys Dynasty," which will be released on Sept. 16. You can reach him at anngold22@gmail.com.