Commentary
Brett Favre dilemma: Lambeau edition
Originally Published:
November 2, 2009
By
Dan Peterson
| Special to Page 2
Sunday, 10:00 a.m. ET: I awake, and my post-Halloween horror show begins. Vikings at Packers kicks off in about six hours. I'm a lifelong Packers fan, born and raised in Wisconsin, so this is the biggest game of the season. The 6-1 Vikings and the 4-2 Packers are the top two teams in the NFC North. Also, the game marks the return of a Packers legend to Lambeau Field.
That's right, folks: Ahman Green is back in a Green Bay uniform and active for today's grudge match.
Also, that Brett Favre guy, formerly of the New York Jets and Atlanta Falcons, is playing his first game at Lambeau Field … as a visitor. In all seriousness, I'm unapologetically pro-Favre. I still love the Packers in my heart of hearts, but I wouldn't mind seeing them struggle until (A) Favre retires for good, and (B) the Ted Thompson and Mike McCarthy puppet show in Green Bay ends. When Favre got forced out of Green Bay by those clowns, lines were drawn, and I chose to stand by my man. I became a Jets fan last season, arguing that Favre can retire/unretire/mow his lawn on whatever schedule he deems best. I may have been in the minority among faithful Packers backers, but many of them wanted to see Favre do well in his AFC East exile.
Of course, that all changed when Favre donned Vikings purple. No more sympathy for the future Hall of Famer. Friends and family members expected me to rise up with my fellow cheeseheads and turn on this seeming Benedict Arnold, but I refused, resolving to cheer for the hated Vikings so long as Brett was under center. I got the first laugh as Favre led the Vikes to a 30-23 win over the Pack at the Metrodome on "Monday Night Football" in Week 4. Afterward, although I admitted it to no one, I felt a little guilty.
What follows is my personal journal about my conflicting feelings as the great gunslinger made his first Lambeau appearance in enemy gear:
[+] Enlarge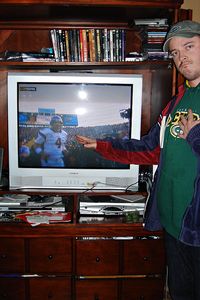 Caitlin Casey Emotions run high as Brett Favre takes the field at Lambeau Field as a Viking.
11:11 a.m.: What do I wear for the game? I can't bring myself to go all-out either way. A purple Favre jersey feels sacrilegious. I go with a Packers hoodie. I consider a Vikings hat, then trade it for a Packers hat, then settle for the first of many compromises today: a faded "Life is good" hat, perfect for riding on a lawn tractor. I think it brings out the grizzle in my Favre o'clock shadow. Something still doesn't feel right. I'm not Brett enough. The finishing touch: a generic No. 4 ziptop -- no purple, no green and gold; just all-American red white and blue(ish purple). Subtly pro-Favre, but tasteful.
12:04 p.m.: On ESPN's "Sunday NFL Countdown," various former Packers sum up the anti-Favre fervor sweeping through Titletown. LeRoy Butler says, "As a former player, somebody who played 181 games, most of them with Brett, if you're not in the green and gold, I don't pull for you. I just don't." Fuzzy Thurston, who once loved Favre the Packer and Favre the man, calls him a "traitor" and says, "For him to be in a Viking uniform, my heart turns cold."
4:08: My heart turns warm and fuzzy as Brett runs out of the visitors tunnel at Lambeau. Lots of booing, but definitely some scattered Packers fans who are standing and cheering. Whew … I'm not alone.
4:13: Thom Brennaman and Troy Aikman are calling the game for Fox. Aikman says something about how "this game means more to Aaron Rodgers than Brett Favre."
4:14: Fox's Pam Oliver reports that more police officers and security personnel have been "shifted near the Vikings' bench to ward off any problems." Like LeRoy Butler.
4:15: Turn back the clock for a Packers legend. Green returns the opening kickoff -- something he'd never done in his first stint in Green Bay. It's not the first, and certainly not the last "first" of the day.
4:16: Rodgers runs out to an overkill of demonstrative adulation. He completes his first pass to Ryan Grant for a first down. Rodgers seems like a good guy; I'm not so heartless to cheer against his success. Honestly, I'm glad he's putting up good numbers and doing well. I hope he does it for another 6-10 Packers team.
4:19: Donald Driver makes a clutch grab for a first down on third-and-5. I cheer instinctively, before my brain realizes the error.
FAVRE DAY BY THE NUMBERS
98.6 -- Mike McCarthy's temperature at kickoff.
4:44 -- Time spent by Fox gushing about BrettFavreBrettFavreBrettFavre the gunslinger.
12:12 -- Time spent by Fox criticizing BrettFavreBrettFavreBrettFavre the waffle-flipping traitor.
4 -- Writer flashbacks of Favre in a Packers uniform.
1 -- Writer flashbacks of Favre in a Jets uniform.
0 -- Writer flashbacks of Favre in a Falcons uniform.
63 -- Number of Favre's ostentatious PDAs with Vikings teammates.
7 -- Number of Favre's postgame embraces with former Packers teammates.
106.0 -- McCarthy's temperature after the game. Also Favre's QB rating for the season.
110.4 -- Aaron Rodgers' QB rating for the season. Also Favre's temperature after Packers scored first.
1 -- Realization that Favre is less village idiot than town bicycle. He's been around the block with four teams now and stuck it to all 32 teams at one time or another. Maybe Lance Armstrong can ride Favre to another Tour de France victory.
-- Dan Peterson
4:21: Rodgers fumbles for an 8-yard loss, and I overcompensate by cheering too loudly. Rodgers lost the ball after bumping into fullback John Kuhn, who wears No. 30 -- Green's original number in Green Bay. I experience the day's first flashback of Favre in a Packers uni, handing the rock to an in-his-prime-but-ever-ready-to-fumble Ahman. I'm getting confused.
4:22: Green Bay's opening drive stalls, and the Packers are forced to punt. Favre enters to loud boos and scattered applause. The old man just grins.
4:23: My buddy Nick, a fellow former Packers fan turned Favre apologist, screams for play-action deep; instead, Adrian Peterson runs for 3 yards. Favre breaks the huddle on second down and gets booed loudly again. Lambeau is bloodthirsty. … The Vikes drive to the Pack 45 before punting.
4:29: Favre manages to upstage Rodgers even when the Packers are on offense. Brennaman announces the existence of Fox's Favre Cam: "If you'd like to see what Brett Favre is doing literally every second of this game, well, we have a camera trained on him all day." Genius! I immediately open the Favre Cam on my laptop.
4:31: Nick wonders aloud, "How long 'til they start booing both quarterbacks?" after Rodgers and the Packers go three-and-out. Commercial break, but not before more boos with Favre's return to the field.
4:33: Favre is startled by the snap, which bounces off his leg, and the Packers recover at the Vikings' 21. Favre gets his loudest ovation of the day from the gleeful crowd. I pray silently: "Dear God, make me a bird, so I can fly Favre far away from here."
4:36: Rodgers gets sacked after holding onto the ball for about 20 seconds. "Favre never takes the sack there," I say. "Yeah, you're right," Nick says. "He throws the interception." Green Bay draws first blood with a Mason Crosby field goal. Green Bay 3, Minnesota 0.
4:44: Vikings face fourth-and-goal from the 1. Handoff to Peterson … touchdown! Favre raises his arms, then slaps a couple of his O-linemen half-heartedly. No Lambeau Leap. Had he thrown a 1-yard TD to Visanthe Shiancoe, he'd be crowdsurfing along the Vikings' sideline.
4:48-4:56: I assume the Packers are probably on offense, but I'm not sure because I'm mesmerized by the Favre Cam: He puts on a Vikings cap. He drinks Gatorade. He consults a binder. What's he looking at in there, anyway? Photos of the Packers' defensive fronts? Hate mail from Packers fans?
4:57: First hit on Favre, by Packers defensive end Aaron Kampman, who also seems conflicted. First he wraps up Favre in a bear hug, then he maliciously tosses his former teammate to the ground. Then he strikes the classic, palms-up "I didn't do it" pose. Yes, you did, AK. Not cool.
4:59: Favre throws a TD pass to Shiancoe! It's 14-3 Vikings! Favre's celebration is again subdued. Raised arms, frozen smile, quick embrace with Peterson. Favre hobbles off gingerly. Looks like the hip is bothering him.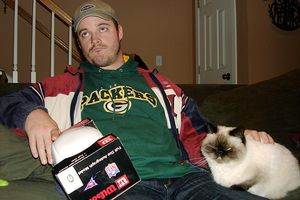 Caitlin CaseyRides on emotional roller coasters are best shared with a friend.
5:02: Ahman Green, apparently gassed after two kickoff returns, falls down upon catching his third. He and a gimpy Favre seem to be engaged in an energy-saving contest on daylight savings day. It's so strange to see Green wearing No. 34. I figure it's probably his age or his waist size or something. After checking online, I realize it's actually his career fumbles total with the Packers. Seriously. Welcome back, Batman.
5:05: Vikings defensive end Jared Allen embarrasses Packers left tackle T.J. Lang for the Vikings' third sack of the game. If Favre is a gunslinger with an itchy trigger finger, Rodgers is a suicide bomber, willing to go down for the cause.
5:16: Meanwhile, the Vikings have reached jugular junction: fourth-and-1 deep inside Green Bay territory. Another TD here, and it's effectively over. Timeout. Brad Childress decides to go for it; Peterson gets stuffed. Packers take over on downs; Ted Thompson deletes the rough draft of his resignation letter.
5:33: Halftime. Minny 17, Green Bay 3. Huge bummer from FOXsports.com: "Favre Cam will return after halftime." And I was hoping to see Brett choreograph end zone celebrations with Peterson in the locker room. Halftime stats: Favre -- 11-of-15, 97 yards, TD; Rodgers -- 5-of-11, 38 yards, 4 sacks. So far, so good, but Brett needs to step up his ostentatious cheerleading in the second half.
5:53: Favre chucks a 51-yard TD to Percy Harvin! Woo! Favre busts out of his celebration slump and goes into full-blown PDA mode: hugs, leaping chest bumps, fist pumps, high-fives all around. Commercial break, but Favre continues to ham it up on Favre Cam. Another session with the binder. Are compromising photos of Thompson in there? Vikings 24, Packers 3.
5:59: Nick screams, "Greg Jennings is alive!" It's his first catch of the day, 30 yards for a first down. Favre goes into cheerleader overdrive, clapping hands and yelling to encourage his defense.
6:07: Third-and-goal from the 4. Allen sacks Rodgers AGAIN. That's five sacks in 20 dropbacks for Rodgers. It seems as though Rodgers' commitment issues are way bigger than Favre's ever were. Crosby field goal; Vikings 24, Packers 6.
6:11: Squib kick. Packers recover fumble. Hmmm … do I smell a comeback brewing?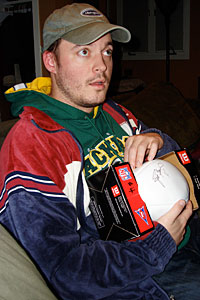 Caitlin Casey When in doubt, clutch a beloved football autographed by Favre.
6:14: Rodgers TD pass to Spencer Havner. What's that? You've never heard of Havner? Neither have the fantasy owners of Jennings and Driver. Minny 24, GB 13.
6:27: Packers on the move again. Third-and-4 from the 5, Rodgers rolls right and flicks a 5-yard TD to Havner, aka Vulture. Green Bay cuts the lead to 24-20. I excuse myself, and dry-heave in the bathroom.
6:30 Packers fans have officially awakened, remembering to boo Favre as he breaks the huddle. Ever fearful of being forgotten, Favre appreciates the attention.
6:39: Third-and-goal from the 2, play-action (thank you, Brad!), Favre TD pass to Jeff Dugan! Third TD toss; Vikings 31, Packers 20.
6:40: Favre is worn out from all the high-fives and backslaps. He can't resume the binder breakdown without first pausing to grimace. Maybe he's looking at his X-rays, trying to decide if he should have the hip replaced during the upcoming bye week or wait until after the season when Medicare kicks in.
6:47: Rodgers TD pass to Jennings, despite pass interference, on third-and-5. Try for two fails; 31-26, Vikes. 10:26 to play. QB comparison thus far: Rodgers -- 21-of-30, 238 yards, 3 TDs, 126.8 rating; Favre -- 15-of-24, 184 yards, 3 TDs, 125.7 rating. Somehow, Rodgers has the edge. I'm hyperventilating.
7:01: Jared Allen is left UNBLOCKED and nabs another sack. Did the Packers forget about the dude who's sacked Rodgers 7½ times this season?!
7:03: Crosby misses a 51-yard field goal. McCarthy resists urge to kick Crosby.
7:04: Favre throws a screen pass to Peterson, who rumbles for 44 yards to the Green Bay 15. All Day, indeed. TMQ writes the words "game over" in his notebook. I'm feeling less nauseous.
7:05: Total offense: Minnesota -- 335 yards; Green Bay -- 337 yards; Brett Favre -- millions of fans betrayed.
7:07: On third-and-11, Favre gets greedy and slings a risky throw to Bernard Berrian … touchdown! Celebration of celebrations! Favre, jumping up and down, is hindered by the hip, but he smoothly transitions into a series of man-hugs. It's the 21st time that No. 4 has thrown four TDs in a game, tying Dan Marino for the NFL record. Sweet! Vikings 38, Packers 26; 3:48 to go. I write "identity crisis over" in my notebook.
7:11: The requisite Ted Thompson reaction shot. One can only imagine that Packers fans watching at home unleash the biggest boo of the day.
7:12: Jennings is shaken up on an incomplete pass along the Vikings' sideline. Like a concerned father, Favre checks on him. While limping back to the Packers' sideline, Jennings turns and giggles at something Favre says. I assume Jennings replies with something along the lines of, "My stats miss you, too, old man."
7:21: More boos for Favre as he walks off field. Also one long, girlish scream. Packers fans never take a play off. They're much more consistent than the Green Bay O-line.
7:22: Clock ticks to 0:00. Ryan Longwell and Favre celebrate. Fastest handshake ever between Favre and McCarthy, who doesn't actually come to a complete stop, but Brett isn't fazed by the bump-and-run. Favre hugs Al Harris, hugs and chats with Jennings, then chats with Rodgers. Favre hugs Ahman Green. Favre and Driver hug. I hug the autographed Brett Favre football I've commandeered from my girlfriend, Caitlin.
7:23: Favre Cam OUT! Damn. It's officially over. Favre talks to Pam Oliver in the postgame interview, choking up briefly. I'm drained. I can't quit you, Brett. Let's take a break next week, then get back together in Week 10. You complete me.
Dan Peterson is an editor for ESPN.com.
Nike Youth Home Game Jersey Minnesota Vikings Adrian Peterson #28 Shop »
MOST SENT STORIES ON ESPN.COM