George Steinbrenner has spoken. If the Yankees lose, then Joe Torre is gone.
Well, they lost ... and from everything written and said in the aftermath, it looks like a done deal as far replacing the Yankee skipper.
OK, so who should they hire next?
Joe Girardi? Don Mattingly? Tony La Russa?
If the Yankees really want to shake things up, they need to think outside the box. With that, here are a few candidates Page 2 thinks The Boss should at least consider.



Ethan Miller/Getty Images
If Frank Caliendo is named Yankees manager, the job will provide much-needed publicity
for his upcoming show.
Frank Caliendo
Strengths: Could be anyone the Yanks need him to be -- Babe Ruth, Joe McCarthy, Casey Stengel and even Robin Williams to keep the guys laughing whenever they're "pressing" too much.

Weaknesses: Would be unavailable for a stretch every September while accepting multiple Emmy Awards for the soon to be wicked awesome "Frank TV".

Odds on getting hired: 10,000-1



Bobby Valentine

Strengths: A cunning tactician and master of disguise his opponents usually are left baffled. Also, knowledge of Japanese would take pressure of Hideki Matsui whenever the team goes out for sushi.

Weaknesses: Wardrobe choices may ruffle feathers and might not be available due to a commitment to teach dance class at a Gold's Gym in Japan.

Odds on getting hired: 5-1



Rudy Giuliani

Strengths: All of the recent dynasty rings were won on Rudy's watch as Mayor of New York City. Yanks haven't won since he left office.

Weaknesses: Currently the leading GOP candidate for president, making his commitment to the team and availability a slight issue.

Odds on getting hired: 10-1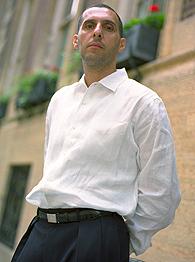 AP Photo/Jim Cooper
There's no word on whether John Turturro would bring along his prosthetic ears from "The Bronx is Burning" if he's named Yankees manager.
John Turturro
Strengths: Played Billy Martin in "The Bronx Is Burning" so he's already well-seasoned on dealing with the Old School version of The Boss. Also played Jesus in "The Big Lebowski" and as we know "No one f---- with The Jesus."

Weaknesses: Record of being intimidated by "big time" opponents like Teddy KGB could hurt him when they face the Red Sox and Angels.

Odds on getting hired: 100-1



Steve Swindal

Strengths: Nothing, except the joy The Boss would have to fire his former son-in-law ... again.

Weaknesses: Might not have the respect of the dugout, after all he did sleep with The Boss' daughter.

Odds on getting hired: 1,000,000,000-1



Jeffrey Maier

Strengths: Became chief architect of the now defunct Yankee dynasty when he interfered with Orioles outfielder Tony Tarasco in the 1996 ALCS.

Weaknesses: He didn't even make the catch. You need to know your Tom Emanski before you can teach it, Jeff.

Odds on getting hired: 300-1



Paul Sorvino

Strengths: Played Paul Cicero in "Goodfellas," providing valuable experience running one of New York's crime syndicates.

Weaknesses: Played Torre in "Joe Torre: Curveballs Along the Way" in a made-for-TV movie. No way that will sit well with The Boss, in fact it might even confuse him.

Odds on getting hired: 100,000-1



The cast of FOX TV shows

Strengths: Extensive scouting experience after spending the last 12 years in the front row of most Yankee games that FOX televised.

Weaknesses: The Simpsons' well-documented history with MLB might cause Bud Selig to veto the deal.

Odds on getting hired: 200-1



Debbie Clemens

Strengths: Passionate (as demonstrated in her cell phone ad) and would fulfill the clause in Andy Pettitte's contract that a Clemens must be on the Yankee roster at all times.

Weaknesses: Would constantly be lost if she uses the same map Roger did when he signed with Toronto after stating he wanted to "be closer to home."

Odds on getting hired: 5-1



Mike Philbrick is an editor for Page 2. Sound off to Page 2 here.