How to win* your tournament pool
*not guaranteed
The pairings soon will be set. The pods are almost aligned. The madness is nearly upon us -- and when college basketball's annual crapshoot tips off, you'll be scrambling for a last-minute speculative edge, eager to claim first place in your office pool.
Not to worry. We have the answers.
Oh, and all you need is a blank NIT bracket.
As for the NCAA tournament? Forget it.
According to some oddsmakers, a No. 16 seed has a 384 million-to-1 shot at winning the whole thing.
And your odds aren't much better.
Go ahead: Study the RPIs until your corneas detach. Break down game tape like Rick Majerus on a SpectraVision bender. Run the KenPom efficiency ratings through NSA supercomputers so powerful they make Skynet resemble ColecoVision.
PAGE 2'S FOOLPROOF METHODS FOR PICKING YOUR BRACKET
On Friday, we promised to help you win your NCAA pool. Here are our nine foolproof methods.
The 10th -- straight chalk -- will be figured into the Page 2 group bracket as a control variable.
Stay tuned to Page 2 throughout the NCAA tournament to see how our brackets stack up.
Best unis
Our uniform expert breaks down attire aesthetics.
Uni bracket
Mascot fight
Which school has the most intimidating mascot?
Mascot bracket
Celeb alums
Which school has the most star power?
Celeb bracket
Inverse graduation rate
Which program graduates the fewest players?
Grad rate bracket
Coach appearance
Which coach is best-dressed for success?
Dapper coach bracket
Collegiate beers
If each school was a beer, which one would you drink?
Beer bracket
Cred, creed
Who has the right mix of street cred and religious clout?
Cred and creed bracket
Cheesy slogan
School slogans can say a lot. Who has the best one?
Slogan bracket
Non-hoops jocks
Which school produces the most successful non-basketball athletes?
Non-hoops jocks bracket
You still won't win. And you know this. Know it from cruel experience. Year after year, you dutifully crunch 3-point percentages, pick a 5-12 upset, and search for glue guys and senior leadership. Yet year after stinkin' year, the guy in accounts payable who thinks Xavier was Patrick Stewart's finest role walks away with your $20.
Well, unless you're Rick Neuheisel. In which case, it's more like $5,000.
We've said this before and we'll say it again: College basketball knowledge is inversely proportional to bracket-picking proficiency, the way academic reputation is inversely proportional to the attractiveness of a school's student bodies (sorry, Duke), the way collegiate scoring touch is inversely proportional to the manly fullness of one's 'stache (see Morrison, Adam and Jordan, Michael).
These are the facts. They are not in dispute. Otherwise, Playboy would be prepping a "Girls of MIT" issue … and hirsute Eugene Edgerson would have led Arizona to the 2001 national title. March Madness defies March Methodology.
As such, there's only one way to win your pool. Get stupid. Unlearn what you have learned: North Carolina is deep, Memphis can't shoot free throws, blah, blah, blah. It's time to be different. Shake things up.
After all, in a market in which educated guessing is rampant, uneducated guesses could be undervalued. Think of yourself as Bracketville's answer to Billy Beane -- only far less likely to inspire a best-selling book.
Herein, Page 2 submits some alternate -- read: imbecilic -- methods for making your NCAA selections. (On Monday, we'll provide completed brackets, along with our, um, reasoning for each.) Feel free to mix 'n' match or just disregard entirely in favor of a Ouija board and a bottle of tequila. Results should be comparable:
Best Uniform
It's pretty simple, really: Do you want to root for -- or even look at -- a team dressed like this or one dressed like this?
Face it, picking the better-dressed team is the way to go, because that's what your heart wants, anyway. (Especially if your heart has a 42-inch HDTV.) Besides, the rest of us don't want to get stuck watching some crummy-looking team all the way to the Final Four, which means the sharply dressed squads need all the support they can get. Remember, haberdashery is destiny. With the possible exception of Marquette's 1977 national championship team.
Mascot Fight Club
Two mascots enter. One mascot leaves, orange fur in tatters. Lending pseudoscientific prestige to bong-induced dorm room brain-twisters such as, "Who's tougher, Jaws or an orca?" mascot battles are a near-perfect method for sussing out tournament picks.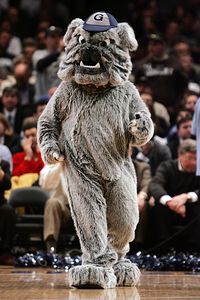 Jim McIsaac/Getty Images
Wait, if "Hoya" means "What Rocks," why does Georgetown have a bulldog as a mascot?
In fact, there's just one flaw.
Some throwdowns are hard to call.
Is a USC Trojan tougher than a Michigan State Spartan? Can a Cardinal outpeck a Jayhawk? Does a Purdue Boilermaker do more to foster global warming than a Stanford Tree does to fight it?
(Oh, and Georgetown Hoyas? Shouldn't it be Bulldogs?)
Last year's field of 65 featured dogs (Butler Bulldogs), cats (Memphis Tigers), reptiles (Florida Gators), birds (Boston College Eagles), paranormal phenomena (Duke Blue Devils), guys with guns (Xavier Musketeers), guys without guns (Penn Quakers) and guys with smallpox-infected blankets (George Washington Colonials). So how to separate the champs from the also-rans, the Golden Eagles (Oral Roberts) from their Purple cousins (Niagara)?
Try this: Which mascot would scare you, a human, the most in a real-life back alley? If both are equally frightening, like a stampeding Longhorn and an ornery Razorback, add a tiebreaker. Which school's on-court mascot is more likely to make you soil your gym shorts?
Take UCLA. In theory, its ferocious Bruin mascot could rip you limb from limb, then make a nice snack of your entrails; in practice, Joe and Josie Bruin resemble nothing so much as the snuggly, huggable bastard children of Teddy Ruxpin.
Advantage: not Westwood.
Celebrity Alumni
A school is only as solid as the distinguished alumni it produces. Basketball is no different. For instance, UCLA is gunning for a third consecutive Final Four appearance and has more NCAA championships than any other program; in an eerie bit of symmetry, the dude who played Jake on "Melrose Place" just happens to be a Bruin.
Likewise, it's no surprise that Duke (Dave Thomas, Wendy's founder) is a tourney regular, while conference-mate North Carolina State (John Tesh) is on the outside looking in.
Using famous alums as a benchmark, bracket-picking success is just a few Google searches away. Look for quality, quantity and, of course, infamy. Weigh accordingly. Clemson (the girl who hosts "Access Hollywood," the guy who played Gunther on "Friends") looks solid, Texas (Dan Rather, Walter Cronkite, Dabney Coleman) appears dominant and Kansas (Don Johnson) just might win the whole thing. Unless they run into Southern Cal (take a guess).
Best Non-Basketball Athlete Alumni
Speaking of O.J. Simpson, at Page 2 we pride ourselves on our worldly knowledge and expertise of … well, let's just say we know where The Iraq is located on a map. So we don't limit ourselves to just basketball knowledge in picking our bracket. The creative mind considers more than the obvious. Sure, you might pencil Duke into the Final Four based on its rich hoops history, but can you name one Duke grad playing in the NFL? And considering Florida -- Florida! -- has won the past two national titles, it's time to think outside the traditional basketball powerhouses and evaluate schools based on their athletic prowess across other sports. After all, you wouldn't have picked the Gators based on the legacy of Dwayne Schintzius.
Which brings us to O.J. O.J., of course, was a Heisman winner at Southern Cal, a school that has produced football stars galore and 100 major leaguers, including Tom Seaver, Mark McGwire and Randy Johnson. It has produced Olympic swimmers and Olympic sprinters. So you might think the Trojans would be a Final Four lock. But … let's be honest here, O.J. kind of throws a wrench into their athletic heritage. And considering the star of this year's basketball team is O.J. Mayo, well, that's probably some bad juju.
Inverse Team Graduation Rate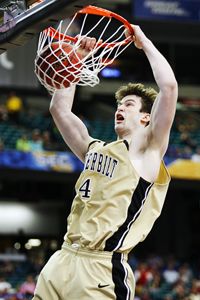 AP Photo/Dave Martin
A.J. Ogilvy and Vanderbilt are known for their high SAT scores -- but not their Final Four appearances.
A few years back, the back cover of the official NCAA tournament record book proclaimed a commitment to QUALITY EDUCATION and STUDENT-ATHLETES.
Must …
… stifle …
… giggles …
Meanwhile, the book itself contained grade point averages and graduation rates for every champion since, well, never. And with good reason -- CBS ain't paying a gazillion dollars to broadcast study halls and sociology exams.
Fact is, if you are seriously committed to QUALITY BRACKETS and WINNING THE POOL, you are better off picking games via inverse team graduation rate.
Consider: No Ivy League school has reached the Final Four since Penn in 1979. Stanford almost always bombs out early. Ditto for Vanderbilt. And this makes sense. After all, who cuts nets? Future NBA draft picks. Who doesn't cut nets? Brainy prelaw students who are too busy boning up for their LSATS, the better to someday represent said NBA draft picks.
Coach Appearance
According to the NCAA record book, only one bearded coach -- former Seton Hall skipper P.J. Carlesimo -- has ever guided his team to the Final Four.
This is not a coincidence.
Coaches are the faces of their programs. Literally. And in our look-good-to-feel-good, image-is-almost-everything era, is it any wonder clean-cut, well-groomed, sharply suited standouts like John Calipari lord over the college game? That Arizona fans can't wait for immaculately coiffed Lute Olson to retake the reins from Bozo-ish-looking interim coach Kevin O'Neill?
(Granted, Gollum look-alike Jerry Tarkanian won a title at UNLV, and Gary Williams flop-sweated his way to a championship at Maryland. They simply are the exceptions that prove the rule. Sorta like Steve Lavin.)
When in doubt, go with the coach who could be modeling a wristwatch in GQ as opposed to the coach who resembles a regional Applebee's manager. (Note: Does not apply to Billy Donovan.) In practice, this means better tie, better suit and a hairline that resides on the non-patchy side of Rogaine Boulevard.
And don't forget about height. The book "Too Tall, Too Small" reports that in the 21 presidential elections from 1904 to 1984, the taller candidate won 80 percent of the time.
Speaking of Washington: Towering John Thompson led Georgetown to three straight Final Fours. Again, not a coincidence.
If This School Were a Beer, Would I Drink It?
Fact: You drank less beer in 2007 than you did in one tame weekend back in college -- back when weekends started on Thursdays and brews were cracked in the shower before you went to the party, when quarterly recycling collections rivaled most 401K plans and the funds saw a noticeable spike in spring semester, thanks to Cinco de Mayo (don't tell Lou Dobbs!) and St. Patrick's Day (um, yeah, you should kiss me; I have like a great uncle who's Irish or something, I think).
This year, the shamrock conveniently drops the day after Selection Sunday, giving basketball fans an ongoing excuse to drink beer and beer drinkers an excuse to drink way too much beer. As such, it makes sense to get in the spirit -- and no, we don't mean drunk-texting your ex after vomiting in the afternoon. As you read through the regions, apply a simple litmus test: Which school sounds like the better brew?
Tennessee Pale Ale? Or Western Kentucky Honey Brown?
The one you would put in your fridge -- the one that feels so good when it hits your lips -- is the one that gets the nod for the next round.
Really, it's as simple as Newcastle over Natty Light.
The Three and A Half C's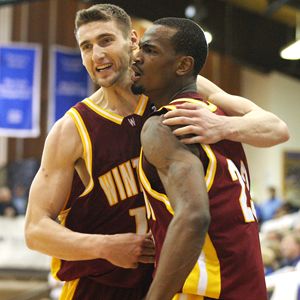 AP Photo/Jason E. Miczek
Sorry, Winthrop, our advice is to never bet on a public school that doesn't include the state's name.
Sort of like rock, paper, scissors, our C's (Classification, Creed 'n' Campus, Cost) are a surefire way to pick between state school juggernauts and scrappy private institutions.
The first thing to consider is the state school with nothing to hide (i.e., the University of North Carolina) versus the state school under an alias (i.e., Austin Peay, a public university in Tennessee). In this case, the forthright municipal beats the state school answer to Ron Mexico every time.
The next rochambeau of this bracket breaker is creed. Always take a religion-affiliated school (Gonzaga) over any little state school (Winthrop), so long as both are located in small towns or leafy suburbs. If either has legit urban campus cred (and we're not talking Portland State), it gets the nod to the next round. It's good to have God on your side, but better to have God in the form of a platinum-and-diamond-encrusted baby Jesus pendant.
Finally, you can judge a college hoops program by its cover. The admission cover, that is. If a public school's out-of-state tuition is higher than a private school's tuition (such as UCLA's $26,102 versus Belmont's $19,780), the state school wins. In this world, you get what you pay for.
However, any school whose tuition is more than $30K (i.e., Cornell's $34,781) loses unequivocally, because it probably is too busy paying for top-shelf professors and high-tech computer labs to build a decent weight room.
Cheesy School Slogans
Samuel Johnson once dubbed patriotism the last refuge of a scoundrel. But don't hold that against him: It wasn't his fault modern marketing and public relations had yet to be invented.
As schools scramble to brand themselves -- what is the NCAA tournament, really, but a three-week informercial? -- it's only fair to judge them accordingly. Side with the slogans that could pull double-duty on a locker room whiteboard, without sounding utterly absurd. For instance:
• Louisville: "Imagination. It's Happening Here." Meh. Imagination is nice. But "Stomping the Rest of the Big East" would be nicer.
• Washington State: "World Class. Face to Face." Awesome! Provided that's a description of the Cougars' man-to-man defense.
• Michigan State: "Advancing Knowledge. Transforming Lives." Poor. Forget knowledge. Try advancing to San Antonio, mmmkay?
• Marquette University: "Be the Difference." Fail. How about "Be the Ball"? Talk about pure pabulum. Is Marquette running for president?
Straight Chalk
With the probable exception of Joe Lunardi, no one puts more time and effort into the brackets than the NCAA selection committee. So why quibble? Take all the higher seeds, check your soul at the door and enjoy an evil, satisfied smirk every time a major conference powerhouse smashes Cinderella's pumpkin with a gas-powered industrial jackhammer. Thank us later.
P.S.: Remember to check back Monday for our completed brackets in all these categories.