Commentary
Ben Utecht: From the NFL to Nashville
Originally Published:
March 8, 2011
By
Alex Prewitt
| Special to Page 2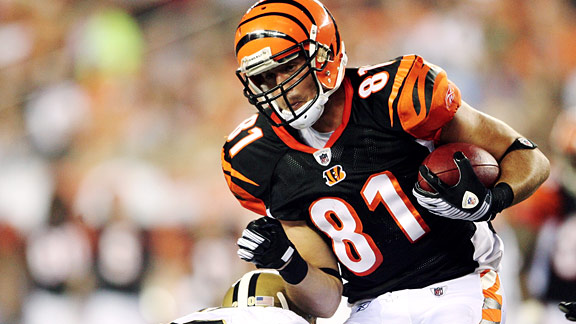 Andy Lyons/Getty ImagesBen Utecht played tight end for the Bengals and the Colts before a concussion ended his career.
The first thing you notice is his size, the 6-foot-7, 250-pound frame that dominates the stage and instantly directs all eyes toward him. Maybe he'll tell a story about his Super Bowl-winning days with the Indianapolis Colts. Maybe he'll talk about his experience with the Cincinnati Bengals on "Hard Knocks." Maybe he'll shatter a brick with his fists.
The last thing you'd expect is the hulking retired football player to do, though, is sing.
But when Ben Utecht belts out the first note, the preconceived doubts fly out the window, destroyed by the angelic voice reverberating from the former tight end. For the man built like a jukebox possesses the musical capabilities of one, too.
"When you first meet him, first you're struck by his size and his charm, but when you hear him sing, I think that's when people's jaws hit the ground," said Steven Reincke, music director for the New York Pops and principal pops conductor for the National Symphony, who worked with Utecht in the Cincinnati Pops. "They think, 'For real? That's coming out of this guy?'"
Growing up in a small Minnesota town, Utecht's life was sports. He dreamt of playing professional football and ultimately reached his goal, logging a four-year career with the Colts and Bengals that included a championship in Super Bowl XLI. But Utecht was always the Renaissance man, singing in church and then running people over on the field. Three sports and five choirs were his world at the time. So when he suffered a career-ending concussion during the 2009 preseason, pursuing a career in music seemed the next logical step.
"It wasn't easy to make that decision [to retire], but the beauty is that I have a passion for music, so it helped me through that transition and helped me stay grounded," Utecht said.
Even during his days on the field, Utecht felt that music bridged him to the outside world in ways football never could. Perhaps it was the incomparable experience of reaching out during a concert to grab the hands of a fan. Whatever the reason, Utecht was hooked.
[+] Enlarge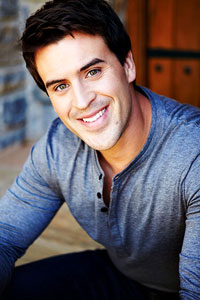 Courtesy of Ben UtechtFormer Colts and now singer Ben Utecht is performing Dec. 28 in Indianapolis.
"It's much harder in professional sports to really connect to people. You wear a helmet and you're untouchable and you're out on the field," Utecht said. "In music you're vulnerable and you're open. It allows you to come in and reveal your passion and reveal your heart and it allows you to connect with them on an emotional level."
Reincke met Utecht when the latter joined the Bengals and the former was working with the Cincinnati Symphony and Pops as an associate conductor. A big sports junkie, Reincke knew of Utecht's collaboration with the Indianapolis Symphony and brought him along to sing with the orchestra in 2009.
On stage with a 300-voice Mormon choir and the instrumental ensemble, Utecht rapidly earned the praise of the musicians for his dedication and talent. After rehearsal one day, the string section took their bows and tapped them on the stands, an indication of respect that Reincke says doesn't occur every day.
"The first time I heard him I thought, Holy cow, he's the real deal. It's not some gimmicky thing about some pipe dream," Reincke said. "It's no act with Ben. I can't believe it comes out of this guy."
The scarcity of finding a tight end in the NFL with such a powerful voice isn't lost on Utecht's former teammates either, despite any good-natured ribbing they consistently gave him in the locker room.
"It's not like it's rejected, but it's rare that football players are good singers," Colts tight end Dallas Clark said. "It's not a correlation. When you have a guy like Ben that's so talented, it's ridiculous the skills that he has in so many different areas. Usually you play football, and your skills don't expand to other things, but he's definitely a rarity in that field."
As far as the future goes, Utecht has relocated to Nashville and typically works for hours each day writing songs, playing the guitar or honing his craft on the piano. Drawing frequent comparisons to multi-platinum artist Josh Groban, Utecht may have coined a new genre when he referred to his style as "rocksical: a cool fusion of classical meeting rock and pop."
Reincke, for one, would love to see Utecht headlining concerts with a Grammy under his belt, backed up by a 60-piece orchestra with a full rhythm and a lush string section. Clark said the "sky's the limit" for his former teammate.
The down-to-earth Utecht, however, has few material expectations, instead preferring to rely on the hard work and passion that's gotten him this far already, especially in an unpredictable industry.
"It's funny, I had to pick two of the most difficult career choices," Utecht said. "Music is interesting because there's really no protocol. In sports, your success is the result of your talent. In music, there are so many talented people there, in fact there are probably more talented people not on the big stage than on it. It's a matter of taking advantage of that opening because timing is everything.
"All I know is that I've always been someone who rises to a challenge. I love the fact that it's difficult and I want to give it a shot. The path will be laid out there and I'll keep walking. ... You just have to prepare your fields, and when it rains your seeds will grow."
Utecht's music can be heard at http://www.benutecht.com/.