Single page view
By Mary Buckheit
Page 2
Just when you had gotten over going smooch-less at the stroke of midnight on New Year's Eve, you're bombarded with reminders that your love life isn't nearly as fresh as your desk calendar. Thanks, Hallmark. But since not everyone spends Valentine's Day obsessing over orchids and counting confection calories, we're here to look out for you.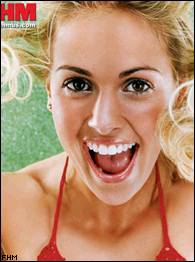 Heather Mitts was Page 2's 2004 Hottest Female Athlete
Cupid can't always corral your perfect Valentine, but Page 2 can.
We sent our Mary Buckheit out with a box of chocolates and some soccer cleats to chat with Heather Mitts, ESPN.com's reigning Hottest Female Athlete, for a special Valentine's Day treat.
Mary passed along our gifts, right down to the last little candy heart, but Heather wasn't having it. Her take? Valentine's Day is just like any other day of the year. It can be special and romantic, but otherwise, it's just another day. "Don't just sit around and mope," says Heather.
We're never one to argue with Ms. Mitts, or support anything that turns her off. So here's a dose of the sport world's perfect valentine to help combat the V-day mopes. Don't say we've never done anything for you.
* * * * *

1. So, how were the last 365 days living as Page 2's hottest female athlete?
Heather Mitts: 2004 was so good to me. It was such an awesome year -- getting invited in and having the shot to make the national team, then going over to the Olympics in Athens and playing alongside such amazing women. And winning a gold medal, and --
Whoa, whoa! An Olympic medal? Prioritize, Heather! How 'bout the Page 2 crown?
Yes, yes! Of course, winning the Page 2 poll was very flattering. That was a big part of this phenomenal year.
Has winning the Sexiest Female Athlete title helped your image?
It definitely hasn't hurt it at all. It's put my name out there and the fact that I'm a soccer player comes up in the mix, so hopefully that aids in the exposure of the sport and helps expand our fan base.
So how often did people call you out as the queen of the crop?
Well, I received a ton of e-mail to my Web site when the contest was going on ... actually, even well after the Page 2 contest ended. That was pretty funny. And every once in awhile I'll bump into somebody somewhere and they'll bring it up. Especially when I'm in Philly, that's when I get it the most. It's very nice and it's very, very flattering, but I get a little embarrassed at the same time.
2. Who do you think is the sexiest athlete out there right now?
A.J. Feeley.
Ahh, there it is, the token A.J. Feeley promo.
C'mon. You knew that was coming.
I did. But we left your beau out of this year's competition for hottest male athlete. Are you angry?
Yes I am very angry (laughing). He'll be in it eventually. I mean, there are so many attractive athletes out there and I think A.J. is a diamond in the rough right now. It's only a matter of time, and that's fine with me because that means for right now he's all mine!