Page 2 staff
Paul Molitor has a busy summer ahead. He's just beginning as the Seattle Mariners new batting coach and when he's not working with Bret Boone on his bat flip, he'll be working on his induction speech for the Hall of Fame. Page 2's Jim Caple caught up with the Hall's newest member at spring training, where he talked about Ichiro's swing, A-Rod's switch to third base, touring with Bruce Springsteen, steroids and the time the Brewers clubhouse washed away ...
1. You spent your first spring out of baseball following Bruce Springsteen's tour in Europe. What's a more enjoyable way to spend spring -- touring with the Boss or throwing B.P. in Arizona?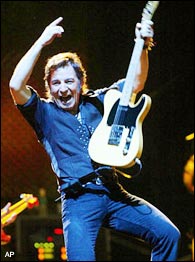 When you get telegrams from The Boss, you know you've arrived.
[Smiles] It's apples and oranges. I enjoy the baseball scenario because of everything the game has provided me, from the memories and the pleasures and the opportunities, plus the challenge to do things better, first as a player and now as an instructor. It's what I do and what I know. But as far as what you do with your leisure time, I enjoy music and I enjoyed the chance to see one of my favorite performers in Europe. That was a lot of fun.
The first show I saw on the tour was in Barcelona. It's pretty amazing. You try to find a window where you can get your ticket and no one speaks English and then the concert starts and they know every song word for word.
2. What's your favorite Springsteen song?
There have been songs that resonated a little more at different times in life. ''Thunder Road'' was always a favorite. I'd really have to say that when he chose to write music that told some of the stories and spoke of the emotion of 9/11, it was pretty powerful for me. Although it told of tragedy, there were songs that talked about human spirit and persevering and rising up. I think that's true whether dealing with a national tragedy of that magnitude or just the things in your life where you have to find ways to persevere and look to the positive and go forth and have faith.
So will he play for you at Cooperstown?
Oh, sure. He's going to do a special show just for me. No, I don't think so. But I got a nice telegram from him. It just said that he and Patty were pleased and wanted to extend their congratulations. It was just a very nice personal touch. I can't say that we're friends or anything, we're just acquaintances who have passed along the way. But there is a mutual respect and it was nice of him to make that gesture.
3. You're the new Mariners batting coach. How much did batting coaches help you in your career?
There were a few more influential than others. Dennis Menke, my minor league coach, changed me more mechanically than anyone at the major league level. I came out of college with an open stance and was a pull hitter and he influenced me from the standpoint that I wasn't going to be a power hitter in the majors and that I had to hit the ball to all fields. He closed my chance and did some things with my hands and started the process of shortening my swing to the simplified swing that it became over time.
Tony Muser was another guy who helped me with the mental aspect in the early to mid-80s. I had had some success and then he helped me get to the next level by telling me not to be satisfied where I was. I had always thought that being a .300 hitter in the majors was pretty good. He challenged me on that. He said, 'You look at the numbers and you hit .298, 302 , 304 297.' He said that I got into a comfort range and that's where I was. He challenged me to go to the next level and that there was more there that I could do. And from that point, I drove myself to get better.
Harvey Kuenn, Larry Hisle, Mike Easler -- there are a lot of guys. After a while it's just guys who tried to be positive and reinforcing. If you play awhile, coaches don't do much changing to your mechanics, they just try to get guys back on track when you go a little askew.
4. Will you help more mentally or mechanically?
I think I'll help more mentally. Mechanically there are some thing that every hitter does. You talk about balance, weight transfer and those things, but that stuff has been around forever. But I want to help them learn to have a game plan, to take advantage of pitch counts, and to learn what approach will give you the most chance on any given day.
Hitting is a lot about failure. And your level of success is tied to how well you handle failure. That takes a strong mind. Anytime you do something that you fail at more than you succeed, you're vulnerable to the fragility of how the mind can wear on you. The challenge is to keep guys in a good frame of mind during those times even when they're getting hits less than 3 out of 10 times.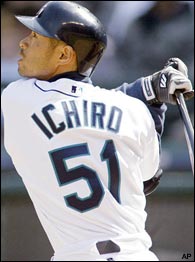 Molitor is one of the few guys who can give Ichiro some pointers.
5. What's your analysis of Ichiro?
Studying him and watching tape before I came here, from the naked eye it seems he does a lot of things unorthodox. He has the appearance of really getting out of the box too soon, he doesn't use his feet well and he hits off front foot, but when you analyze it, he uses his balance better than you think and his legs better than you think.
His assets are that he has great hands and great bat speed and great ability to adjust to the ball in flight. One thing he's really worked on this spring is pitch recognition and trying to buy an extra split second and recognize pitches before he offers at them. That has enabled him to take more pitches and keep the ball in the hitting zone as opposed to expanding the zone as he has had a tendency to do in past. That will provide for a little more consistency.
He's been an incredible player his first couple years but he's also had times where he's worn down a little. Part of it is he swings with so much energy in batting practice. He hits a lot of home runs in B.P. because he thinks hitting a home run is one of the hardest things to do in baseball so he likes to practice it. But I think he wears himself down with the amount of energy he puts into B.P. everyday. Being able to adjust so well to the ball in flight has enabled him not to be a great recognizer. He's a good recognizer, but the better he gets at that, the more selective he'll become.
And his hit totals won't suffer. I think he's very concerned about continuing the string of 200-hit seasons and I think part of his culture is he's very concerned of what people expect of him as a hitter and he wants to be able to meet those expectations. But because you're on-base percentage goes up, it doesn't mean your hits will go down. It's almost like he thinks if he walks, he misses an opportunity to get a hit. And I think he sees that now. I think he'll find that if he continues to put into practice what he's worked on this spring, he'll find that what he likes -- the hits and the average -- will still be there. But hopefully he'll get on a little more frequently by taking a few more walks, which will result in more runs and lead to more wins.
The scouting reports are that you don't always have to throw him strikes to get him out. The more he makes guys come into the zone, he'll do even more damage.
Do you want him to show more power?
I don't. I think he'll hit some home runs, whether it's 10 to12, 15 or 18 -- he has the power to do that. But the balance he has as a player to use the whole field is what makes him so effective, especially in the leadoff slot. He'll drive in his runs because he's a great hitter with men in scoring position but as a leadoff man we want him to get on and score a ton of runs.
6. How has spring training changed over the years?
One, it's become a big money maker for clubs, so the number of games have increased and attendance has increased. Player-wise, you see management letting veteran players prepare themselves on their own routine as opposed to being more stringent to a team routine. Younger players who come in are a little more confident, a little more arrogant. And that's not always a bad thing. They have more of a sense of belonging. You don't see the separation from established players to younger players as you used to.
I went into camp in 1978 and I was 21 and there were guys like Sal Bando and Gorman Thomas and Don Money, and they told you, ''Your opinion really doesn't matter much.'' You just did your work and kept quiet. Which wasn't a bad way to learn.
Were there any NCAA pools then?
I can't remember when that became a big thing. The number of NCAA pools has grown dramatically over the years. Now you have the blind sheet, the fill-out sheet, the 100 squares on certain game days. If you want to get in, there are plenty of opportunities to gamble. It used to be $5 sheets and now it's $20 sheets.
Weren't you guys flooded out one spring?
Yeah, that was one of my first years. Some big rains came through and then the river flooded and the waters got so big that it washed our clubhouse down the river. All our stuff was a half a mile down the river. Pants, shirts, hats. People tried to go down and try to collect what they could.
We pretty much had to change in the hotel the whole spring. It was weird. You would bring dirty clothes home at night and bring them back the next day.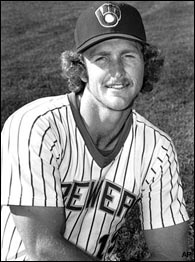 We're guessing hair stylist wasn't one of the career alternatives on Robin's list.
Didn't you make the team your first year when Robin Yount held out or something?
About a week before the season started, he left camp. He was examining what he wanted to do with is career, whether he wanted to play baseball or do something else. That gave me the opportunity to make the team. I played shortstop for about a month and then moved back to second.
7. So as someone who played every infield position plus the outfield, will it be hard for A-Rod to switch to third?
I don't think it will be overly difficult. He's an accomplished infielder with tremendous reflexes and soft hands. The challenge will be the closeness of the position to the batter. You can't be as choosy as to what hop you're going to take because the ball gets to you too quickly. At shortstop you can try to track the pitch to the zone but at third base you watch the pitcher and then shift your eyes to the hitter. He won't have trouble with a slow roller because you make that play at short on the ball behind the mound.
8. Steroids have been a big issue this spring. But do you find it odd that all the focus is on baseball players when you can look and see that football players are much bigger?
Yeah. I know. It's a little askew. But I also understand that there are a lot of people who look for ways to discredit sports because of disgruntlement over the way compensation has changed and the attitude of the players. And here you have a circumstance where the integrity of the game may be challenged by some things that may not even be illegal. And I think there's anger at the players association for not being active and not having more stringent testing.
It's something that needs to be cleaned up but the attention it's been given is probably out of whack. I think that it's had an affect on our game to some degree and on some players -- it hasn't been any secret -- but when you compare our sport to football ... maybe it's more accepted in football because football is about being big and strong. But there is an imbalance there.
9. Which superpower would you most like, the strength of 100 men, ability to turn invisible or be able to fly?
The strength doesn't do too much for me and being invisible is a little too secretive, a little much espionage there. But being able to fly is appealing. Not just from the advantage logistically of being able to get around from place to place and avoid traffic, but also the beauty of being able to soar above the earth and check it out from that perspective would be pretty incredible.
10. What would you like your Hall of Fame plaque to say most? Any particular achievements? The 3,000 hits? The postseason average?
No, I hope it's more about the way I played and then that there were some things I accomplished. If it tells about intelligence and respect, those things carry a lot more meaning to me than 3,000 hits. Describing the way you go about your job means more to me.