Paid attention to the week in sports -- and other stuff, like American Airlines unintentionally bailing out the rest of the ailing airline industry -- that was? Put your powers of observation and recall to the test with our weekly quiz:
1. The Detroit Tigers:
(a) Won!
(b) No, really, they did
2. According to University of Memphis basketball coach John Calipari:
(a) The Maginot Line is impregnable
(b) Dewey is so defeating Truman
(c) The U.S. is being greeted as liberators, with IEDs made of Hershey's Kisses
(d) His team hits free throws in late-game situations
3. Atlanta Falcons owner Arthur Blank told the New York Daily News that former Falcons quarterback Michael Vick:
(a) Played quarterback for both sides during a prison football game
(b) Is wisely keeping his scrambling skills sharp while incarcerated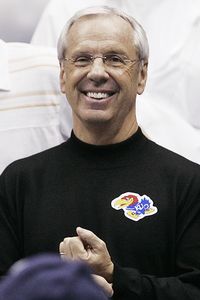 AP Photo/Eric Gay
Good old Roy ... he finally helped lead Kansas to a national title.
4. Identify the image to the right:
(a) Bill Self
(b) Phog Allen
(c) An individual who is employed by the University of Kansas athletic department, as opposed to the athletic department of a competing educational institution, for example, the University of North Carolina
(d) None of the above
5. Which of the following are you more likely to find in San Francisco?
(a) Carmen Sandiego
(b) Waldo
(c) The Olympic torch
(d) None of the above
6. Large crowds gathered along the Olympic torch route in San Francisco to protest:
(a) Police blocking public access to a bridge leading to a torch ceremony site
(b) The FAA restricting flights over the city to media, medical and law enforcement aircraft
(c) Law enforcement agencies erecting metal barricades
(d) Civic officials rerouting and cutting the original torch route in half
(e) Repression of public dissent by Chinese authorities in Tibet
7. One day after the Olympic torch relay's San Francisco leg brought additional unfavorable international attention to the situation in Tibet, Chinese authorities declared that:
(a) They had uncovered a Muslim terrorist plot to sabotage the Olympics with kidnappings and suicide bombings
(b) They had raised the official national threat level to Orange
8. Addressing unrest in Tibet, International Olympic Committee President Jacques Rogge said he was:
(a) Very concerned
(b) Borderline annoyed
(c) On verge of approaching agitation
(d) Too busy counting money to notice -- hey, is this thing on?
9. Which of the following did Paris police NOT deploy to keep the Olympic torch in a secure "bubble"?
(a) Riot vehicles
(b) Three boats on the Seine River
(c) A helicopter
(d) Officers on roller skates
(e) Mimes making air boxes around the torch
10. During its procession through Paris, the Olympic torch was extinguished by:
(a) Protesters
(b) Police
(c) Just B
(d) So much for Operation Rollerskate
11. The IOC reportedly may review whether French athletes at the Paris leg of the torch relay broke rules by wearing badges that:
(a) Featured the words "for a better world," a reference to global human rights
(b) Did not feature the words Coca-Cola, General Electric or Visa
12. Olympic torch bearers in other cities reportedly have complained about:
(a) Aggressive behavior by Chinese paramilitary police sent to guard the torch
(b) Chinese paramilitary police acting like Chinese paramilitary police
13. Commenting on Olympic torch relay protests, former White House press secretary Ari Fleischer told the Toronto Star that the best thing the IOC could do would be to:
(a) Get faster runners
(b) Check out his apparent second career in stand-up comedy
14. A day before he allegedly assaulted a college student, former Cincinnati Bengals receiver Chris Henry was reportedly kicked out of a:
(a) Bible study group
(b) Build-A-Bear store
(c) Macramé workshop
(d) Nightclub
15. Which of the following news items is probably just coincidental?
(a) Jose Canseco refusing to drink a courtesy cup of coffee during a bookstore signing of his new tell-all
(b) Canseco telling a bookstore employee, "Who made this coffee? If you don't know who made it, you've got to dump it. No way they are going to get me"
(c) Anabolic steroid abuse being linked to paranoia
(d) None of the above
16. When Canseco used the term "they," he was referring to:
(a) Federal steroid investigators
(b) Creditors
(c) Geraldo Rivera's bookers
(d) All of the above, probably
17. One of the men who portrays Pittsburgh Steelers mascot Steely McBeam reportedly was fired for:
(a) Drunk driving
(b) Coping with being one of the men who portrays Steely McBeam
(c) Confusing alcohol with Xanax
18. A new television commercial for Dunkin' Donuts features Boston Red Sox closer Jonathan Papelbon:
(a) Being congratulated by fans with a series of pats to his rear end
(b) Role-playing as FIA president Max Mosley
19. According to new New York Knicks president Donnie Walsh, coach Isiah Thomas may have a chance of keeping his job, provided he provides a good explanation of:
(a) Cold fusion
(b) Fermat's Last Theorem
(c) The plot of "Lost"
(d) His tenure running the Knicks
20. According to Portfolio Magazine, Thomas' managerial blunders have cost Madison Square Garden and the Knicks organization:
(a) $187 million
(b) Only $187 million?
21. Which of the following was NOT counted by Portfolio Magazine toward the $187 million total?
(a) $137 million in NBA payroll luxury tax
(b) $19.6 million in lost gate revenue
(c) $18.5 million buyout for Larry Brown
(d) $11.5 million sexual harassment award to Anucha Brown-Sanders
(e) Whatever the Knicks are paying Jerome James. C'mon, Portfolio, get your head in the game!
22. In an article posted on the Knicks' Web site, Thomas said his primary memory of Hall of Fame inductee Patrick Ewing was:
(a) His sweating
(b) Zeke was at the Gold Club?
23. According to a criminal complaint, Penn State basketball player Stanley Pringle allegedly:
(a) Approached a woman in a school library
(b) Asked the woman if she wanted to purchase hand lotion he was selling for the basketball team
(c) Subsequently began pleasuring himself
(d) All of the above
(e) Is majoring in pornographic screenplay writing
24. Also according to the criminal complaint, Pringle allegedly:
(a) Told police he has a bad habit of putting his hands down his pants
(b) Demonstrated the above by placing his hand down the front of his sweatpants, then stating to a female officer, "This is how I chill, ma'am"
(c) A and B
(d) Believes that anything Sen. Larry Craig can do, he can do better
25. Atlanta Braves minor leaguer Jordan Schafer was suspended 50 games for:
(a) Using human growth hormone
(b) Wanting to look good standing in a hotel lobby wearing a three-piece suit
26. Which of the following physical symptoms of performance-enhancing drug use was NOT connected to cyclist Tammy Thomas during her BALCO-related perjury trial, which ended in a conviction?
(a) Chest hair
(b) Facial hair
(c) Deeper voice
(d) Shrunken testicles
27. Former University of Arkansas running back Darren McFadden told Gametap.com that while boarding a team bus during a road game at LSU, he saw a fan holding a:
(a) Severed hog's head, mounted on a stick
(b) Conch
28. Which of the following is MOST likely to be driven through the loopholes in NASCAR's drug testing plan?
(a) A jumbo jet
(b) A passenger train
(c) Omega Supreme
(d) Aaron Fike's truck, loaded up with black tar heroin
29. According to an e-mail obtained by ESPN, Baltimore Ravens kicker Matt Stover has a plan to:
(a) Remove NFLPA executive director Gene Upshaw by next year
(b) Allow kickers and punters to work on their putting strokes during team practice
(c) Change it to "National Kick, Punt and Pass" competition
(d) Detain Lucy Van Pelt at Guantanamo Bay
30. The New York Mets are never gonna:
(a) Give you up
(b) Let you down
(c) Run around and desert you
(d) None of the above. Rats!
ANALOGIES
31. Jake Peavy : right hand
(a) George Brett : bat
(b) Manny Ramirez : helmet
(c) Kenny Rogers : left hand
(d) All of the above
32. NBA and NCAA : ready to do something about youth basketball
(a) Matt Walsh : ready to blow roof off Spygate
(b) O.J. Simpson : ready to catch real killers
(c) President Bush : ready to put man on Mars
(d) Axl Rose : ready to drop "Chinese Democracy"
(e) All of the above
EXTRA CREDIT
33. A Ball State University study found that:
(a) Daily doses of ibuprofen increased the amount of muscle gained during regular weightlifting
(b) Major league clubhouse Advil orders just increased 1,000 percent
34. A lawyer for Michigan football coach Rich Rodriguez told the Charleston Daily Mail that:
(a) Rodriguez's $4 million West Virginia buyout is almost like an African slave trying to buy freedom
(b) I Can't Believe It's Not Butter is almost like yellowcake uranium
(c) The Knicks are almost like a good basketball team
(d) Legal professionals are almost like Diogenes
35. Stating he would seek advice from traditional Chinese medical experts in order to treat his injured foot, Houston Rockets center Yao Ming added that he didn't think traditional medicine was short on:
(a) Science
(b) Deer penis
36. In an interview with the Sun Herald of Biloxi, Miss., former Green Bay Packers quarterback Brett Favre said:
(a) It would be tempting to play again if the Packers asked him to
(b) On the other hand, it would be hard to play again if he wasn't in football shape
(c) Right now, he's happy with his decision to retire
(d) Come fall, that might not be the right decision
(e) All of the above
(f) Dear God, make it stop
ESSAY QUESTION
Discussing freshman Kyle Parker, who also plays baseball, Clemson football coach Tommy Bowden told CUTigers.com the following: "I've watched him practice and I've watched him play [baseball]. He's really good-looking. If I was a girl, I'd be very interested in him. He wears those tight pants. When you wear loose stuff, you can't tell the definition of a guy's body. In baseball, everything's tight, and you can tell he's very well put together." In 800 words or less, determine whether Dateline NBC's Chris Hansen is reading this right now.
ANSWER KEY: 1, a-b, let the long climb to .500 begin!; 2, d; 3, a, and Blank is in no way overly trusting of Vick; 4-5, d; 6, e; 7-8, a, and you lay down the law, Mr. Rogge!; 9, e, and yes, d is actually real; 10, b-c; 11-12, a, and what do they expect from Chinese paramilitary police -- fawning red carpet interviews?; 13, a, and actually, we think that's kind of funny; 14-15, d; 16, who knows? It's Jose Canseco!; 17-18, a; 19, d, and good luck with that; 20, a-b; 21, e; 22, a, ah, memories; 23, d, and snicker; 24, c, and well played!; 25, a; 26, d, we're pretty sure; 27, a, and whoa; 28, d; 29, a; 30, d, and ooooooh give you up!; 31-32, d; 33, a; 34, a, and really? Slave trade? That's the first thing that came to mind?; 35, a; 36, e-f, and Favre is SO gonna play next season; Essay Question: any answer that includes "Mike's Hard Lemonade," "bag of taquitos" and "why don't you have a seat over here?" is acceptable.
Patrick Hruby is a columnist for Page 2. Sound off to Patrick here.