Paid attention to the week in sports -- and other stuff, like gas prices climbing into bottled water territory -- that was? Put your powers of observation and recall to the test with our weekly quiz: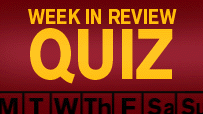 1. Cincinnati Bengals wide receiver Chad Johnson demanded that:
(a) Blah blah blah (b) Yackety-yack (c)
Teacher voice from "The Charlie Brown and Snoopy Show"
(d) Yawn
2. Which of the following activities is Denver Nuggets forward Carmelo Anthony least likely to approve of?
(a) Snitchin'
(b) Designated drivin'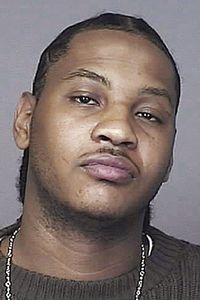 AP Photo/Denver Police Department
Bet Carmelo's ready to move on and start the playoffs.
3. According to a Denver television station, which of the following is NOT among the actions Anthony was unable to perform during his DUI arrest?
(a) Take nine steps, heel to toe, then turn around and take another nine steps
(b) Stand on one leg
(c) Tell officers where he was
(d) Call a taxi or limo service, since he's only making $13 million this season
4. Announcing his desire to "man up," Anthony delivered a public mea culpa in which he specifically apologized for:
(a) Distracting his teammates
(b) Putting himself in a situation
(c) Everything that is going on
(d) All of the above
(e) Potentially murdering somebody by driving drunk
5. Golfer John Daly reportedly underwent surgery to repair:
(a) A torn stomach muscle
(b) A nonexistent stomach muscle
6. The ceremonial first pitch in a New York Yankees-Boston Red Sox game was thrown from aboard the International Space Station, which orbits:
(a) Earth
(b) Hank Steinbrenner's head
7. The New York Yankees spent a reported $50,000 and five hours of labor at the site of their new stadium in order to dig for:
(a) Oil
(b) C.H.U.D.
(c) The Ark of the Covenant
(d) A David Ortiz jersey
8. Yankees president Randy Levine described the Ortiz jersey being buried in cement by a Red Sox-loving construction worker hoping to curse the Yankees as:
(a) A harmless gag
(b) A clever joke
(c) Yet another public relations bonanza for two teams that need additional media attention the way the Sultan of Brunei needs that $5,000 insta-win scratch ticket to come through
(d) A really bad thing
9. Which of the following things did the Yankees reportedly discuss with the Bronx district attorney's office regarding the construction worker, Gino Castignoli?
(a) Frivolous legal action
(b) A justice system that is stretched to the breaking point
(c) Prison overcrowding
(d) Diverting law enforcement resources that could better be used to investigate and prevent crimes in which people are actually hurt
(e) Possible criminal charges
10. Interviewed by Jim Gray during XM Radio's Masters coverage, Tom Brokaw took time to criticize:
(a) Irresponsible mortgage lending and borrowing
(b) Superficial election-year politics
(c) Chinese repression in Tibet
(d) The New York Knicks' management
11. The Knicks gave out free food during their home finale at Madison Square Garden, the better to:
(a) Make fans happy
(b) Muffle "Fire Isiah!" chants
12. After the Knicks' final game of the season, which of the following things did coach Isiah Thomas NOT reportedly offer to do in order to help new team president Donnie Walsh "get things turned around"?
(a) Rebound
(b) Pass
(c) Execute Walsh's vision
(d) Resign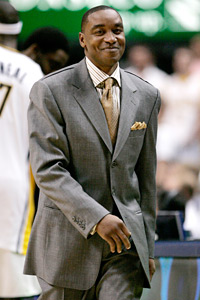 AP Photo/Michael Conroy
We've asked this before, and we'll ask it again: Why is Isiah smiling???
13. Thomas also told reporters that he was not looking for sympathy, because in tough times, it is important to hold on to your:
(a) Dignity
(b) Integrity
(c) Losing record, lack of playoff victories, boneheaded roster moves, and personal responsibility for an expensive and embarrassing sexual harassment trial
(d) A and B
14. When Thomas concluded that the Knicks have a "bright future," he was referring to:
(a) His not being a part of it?
15. Walsh told reporters that Thomas did a lot of "very good" things for:
(a) The billable hours of lawyers representing MSG and Anucha Browne-Sanders
(b) Jerome James and his agent
(c) The Page 2 weekly quiz
(d) The Knicks
16. The French parliament's lower house approved a bill making it illegal for:
(a) Anyone to publicly incite extreme thinness
(b) Kevin Durant to play basketball
17. Angel Guillermo Heredia, a source in a federal performance-enhancing drug investigation, told the New York Times that:
(a) He provided drugs and advice to many elite track athletes, including 12 Olympic medalists
(b) Only 12?
18. Which of the following did Heredia NOT show the Times as evidence supporting his claim that two-time Olympic gold medalist Maurice Greene was among his clients?
(a) A copy of a bank transaction showing a $10,000 wire transfer from Greene to a relative of Heredia's
(b) Two sets of blood-test lab reports with Greene's name and age on them
(c) An e-mail message from a close friend of Greene's, attached to one of the lab reports, stating, "… this is maurices …"
(d) A couple of gauze pads with dried blood; a crushed beer can
19. According to a London newspaper, Greene admitted to having met Heredia, but also claimed he told Heredia that he didn't " ______ this stuff."
(a) Believe in
(b) Ingest
(c) Just (a)
20. As part of a long-standing school tradition, UCLA football players:
(a) Hovered around .500
(b) Participated in the Las Vegas Bowl
(c) Watched school administrators introduce a new coach
(d) Had "over the wall" day, in which they run away at the start of practice
21. To exit their practice field, the UCLA players:
(a) Scaled a wall like men, just as tradition demands
(b) Jogged off through an open gate, for the sake of convenience
(c) No wonder USC keeps spanking these guys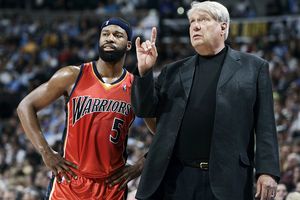 AP Photo/David Zalubowski
Nellie and Baron, not so chummy anymore?
22. When Golden State Warriors coach Don Nelson talked about giving guard Baron Davis "a much-needed rest," he was referring to:
(a) The entire second half of a loss to Phoenix that eliminated the Warriors from postseason contention
(b) Summer
MATH
23. If the head coach of the Alabama football team has 85 total scholarships available for 66 current players and 25 incoming freshmen, then how many of the players who will have to quit, transfer or have their scholarships revoked are none of your darn business?
ANALOGIES
24. Miguel Tejada : stated age
(a) George O'Leary : resume qualifications
(b) Hillary Clinton : war zone experience
(c) Danny Almonte : stated age
(d) All of the above
25. Mike Tyson : offering to counsel Paul Gascoigne
(a) Amy Winehouse : offering to counsel Lindsay Lohan
(b) Isiah Thomas : offering to counsel Matt Millen
(c) Bear Stearns : offering to counsel Enron
(d) All of the above
EXTRA CREDIT
26. As part of an incentive program designed to aid recovery, the British government reportedly is giving drug addicts:
(a) Premier League tickets, as a reward
(b) Oakland Raiders tickets, as punishment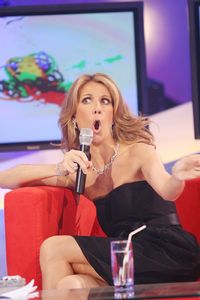 AP Images/Imaginechina
Raise your hand if you're a Celine Dion fan. Thought so.
27. At a news conference in Beijing, pop singer Celine Dion said she was against boycotting the Olympics, adding that when you "talk about the Olympics, you talk about _____ "
(a) Power
(b) Love
(c) Dreams
(d) All of the above
(e) Renminbi
28. Former NBA All-Star Charles Barkley:
(a) Called the Washington Wizards the "dumbest team in the history of civilization" (b) Hasn't been to any Knicks games the past two years
ESSAY QUESTION
Starbucks mogul and former Seattle SuperSonics owner Howard Schultz reportedly plans to file a lawsuit against current Sonics chairman Clay Bennett to rescind the 2006 sale of the team, claiming that when Schultz sold the team to Bennett's group, the sale was contingent upon the group making a good-faith effort to keep the team in Seattle.
In 800 words or less, describe why anyone wanting to keep the Sonics in Seattle would in good faith sell the club to a bunch of guys from Oklahoma City, Okla.
ANSWER KEY: 1, all answers valid, and please don't bother to wake us when it's over; 2, toss-up!; 3-4, d; 5, a, and sometimes the jokes just write themselves; 6, a; 7, d, though who knows how much they'll make back on eBay?; 8, d; 9, e, and the Yankees acting overly self-important? Get out!; 10, d, and meow!; 11, a, probably; 12-13, d; 14, who knows?; 15, d; 16-17, a; 18, d, and no ass Band-Aids, either; 19, a or c; 20, d; 21, b, and really, talk about slackers; 22, a; 23, all of them!; 24-25, d; 26, a; 27, e; 28, a, though b seems probable; Essay Question: All answers consisting of a blank page are valid.
Patrick Hruby is a columnist for Page 2. Sound off to Patrick here.