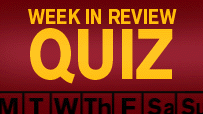 Paid attention to the week in sports -- and other stuff, like San Diego State University's impromptu bid to become the setting for a sixth season of "The Wire" -- that was? Put your powers of observation and recall to the test with our weekly quiz:
1. A 12-year-old Connecticut boy reportedly:
(a) Took off his Brett Favre jersey for the first time in 1,581 days
(b) Discovered girls
2. Which of the following two-word phrases does a professional athlete never want to hear?
(a) Ligament tear
(b) Salary cap
(c) Morning practice
(d) Discovery process
3. In a statement released to the Houston Chronicle, Roger Clemens insisted he did not have an improper relationship with:
(a) A 15-year-old girl
(b) A 16-year-old girl
(c) A 17-year-old girl
(d) Just A
4. In the same statement, Clemens also apologized for "making mistakes," including:
(a)
(b)
(c)
(d)
5. When Clemens used the phrase "twisted and distorted far beyond reality," he was referring to:
(a) His alleged decade-long romantic affair with country singer Mindy McCready
(b) His professional pitching statistics and performance, circa 1998-2007
6. Which of the following is NOT part of the New York Daily News' account of Clemens' alleged first night with McCready?
(a) Clemens meeting a 15-year-old McCready at a bar during spring training
(b) The then-28-year-old married father of two taking McCready back to his hotel room
(c) McCready falling asleep on Clemens' chest while the two watched a movie
(d) McCready receiving HGH injections from Brian McNamee
7. According to McCready's mother, Gayle Inge, whom did Clemens ask for permission to have a relationship with McCready?
(a) McCready's father, Tim
(b) His wife
8. Tim McCready told the Daily News that Clemens was:
(a) The most incredibly honest person he had ever met
(b) Clearly not in possession of the droids he was looking for
9. A source told the Daily News that Clemens had "chicks stashed in every city" and that his life consisted of:
(a) Playing golf
(b) Getting drunk
(c) Having sex
(d) Slam-dunking footballs
10. A federal judge ruled Clemens can keep Houston-based attorney Rusty Hardin as his lawyer in a defamation suit filed against former trainer McNamee as:
(a) A matter of law
(b) Punishment
11. What time is it?
(a) Five o'clock somewhere
(b) 0.6 seconds ahead of the official time in Auburn Hills, Mich.
(c) No clue -- Washington Redskins rookie tight end Fred Davis set my clock
(d) At least five minutes since the last NFL player arrest, probably
12. Which of the following is worthy of national concern, distress and outrage?
(a) One horse being euthanized
(b) A look-the-other-way eating disorder epidemic among jockeys who are, you know, human
(c) Just A
13. Which of the following individuals is now in a better place?
(a) Barbaro
(b) Eight Belles
(c) Barry Zito, back from the bullpen!
(d) All of the above
14. When Chicago Bears running back Cedric Benson said "there was no resistance on my part," he was referring to:
(a) An incident in which he was charged with drunken boating and resisting arrest
(b) His general attitude toward opposing tacklers
15. Which of the following was reportedly NOT on the eight tapes former New England Patriots video assistant Matt Walsh turned over to the NFL?
(a) Opposing coaching signals from two Patriots games against Miami
(b) Opposing coaching signals from Patriots games against Buffalo, Cleveland and San Diego
(c) Opposing coaching signals from the Patriots' 2002 AFC championship game victory over Pittsburgh
(d) Rockwell concert footage
16. According to television, radio and newspaper reports, Indianapolis Colts receiver Marvin Harrison:
(a) Owns a custom-made Belgian gun linked by police to bullets recovered from a shooting near a bar owned by Harrison
(b) Should have bought American!
17. According to Chicago White Sox manager Ozzie Guillen:
(a) [Expletive]
(b) Bleep!
(c) @$@%!@%!
(d) All of the above
18. Which of the following are you least likely to find in the White Sox clubhouse?
(a) Life-size inflatable female dolls
(b) Life-size inflatable female dolls with bats inserted in their backsides
(c) Life-size inflatable females dolls with signs on their chests reading "Let's Go White Sox" and "You've Got to Push"
(d) Gloria Steinem
19. According to the Orlando Sentinel, the University of Central Florida fired baseball coach Jay Bergman for allegedly:
(a) Using a bat to simulate sexually assaulting an equipment manager
(b) Failing to confine his simulated sexual assaults to more appropriate targets, like clubhouse blowup dolls
20. Phoenix Suns coach Mike D'Antoni was granted permission to:
(a) Drive without a seat belt
(b) Obtain legal representation from Rusty Hardin
(c) Flavor his nightcap with hemlock
(d) Interview with the New York Knicks
21. Which of the following news items are probably just coincidental?
(a) Louisiana Tech University ranked last in Trojan condoms' annual survey of sexual health resources at American colleges
(b) Karl Malone attended Louisiana Tech
(c) None of the above
22. Which of the following news items are probably just coincidental?
(a) Former NFL quarterback-turned-Congressman Health Shuler named his political action committee "3rd and Long"
(b) Shuler endorsed Hillary Clinton
(c) None of the above
23. Which of the following was NOT part of Indy racer Sarah Fisher's endorsement of Clinton?
(a) Clinton will STEER our country in the right direction
(b) Clinton will put our economy back on TRACK
(c) Clinton will leave ROADBLOCKS behind and go for the CHECKERED FLAG
(d) Clinton will DRIVE cliched sports metaphors right into the WALL
24. Which of the following individuals compared New York Mets pitcher Oliver Perez to teammate Johan Santana?
(a) Diogenes
(b) Scott Boras
25. Jessica Simpson told Glamour magazine that boyfriend/Dallas Cowboys quarterback Tony Romo made her feel comfortable being herself again after previous beaus made her feel she had to be:
(a) Deeper
(b) More profound
(c) More artsy
(d) Wait -- is she talking about Dane Cook and John Mayer?
26. HBO Sports president Ross Greenburg said Simpson will not be a major part of the upcoming Cowboys-themed season of "Hard Knocks" because:
(a) HBO is not the E! network
(b) The show is for avid football fans
(c) A and B
(d) Network executives are among the 48 people who saw "Blonde Ambition" in a theater
27. When Ohio State president E. Gordon Gee used the terms "professionalization" and "furthering of the arms race," he was referring to:
(a) His school's $101.8 million athletic department budget in 2005-06
(b) His school's 101,000-seat football stadium
(c) Buckeyes football coach Jim Tressel's $2.4 million annual salary
(d) His opposition to a college football playoff
28. Papa John's Pizza: (a) Apologized to Cleveland and the Cavaliers for making T-shirts with LeBron James' No. 23 and the word "crybaby" under it
(b) Donated $10,000 to the Cavaliers Youth Fund
(c) Sold Cleveland residents large pizzas for 23 cents
(d) Is apparently more accountable than Clemens, Paul Lo Duca and Donald Rumsfeld
29. According to TMZ.com, former NBA player Latrell Sprewell:
(a) Owes $23,000 on a credit card bill he hasn't paid since this past September
(b) Previously had his Milwaukee home foreclosed on and his yacht sold at auction to help pay off the $1.3 million owed on it
(c) A and B
(d) Is eatin' Papa John's tonight!
30. Which of the following individuals retired from professional baseball at age 49?
(a) Julio Franco
(b) Miguel Tejada
31. When Notre Dame football coach Charlie Weis reportedly told a group of fans that "I've always been one to never make excuses and not go about airing it," he was referring to:
(a) His subsequent claim that Michigan will make excuses about having a new coaching staff
(b) His previous assertion that he could recruit "thugs and hoodlums" and "win tomorrow," but that he is much too principled to do so
(c) Just A
32. Kansas City Royals pitcher John Bale broke his throwing hand by:
(a) Furiously scribbling string theory equations
(b) Punching a hotel room door
MATH
33. If troubled former Cincinnati Bengals receiver Chris Henry says he's "really a good guy" in part because he's "a father now -- got two kids," does that make Denver Broncos running back Travis Henry closer to Mother Teresa or the Dali Lama?
ANALOGIES
34. Marvin Williams : Rajon Rondo
(a) Osi Umenyiora : Donovan McNabb
(b) Navy missiles : errant spy satellites
(c) John Bale : hotel doors
(d) All of the above
35. Carmelo Anthony : automobiles
(a) Pacman Jones : gentlemen's establishments
(b) Roger Clemens : aggressive denials
(c) New Orleans Hornets game ops : fire extinguishers
(d) All of the above
EXTRA CREDIT
36. Which of the following is most likely to stop Florida quarterback Tim Tebow?
(a) Opposing defenses
(b) Foreskin
(c) None of the above
37. In which U.S. state was a substitute middle school teacher who made a toothpick disappear and reappear in front of students accused of wizardry?
(a) Florida
(b) Florida
(c) Florida
(d) Florida
38. Charged with assaulting his 2-year-old son by holding a plastic bag over the kicking and crying boy's head, former Minnesota Vikings defensive lineman Darrion Scott reportedly told police that:
(a) He and his son were playing with the bag
(b) He wanted to see whether the boy could get the bag off his head by himself
(c) They should see his other favorite father-son games: Wet Finger in the Socket, Sugar or Rat Poison?, and Dropped in the Deep End, Swim Back to Daddy
39. Which of the following individuals remains gainfully employed?
(a) Avery Johnson
(b) Paul Maurice
(c) Billy Knight
(d) Isiah Thomas -- technically speaking!
ESSAY QUESTION
None this week. As we've said before: If you've made it this far, you've suffered enough.
ANSWER KEY: 1, a, although b seems like a distinct possibility; 2, all answers valid; 3, a or d; 4, c'mon bro, next question; 5, a; 6, d; 7, a; 8, a, and we only wish we had some bagged World Cup Air to sell the guy; 9, a-c, and we still wish Congress had looked into d; 10, a; 11, all answers valid; 12, c; 13, d, and the only person benefiting from this Zito thing is Carl Pavano; 15, d; 16, a, and good thing Harrison isn't scraping for Pennsylvania primary votes; 17-18, d; 19, a; 20, d, and good luck with that!; 21-22, c; 23, d, and please kill us now; 24, b; 25, a-c, and seriously, what does that say about Romo?; 26, c; 27, d, and E. Gordon Gee probably can say his name with a straight face, too; 28, all answers valid; 29, c; 30, a; 31, c; 32, b, and hint: the door always wins; 33, the correct answer is Jesus; 34-35, d; 36, c; 37, a-d; 38, a-b, and suddenly Britney Spears doesn't seem like such a bad parent; 39, d, and God bless him.