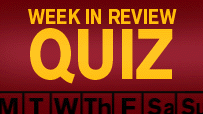 Paid attention to the week in sports -- and other stuff, like the revelation that two Bear Stearns hedge fund managers allegedly lied to investors about the subprime meltdown, the most shockingly unpredictable turn of events since Britney Spears' little sister had a baby -- that was? Put your powers of observation and recall to the test with our weekly quiz:
1. When is the best time to watch golf?
(a) Sunday afternoon
(b) 2009
2. Which of the following Roger Clemens news items actually appeared in the New York Post?
(a) Clemens sells Bentley convertible to Bret Michaels
(b) Clemens to fight Canseco, Tyson, boxing kangaroo
(c) Clemens in hot tub photos with Paris Hilton, Star Jones, boxing kangaroo
(d) Clemens strikes deal with "Surreal Life" producers
3. The Post also reported that:
(a) Clemens hocked his Bentley to help pay his legal fees
(b) Rusty Hardin isn't nearly as dumb as he seems
4. According to the NFL Network, Dallas Cowboys cornerback Pacman Jones wants to:
(a) Stop patronizing gentlemen's establishments
(b) Refrain from expelling excess saliva in the direction of other hominids
(c) Quit helping law enforcement officials brush up on their portrait photography skills
(d) Be called Adam
5. NBC Sports announced a renewal of its:
(a) Television contract with Notre Dame
(b) Commitment to I-AA football
6. According to the Washington Post, which of the following things are like playing golf with a sore knee?
(a) Military boot camp
(b) Jungle warfare
(c) All of the above
7. Who was named Most Valuable Player of the NBA Finals?
(a) Paul Pierce
(b) Kevin Garnett
(c) Ray Allen
(d) Kevin McHale
8. Which of the following individuals is similar to Michael Jordan?
(a) Harold Minor
(b) Grant Hill
(c) Vince Carter
(d) Tracy McGrady
(e) Dwyane Wade
(f) Kobe Bryant
(e) None of the above
9. The New York Mets announced the firing of manager Willie Randolph via:
(a) A 3 a.m. EST press release
(b) Ultra-fine print in a game-day stats packet footnote
(c) A damaging government report issued on a Friday afternoon before a holiday weekend
(d) Flashing lights, fireworks, bullhorn during a Baltimore Orioles home game
10. Which of the following individuals will cut you?
(a) Mets interim manager Jerry Manuel
(b) Sweeney Todd
11. Which of the following headlines sounds dirty, but really isn't?
(a) Phillies Mash Colon
(b) Yankees' Wang Shelved Until at Least Sept.
(c) Obama Promises 'Bottom-Up' Growth
(d) All of the above
12. New York Yankees co-chairman Hank Steinbrenner blamed pitcher Chien-Ming Wang's foot injury on:
(a) The National League, for making pitchers hit and run the bases
(b) Major League Baseball, for not allowing pitchers to traverse the bases via royal sedan chair
(c) Future Yankees owners, for not sending cyborgs back in time to prevent Wang from running the bases
(d) Evolution, for giving human beings feet instead of wheels
13. An Ad Age poll measuring public opinion toward the NBA found that:
(a) Thirty-seven percent of respondents believe that the league somewhat or very likely alters the outcomes of its games
(b) Sixty-three percent of respondents aren't paying attention
14. Sen. Arlen Specter told the Philadelphia Daily News that he will not seek Congressional hearings on:
(a) Spygate
(b) The Y2K bug
(c) The O.J. trial
(d) Avoiding the Noid
15. Announcing that he would investigate public financing of sports stadiums, Specter argued that taxpayers should not foot the bill for NFL stadium construction because:
(a) The league enjoys an antitrust exemption
(b) Taxpayers and their elected representatives vote to foot stadium construction bills out of their own free wills, same as they vote for members of Congress
(c) Just A
16. Honda race car driver Jenson Button told a British newspaper that Danica Patrick would have a hard time in Formula One competition because:
(a) A well-endowed woman would never be comfortable in the car
(b) Mechanics would see Patrick and not be able to concentrate
(c) A and B
(d) Cooties
17. A $225 million racial and sexual discrimination lawsuit filed by former NASCAR official Mauricia Grant accuses league officials of:
(a) Offering Grant gemstones in exchange for sex
(b) Exposing themselves to Grant
(c) Licking ice cream sandwiches in a manner that simulated oral sex while raising suggestive eyebrows toward Grant
(d) Making Jenson Button look like Gloria Steinem
18. ESPN reported that New York Yankees third baseman Alex Rodriguez gets regular text message advice from:
(a) Pete Rose
(b) Ben Johnson
(c) O.J. Simpson
(d) Poochie
19. Rodriguez compared getting advice from Rose to:
(a) A writer getting advice from Hemingway
(b) A painter getting advice from Picasso
(c) A basketball referee getting advice from Tim Donaghy
(d) A and B only
20. Australian track and field athletes reportedly will not march at the opening ceremony of Beijing Olympics due to fears that their health and performance will be harmed by:
(a) Pollution
(b) Being mistaken for political dissidents
21. The Lexington Herald-Ledger reported that the current practice of college basketball coaches offering scholarships to junior high players may be curbed due to:
(a) A voluntary ban
(b) A legislative ban
(c) A and B
(d) Chris Hansen
22. Ohio State reportedly will not join Michigan, Harvard, UCLA and other schools in putting their logos on a clothing line from Victoria's Secret because:
(a) The CEO of Victoria's Secret's parent company also serves on Ohio State's board of trustees, creating the appearance of a conflict of interest
(b) The letters "T-H-E" won't fit on a thong
23. The new Yankee Stadium, set to open next season, reportedly will house a:
(a) Team-themed steak house
(b) Derek Jeter-themed model-actress agency
(c) Clemens-themed pharmacy
(d) Chien-Ming Wang-themed comedic headline-writing workshop
24. The new Yankee Stadium also will host:
(a) A Hard Rock Cafe
(b) A martini bar
(c) Retail stores
(d) The AL East's best team, provided the Boston Red Sox are in town
25. Minnesota pitcher Scott Baker:
(a) Struck out four Milwaukee batters in a single inning
(b) Dislikes Kryptonite
ANALOGIES
26. Tiger Woods : natural-looking high fives
(a) Shaquille O'Neal : fluid free throws
(b) Sjeng Schalken : graceful tennis serves
(c) President Bush : soaring public rhetoric
(d) All of the above
27. Michael Beasley : 6-foot-9
(a) Kim Jong-Il : 38 under par
(b) A-Rod : nine or 10 drug tests
(c) Wilt Chamberlain : 20,000
(d) All of the above
EXTRA CREDIT
28. According to The Smoking Gun, a 52-year-old Los Angeles woman filed a lawsuit against Victoria's Secret, claiming that one of the company's thongs injured her:
(a) Eye, via a decorative metallic piece that broke off
(b) Ego
29. Which of the following is more impressive?
(a) Great Wall of China
(b) Collected works of Shakespeare
(c) Man walks on moon
(d) Prince Fielder inside-the-park home run
30. During a radio interview with Howard Stern, Piers Morgan ripped fellow television talent judge David Hasselhoff for being:
(a) A "tool"
(b) A person who went out and got a spray tan during a break in taping
(c) A and B
(d) David Hasselhoff
31. A 40-foot tall, 15,000-pound tomahawk-chopping mechanical cow reportedly is being installed atop Atlanta's Turner Field as part of a:
(a) Fast-food restaurant promotion
(b) Dadaist art exhibition
32. A German soccer writer covering Euro 2008:
(a) Arrived at the airport five minutes before his flight from Verona to Vienna was set to depart
(b) Called in a bomb threat to delay his plane
(c) Was arrested after police used caller ID to identify his cell phone
(d) Is dumb
(e) Would probably have a job as the New York Knicks' travel secretary by now, if Zeke was still running things
(f) All of the above
ESSAY QUESTION
Japanese toymaker Sega announced the creation of busty, 15-inch tall robotic girlfriend that uses infrared sensors and battery power to sing, dance and kiss on command. A spokeswoman for the company says Sega will market the robot to lonely adult men. In 800 words or less, determine if the Sega lovebot is actually an improvement over fantasy sports.
ANSWER KEY: 1, b, and can't he just rub a little Gatorade Tiger on the knee and get back out there?; 2, a, and to borrow from Bill Simmons: welcome to the Tyson Zone, check out any time you like (but you can never leave); 3, a, though b now seems pretty obvious; 4, d, can't wait till he joins the seminary!; 5, a, and what's a house organ without a house to play in?; 6, c, and welcome to the Tiger Zone, where panting hyperbole is par for the course; 7, a; 8, e, and please, fellow media members: never again; 9, a, and stay classy, Mets; 10, both answers valid; 11, d, and yes, we're probably the only ones laughing -- indulge our inner seventh-grader; 12, a, at least for now; 13-14, a; 15-16, c; 17, a-c, and those are just the accusations we could finesse into print; 18, a; 19, d; 20, a, 21, c; 22, a; 23, a; 24, all answers valid, snaps!; 25, a, and seriously, how'd he do that?; 26-27, d; 28, a, and puh-leeze; 29, d; 30, c or d; 31, a, and take that, Yankees steakhouse!; 32, f, we miss ya, Zeke; Essay Question: any variation on "too busy trying to unload Travis Henry and Pedro Martinez to answer" is valid.
Patrick Hruby is a columnist for Page 2. Sound off to Patrick here.