David Tyree went from forgotten man to New York sports hero in Sunday's win over the Patriots in Super Bowl XLII, making him one of sports' most unlikely heroes.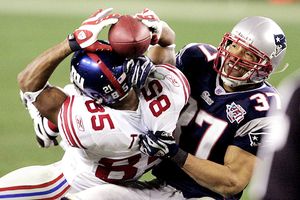 AP Photo/Elaine Thompson
This fantastic catch etched David Tyree's name into Super Bowl history.
The spotlight and headlines might belong to the Michael Jordans of the world, but players such as Tyree, whose fantastic 32-yard reception against his helmet kept the game-winning drive alive, often play crucial roles in winning championships.
Sticking to the championship round in team sports, here are our 10 favorite unlikely sports heroes, listed in chronological order. Argue and debate them, and add your own nominees in the comments section below.
Max McGee, Packers wide receiver

Jan. 15, 1967: McGee made only four regular-season catches (same as Tyree) in 1966, but he became the unlikely star of Super Bowl I after Boyd Dowler left due to injury. McGee later liked to tell of how he was hungover from partying, but he had two touchdown receptions -- including a one-handed grab-and-go -- among his seven catches in the Packers' victory.
Al Weis, Mets second baseman

Oct. 12 and Oct. 16, 1969: Weis hit .215 during the '69 season, with just two home runs. But he wound up getting two of the Mets' biggest hits that season. He won Game 2 of the World Series against the Orioles with a ninth-inning RBI single. Then he homered in the seventh inning to tie Game 5, in a game that the Mets went on to win, 5-3.
Harold Jensen, Villanova guard

April 1, 1985: Jensen averaged only 4.5 points per game during the 1984-85 college basketball season, but he was a perfect 5-for-5 (including the basket that gave the Wildcats the lead for good) in Villanova's shocking upset of Georgetown in the NCAA title game.
Phil McConkey, Giants wide receiver

Jan. 25, 1987: Primarily a return man, McConkey made his mark for the Giants in Super Bowl XXI with two receptions: one on a 44-yard flea-flicker and the other on a touchdown pass that deflected off Mark Bavaro's hands. McConkey finished his career with 67 catches, but his performance in this game made him forever memorable to Giants fans.
Timmy Smith, Redskins running back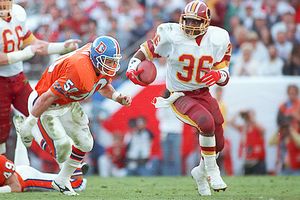 AP Photo/Bob Galbraith
Timmy Smith still holds the Super Bowl record with 204 rushing yards.
Jan. 31, 1988:
Smith rushed for a mere 126 yards during the entire regular season, then emerged with 204 yards and two touchdowns while filling in for the injured George Rogers in Super Bowl XXII. His career regular-season yardage total: 602 yards.
John Paxson, Bulls guard

June 20, 1993: Paxson clinched the Bulls' third straight title with a game-winning 3-pointer with 3.9 seconds remaining in Game 6 of the NBA Finals against Phoenix. Paxson averaged only 4.2 points per game during the regular season (4.9 in the playoffs), but the Bulls were quite thankful that he was a deadly 15-for-24 from 3-point range.
Uwe Krupp, Avalanche defenseman

June 10, 1996: Krupp never scored more than 12 goals in a season -- and he had none in six regular-season games for the Avalanche in 1995-96. But in the playoffs, Krupp became a star, scoring 16 points in 22 games. His fourth goal of the postseason, on a slap shot from the blue line, gave his team a triple-overtime, 1-0 Stanley Cup-clinching win in Game 4 over Florida.
Steve Kerr, Bulls guard

June 13, 1997: Kerr hit the game-winning jumper with five seconds left in Game 6 of the NBA Finals, clinching the championship for the Bulls over Utah. Kerr averaged 8.1 points per game during the regular season, but only 5.0 per game in the postseason.
Geoff Blum, White Sox infielder

Oct. 25, 2005: Blum was an afterthought when he was traded from the Padres to the White Sox at the July 31 deadline, but he made his impact felt by homering in his only World Series at-bat, in the 14th inning of a 7-5 victory in Game 3 against the Astros. Blum hit .200 with one home run in 95 at-bats with the White Sox during the regular season.
David Tyree, Giants wide receiver

Feb. 3, 2008: Tyree's amazing catch of Eli Manning's desperation pass set up the game-winning touchdown in the final minute of Super Bowl XLII. Tyree entered the Super Bowl having made only five catches during the season (four in the regular season, one in the postseason). But he had three -- including a touchdown early in the fourth quarter -- in the Giants' upset of the Patriots.
PAGE 2 ON THE SUPER BOWL
Don't miss any of Page 2's hard-hitting Super Bowl coverage as we gird for an epic clash between the Giants and Patriots.
Bill Simmons
•
Postgame: Free fallin' out into nothing
•
Super Bowl XLII preview and pick
•
Awards from the conference championships
Tuesday Morning Quarterback
•
TMQ: Super ending to a tumultuous season
•
Easterbrook: Spygate returns to headlines
•
TMQ: Conditional immortality
•
TMQ: All-Unwanted All-Pros
Notes, jokes and potpourri
•
Super Bowl commercials bingo cards
•
Flem File at the Super Bowl
•
Friday, Feb. 1: News you can't live without
•
Thursday, Jan. 31: News you can't live without
•
Wednesday, Jan. 30: News you can't live without
•
Tuesday, Jan. 29: News you can't live without
•
Monday, Jan. 28: News you can't live without
•
Celebrities make their picks
•
Poll: Tom Brady celebrity photo ops
Insight and wisdom
•
Hill: Super Bowl party report
•
Page 2: Pop culture roundtable
•
Gallo: Boston's five stages of grief
•
Neel: Bittersweet game for Hoover's people
•
Hruby: Page 2 Week in review quiz
•
Uni Watch: Where's all the blue in Big Blue?
•
Milz: What does Gisele's dad think of Tom?
•
Hruby: Super Bowl is hazardous to your health
•
Hill: Moss was right to quit on Raiders
•
Hill: Teflon Tom Brady
•
Page 2: Suggested questions for media day
•
Jackson: Perks for perfect Patriots
•
Hruby: Analyzing the Brady tape
•
Best teams not to win a championship
•
Fleming: Footnoting greatness
•
Gallo: The first 24 hours of hype
•
Page 2 obtains Boston's contract with the devil
•
Snibbe: Championship Sunday by the numbers
•
Garfamudis: Patriots aren't perfect
•
The curse of Mo Lewis
Inside the brain
•
Inside Jared Lorenzen's brain
•
Inside Matt Cassel's brain
•
Inside Tiki Barber's brain
All things Super Bowl
•
Complete ESPN.com coverage
•
From 2007: The Ultimate Super Rankings
E-Ticket
•
Klosterman: All too perfect
•
Neel: Almost immortal