Who will marry A-Rod's daughters?
Alex Rodriguez would love to have Andy Pettitte as a son-in-law.
OK, sure, Pettitte is married with four kids and A-Rod's daughter is only 3 years old, but he doesn't think that would be a problem.
"If I had a daughter, I would want her to marry Andy Pettitte," Rodriguez told reporters at spring training. "That's the biggest compliment I could give."
The fact is, A-Rod thinks many of his teammates are potential marriage partners for his daughters (No. 2 is due this spring). Take a look ...
• "I'd love for my daughter to marry Mike Mussina. What's not to like? He's handsome, he graduated from Stanford and he's really good at that New York Times crossword puzzle."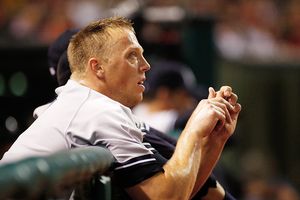 Gregory Shamus/Getty Images
Shelley wasn't afraid to shed a few tears after the Yankees lost to Cleveland in the playoffs.
• "I think Shelley Duncan would make a great son-in-law. I mean, he can both laugh and cry, and isn't that what all girls want in a guy?"
• "Kyle Farnsworth would be a great son-in-law. I'd want my daughter to marry someone with a little intensity, someone willing to fight for her, and Kyle definitely fits the bill."
• "I would love to have Christmas dinners with Joba some day. The fact is, with the way he looks, I know my daughters would never feel overly conscious about their body image, and we all know that the societal pressures placed upon young girls and women these days about their looks is a big problem."
• "I would want one of my daughters to marry Jorge Posada. He's a switch-hitting catcher, for chrissakes! Those don't come along every day!"
• "Hideki Matsui would make a great son-in-law. He's respectful and works hard and I'm very fond of Japanese culture. In fact, I would consider playing for the Japanese team in the World Baseball Classic one day. Or the Canadian team. I'm fond of Canada, too."
• "The biggest compliment I can give is that Mariano Rivera is a saint. No, really, he's a real saint. And who wouldn't want to see their daughter marry a saint?"
• "Jason Giambi may have all those tattoos and the long hair and he may have taken some illegal supplements and he had that strange thing with the parasite and sometimes he looks a little greasy and out of shape, but he's really a sweet, sensitive guy. He listens to opera. Did you know that? So what can I say, I'd love to walk my daughter down the aisle if Jason is the guy for her."
• "Bobby Abreu has morals. For example, he was once engaged to a former Miss Universe, but broke it off when she appeared on a Mexican reality TV show and was filmed having sex with another contestant. I'd love for my daughter to marry a man who won't cheat on his wife."
• "I'd be a happy man if my daughter married LaTroy Hawkins. He's a great guy. Of course, there is the chance that he may blow a couple games this year, get booed out of town with a 7.85 ERA and become persona non grata in New York. But I doubt that will happen. He was pretty clutch when he was with the Cubs."
• "If I had a daughter, I'd want her to marry Phil Hughes. For one thing, the age thing wouldn't be as awkward as with Andy Pettitte. But he's tall like Andy. And he's never lied about using HGH. Not that that makes Andy a bad guy. I'd still want my daughter to marry Andy. His skin is so smooth."
• "Melky Cabrera is a doll. Wait, I mean he has a really strong throwing arm. Well, at least compared to Bernie Williams and Johnny Damon. It's about time we have a center fielder who can actually hit the cutoff man without the ball bouncing three times."
• "Derek Jeter? How many MVP awards as he won? How many times as he hit 50 home runs? No, I'd say he's not qualified to marry my daughter."
• "Carl Pavano. Hmm. Is he still on the roster?"