By Darren Rovell
Page 2
No, Chimezie Kudu does not mean "Sidd Finch" in Hottentot. But, despite geographical obstacles, Chimezie is a very close relative of the fictional pitcher dreamed up by the late great George Plimpton in the April 1, 1985 issue of Sports Illustrated.
The date gave away the Finch piece.
I thought "The Legend of Kudu" wouldn't have been believed on any day of the year. But my e-mail inbox does not lie. I received almost 500 messages with the subject lines like: "Truth or not?", "Chimezie: Fact or fiction?", "Request for Kudu's agent's information."
I am very disturbed by this new development ... I don't care how big the guy is. He needs to first learn the fundamentals (including the rules of the game), and at least, rudimentary English ... Bottom line is, that he should not be drafted, and that he should literally get an education and learn to play basketball second. I don't think the kid has a clue about what that jerk-nose scout is trying to get him into. No, I'm not outraged, but I am concerned for Kudu's well-being. He's probably very naive about the ways of American society. Well, that and given that he doesn't know jack-squat about playing basketball and doesn't know a word of English. I doubt that Kudu even has a TV.
-- Sal D., Spring City, PA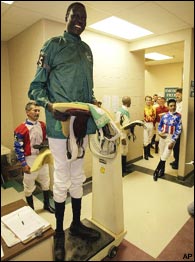 One fan figures Kudu will be a big bust, like Manute Bol.
I'm telling you, even imaginary agents are unethical. And yeah, it would probably be a good idea for Kudu to learn the rules of the game before he is considered a prospect to possibly play against the world's best.
I was wondering if this was a true story and if so, do you really expect a team to draft such an unknown? If he has no game experience, and also has never played against someone, what general manager would be willing to take on that kind of project? I mean the team who would draft this guy would have to teach him not only the NBA game but also the fundamentals of the game that many children learn at the age of 5. In my eyes, it's just another Manute Bol waiting to happen. Let's see if we hear his name on Thursday night.
-- A.J., Frederick, MD
A.J., if they call his name Thursday night, I'm going into hiding when they try to find him.
I don't know if  you intended the material to be humorous, but that story lifted my spirit all the same. What's his agent's contact info? I must chat with him.
-- Jason A.
Mr. Sefu can be contacted at (011) 27-21-48554253. That's (011) 27-21-GULLIBLE.
I have a bet going on the story you wrote regarding the 7-foot-11 Mr. Chimezie Kudu. I say it was accurate reporting of a remarkably tall man who may or may not ever become an NBA player. A co-worker says it was just a prank that you dreamed up for some harmless fun. Which is it? If true, $100 says he bungles about the league for a few years at most before fading back to obscurity.
-- David H.
David, it was accurate reporting of a fictional figure. I stand by my fake story and all the made-up facts in it.
One of my co-workers actually believes the story was true.  He is so adamant about the authenticity of the article that he even told me the guy was on the draft prospects list and that he would bet $100 on it. I couldn't take his money though. He speaks an ancient language that we can't translate?  He might have a deal with 7-Eleven?  For cheesy hot dogs? That was the dead giveaway. Not that he was 7-foot-11 and 265 pounds.
-- Jack P.
What's with all these $100 bets?
I wouldn't be surprised if the Knicks draft Kudu. It would prove for hilarious match-ups between Frederic Weis and Kudu during pre-season camps. In all honesty, Scott Layden is probably watering at the mouth, wishing he could make the pick.
-- Denis K., Hastings on Hudson, NY
Not to worry, Denis. The Knicks are safe. Fired general managers usually have no rights to selecting for their former teams.
Just take a look at the socks in the picture (ones in the foreground and the background). They're exactly the same in the way where the folds are located. He also has a tattoo in one picture (unless it's tribal, I can't see how he could afford it). Seven-foot-11 and 260 pounds with 1 percent body fat isn't enough to live playing basketball.
-- Bryan A.
Bryan, I thought the article was enough to suggest this wasn't real. I'm pretty sure that's a tribal tattoo on the picture with him (without a head!) Yao and Shaq. They do those tribal tattoos for free.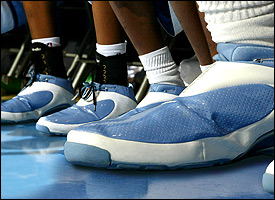 The photo of Kudu's shoe apparently didn't give it away to everybody.
That was an exceptionally ignorant column and I am surprised at your ignorance of Africa and its people. Did you think that African-Americans would not be offended by your gross generalizations of African cultures? Do you know anything at all about South Africa?
-- David G., New Orleans
David, the article might be a hoax, but I hardly made "gross generalizations." Not only did I research that Hottentots live in South Africa, but I also made sure that they had antelope and that some of them were sheepherders.
A lot of parts of the story didn't make sense to me. How did he know who to get the letter to with minimal communication skills? How did Sefu get the picture of his shoe? In a modern basketball shoe?
--Micah L.
Good catch, Micah. The guy has a hoop made out of animal parts, but he has a pair of $130 Air Jordan shoes? How about this one -- if he's never played with anyone, whose are all those other shoes in the picture?
Chimezie is a Nigerian name. A "Hottentot," who would properly be called a Khoisan, wouldn't be named Kudu, either.
-- Andrew B.
Now that's a smart ESPN.com reader. Chimezie is a Nigerian name which means "Let God fix as he wish," according to Swagga.com, where I researched African names before arriving on Chimezie. I couldn't locate a Web site that could help me out with appropriate names for Hottentots.
Darren Rovell, who hopes he's not forever remembered as the guy who invented Chimezie Kudu, can be reached at darren.rovell@espn3.com. If he doesn't respond, it's just because his e-mail is still clogged.
Darren
Rovell
THE KUDU BELIEVERS