Single page view
By Darren Rovell
ESPN.com
There comes a point in every journalist's life when he knows he's arrived.
For some, it's a Pulitzer Prize or a Hall of Fame induction. For me, it was receiving a can of pink tennis balls.
I found the can at my desk a few weeks ago. They had that new-tennis-ball smell. They could bounce with the best of them. And the message inscribed on each of them made worth of my existence here on earth.
COME CELEBRATE MARIA SHARAPOVA'S 18th BIRTHDAY, HOSTED BY MOTOROLA.
HIRO BALLROOM, 363 WEST 16TH STREET, NEW YORK CITY.
SPECIAL PERFORMANCE BY MAROON 5.
Over the next five minutes, I experienced the Sharapova Effect, which is defined as "a rare phenomenon wherein a perceived closeness to Maria Sharapova results in vast amounts of energy expended in jumping around the office and telling everyone you've just been invited to Maria Sharapova's 18th birthday party."
I then proceeded to give the fastest RSVP in the history of mankind, calling up the number on the ball can. My brother, Brian, was to accompany me ... assuming he could directly transfer the $10,000 in funds I requested in return for the favor.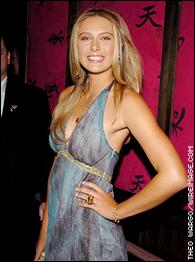 Ms. Sharapova is pretty in blue . . . or any other color, for that matter.
I immediately began looking for a gift. After all, I didn't want to be disrespectful.
I thought about getting Maria a couple of cases of Orangina, her favorite drink; and I toyed with the idea of buying her every title in the Pippi Longstocking series, her favorite books.
Instead, I decided to play it conservatively and do nothing. That is, until a couple hours before the party Saturday night, when I went looking for a card at the local CVS.
I quickly encountered a problem. Every card there, perhaps not so surprisingly, is tailored to people with whom the card giver has a relationship.
Here's a sample:
"Some women possess the unique kind of grace,
a sense of compassion that shows on their face.
Beauty that comes from the lives they have led,
the love they have given, the warmth they have spread ... "
While all that may very well be true about Maria, it's also true that we'd never met. So in the name of professionalism, I got her a blank card that simply wished her a Happy Birthday "from Darren Rovell and the entire ESPN family."
No higher-up had given me permission to say that, but I thought it sounded pretty authoritative.
The party started at 8 p.m., but I knew that casually late is always the best. Sure enough, when I arrived an hour into the festivities, Maria, in a cerulean blue dress, was just making her way across the red carpet. As she was questioned by reporters, cameramen flashed away, knowing, apparently, that their path to lifetime Google-dom would be completed as soon as one of their shots winds up somewhere on the Internet in a Maria Sharapova photo gallery.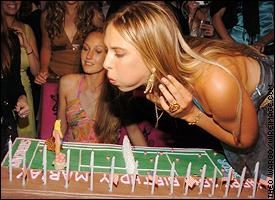 OK, she made a wish. Think Darren was in it?
Instead of the mass questioning session, I figured I'd try for a one-on-one interview. So I went over to Maria's agent, Max Eisenbud.
The conversation went as follows:
Me: "Hey Max ... "
Max: "Darren ... "
Me: "Here's a card I brought for Maria."
Max: "Thank you."
Me: "How about I ask Maria a couple questions away from the red carpet?"
Darren
Rovell
HAPPY BIRTHDAY, MARIA!