The highlight of the parade is when "Mr. Big Beaver," a 10-foot tall statue of a beaver with a cow chip in his hand, is towed down Douglas Street.
Soon, the time comes for everyone to head to the stadium for the featured event.
THE TOSS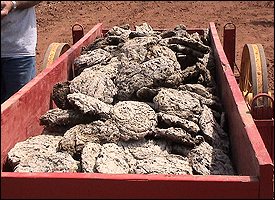 With plenty of cows there is enough "equipment" to go around.
Terry Wallschlaeger, sponsored by the Wisconsin State Cow Chip Committee, has traveled 1,001 miles for her shot at glory. Terri Pratt is following in the footsteps of her father James, the four-time defending men's champion. Laura Wilcox, an 18-year-old from Tilden, Neb., won her state tournament to earn a shot at the world poo slinging title.
"My dad, who raised cattle, made me practice before we drove down here," Wilcox explains.
The rules of the contest are simple:
No. 1: The chips must be at least six inches in diameter.
No. 2: Each contestant gets two throws, with the goal to chuck the chip as far as possible without throwing it out of bounds.
No. 3: No Gloves.
Dana Martin, the defending women's champion, touts her overhand throwing style as she searches for a cow chip hardened like a baseball, but Wilcox is looking for something more disk-like because she can get more distance by throwing it like a Frisbee.
Without cracking a smile, James Pratt says he licks his fingers between throws to get a better grip on things.
"How does it taste?" I ask him.
"Gritty," he says after he demonstrates the procedure.
In 1979, Leland Searcy became a legend in these parts when he chucked a chip 182 feet, 3 inches. It's a record that still stands; no one has come close in the 25 years since. Still, I've got my sights set on the record, a city slicker who thinks he knows better.
Before stepping to the launch line, I take a deep breath and enjoy the moment. I gaze out at Beaver's bravest firefighters, standing at the ready to measure each throw. To the right, in the arena's grandstand, fans chomp on fried Twinkies and onion burgers, then wash it down with a gulp of fresh lemonade. To the left is a Paris Hilton lookalike, standing out from the crowd of anxious contestants like a surreal episode of "The Simple Life."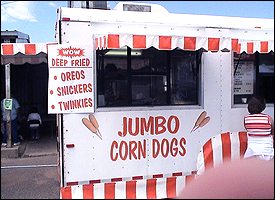 Hmmm, what's worse for you -- handling cow chips or contemplating a deep fried oreo?
If only I had spent as much time contemplating my toss.
So much advice. So many ways to toss a chip.
Soon I begin to doubt my abilities, remembering how bad I was at throwing a Frisbee as a child, and how I definitely could throw a baseball better. Not thinking that I had already chosen a chip better suited to the Frisbee toss, I impulsively hurl it like a baseball.
My first throw soars high in the air, but quickly falls like the first loop of the McDonald's arch. With a thud and a poof of Oklahoma dust, it lands just 62 feet away. The crowd chuckles, not at how bad the throw was, but because as I let it go, I grunted. I had always thought an extra scream provided the extra lift to those guys on the "Strongest Man" competitions.
My second throw doesn't go much farther, but it is disqualified anyway as it sails out of bounds.
Someone hands me a T-shirt that said, "I Flung Dung," the apparent consolation prize, as I turn and watch the professionals do what that they do with the doo.
Darren
Rovell
SLINGIN' DUNG