By Aaron Schatz
Special to Page 2
It seems like we've been waiting for the inevitable return of Ricky Williams practically from the moment he announced his retirement last July. After all the aborted comeback announcements and the interviews in which he said he is coming back, followed by the interviews in which he said he isn't coming back, it seems as if he really means it this time.
Don't count on Ricky running the Dolphins offense.
This time, reporters actually have spoken to Ricky, and not just his agent, about a comeback. Despite the fact that he hasn't practiced in a year and apparently spent the last 12 months on the Lindsay Lohan Diet Plan, Ricky Williams is coming back to the Miami Dolphins.
To which I say: Who cares?
The new Dolphins general manager probably doesn't care all that much. Randy Mueller, who took the job on Monday, has already traded Williams once, in March of 2002 when Mueller was the GM of the New Orleans Saints. Mueller might not have the final say in Williams' future in Miami – new head coach Nick Saban has that power – but Mueller won't be laboring under any misconceptions about Ricky as the team's savior. And rightly so.
"My opinion of Williams has not changed since our first encounter in the offseason of 2000," Mueller wrote in a May 23 column for ESPN.com, before he took the Dolphins' job. "He's a good guy. He has a big heart. He's not out to hurt anyone. He is not a problem in the locker room. He just marches to the beat of a different drummer. He has always been very unpredictable, and that will never change."
Williams is not going to save the Miami Dolphins. In fact, Williams isn't going to help Miami win a single game that the Dolphins wouldn't win otherwise. If Miami fans think they will be watching Ricky the super-stud running back this season, I've got some bad news: That guy doesn't exist anymore.
In fact, that guy existed for only one season, 2002. And his 383 carries that year burnt him out for good.
Ricky apparently has told a reporter that he feels he has a couple of 2,000-yard seasons left in him. Which is true, I suppose, if you want to count both rushing and receiving yards. And the pre-season. And scrimmages.
Remember the Ricky Williams of 2003? He suffered through a six-week stretch when he never hit 100 yards. In three different games, he couldn't even gain 40 yards. He dropped from an average of 4.8 yards per carry in 2002 to 3.5 yards per carry in 2003.
The only running back who had at least 250 carries with a worse average was Eddie George.
But the important number in explaining why Ricky won't help the Dolphins is 392, which is how many times Williams carried the ball in 2003. That is the sixth-highest single-season total in NFL history. And it followed his 383-carry season in 2002 – the 13th-highest total in NFL history.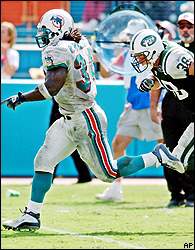 Ricky's best days are definitely in his past.
The roll call of running backs atop the all-time single-season carries list reads like a who's who of players whose careers fell off a cliff. These backs basically fall into three categories: guys who got injured the next year, guys who were never as good again, and guys named Eric Dickerson.
The first category includes (among others) Jamal Anderson one year before he blew out his ACL, Terrell Davis one year before his blew out his ACL, Edgerrin James one year before he blew out his ACL, and Barry Foster (who played only 20 more games in his entire career). If a running back is lucky, like James Wilder or LaDainian Tomlinson, he manages to get in an extra season before the overuse leads to injuries.
The second category includes (among others) Eddie George after 2000, Emmitt Smith after 1995, Marcus Allen after 1985 and, possibly, Jamal Lewis (unless he rebounds this season).
The third category includes ... well, Dickerson, who led the league in carries in season after season with no ill effects. Oh, and to a lesser extent, Walter Payton after 1984.
Maybe with a year off, Ricky will be refreshed and just as strong as he was before 2002. But guess what? That running back wasn't so great, either. Beginning in 1999, Williams' rushing yardage totals are 884 in '99, 1,000 in 2000, 1,245 in '01, 1,853 in '02, and 1,352 in '03. His yards-per-carry averages are 3.5, 4.0, 4.0, 4.8 and 3.5, respectively.
Which year stands out there?
Ricky isn't the first running back in NFL history to have one big year and then fall back, and he isn't the last, either. Thirty different backs in NFL history have increased their per-carry averages by at least a half-a-yard from one season to the next (with a minimum of 250 carries in both years); and in year three, the per-carry yardage of those backs dropped on average three-quarters of a yard.
Only two of those running backs improved in year three: Tomlinson in 2003, and Thurman Thomas in 1991. Tomlinson couldn't get away with two straight years of big-time improvement, though. His per-carry average dropped last season from 5.3 to 3.9 yards.
This trend also hit Jamal Lewis and Ahman Green, who dropped from 5.3 yards per carry to 4.5 (Green) and 4.3 (Lewis).
The other excuse made for Williams' poorer 2003 numbers is that he couldn't be held responsible for the Dolphins' weak offensive line. But is Miami's offensive line any better now than it was in 2002? Saban has been snapping up every defensive lineman on the free agent market in preparation for his revolutionary new 7-0 alignment, but the Dolphins have added just two players – Stockar McDougle and Damion Cook – to last year's horrible offensive line.
That's right, Cook – a backup guard from that legendary blocking juggernaut, the 2004 Cleveland Browns.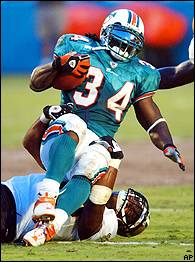 AP Photo/Alan Diaz
Dirt, Ricky -- you better get acquainted, you're going to be spending a lot of time together.
Miami marched a parade of career backups onto the field last year in an ongoing attempt to find some sort of running game. Only two Dolphins backs carried the ball at least 100 times, Travis Minor and Sammy Morris. Together, they managed 911 yards on 241 carries with seven rushing touchdowns. If you're counting at home, that means that Minor and Morris averaged three-tenths of a yard more per carry than Ricky did the year before. They managed a touchdown every 34 carries, while Ricky needed an average of 44 carries for every one of his touchdowns in 2003.
So is Ricky going to be an improvement on last year's Miami running backs? Sure, if you count Brock Forsey.
And knock it off with that "Ricky Williams gets stronger later in games" nonsense. In 2003, Williams averaged 3.7 yards per carry in the first halves of games, and 3.4 yards per carry in the second halves. In his good year, 2002, Ricky averaged 5.0 yards per carry in the first halves of games & and 4.7 yards per carry in the second halves.
The only advantage that Ricky gave to Miami in 2003 was the fear factor. He was considered a serious enough running threat that opposing coaches game-planned against him, which freed things up for the Dolphins' passing game. But after his drop-off in 2003 and no football whatsoever in 2004, do you think Bill Belichick is going to worry about stacking the line to stop Ricky? Will Mike Mularkey worry? Or Herman Edwards?
Comeback Ricky won't even be a good fantasy football player, because he's going to be – at best – part of a running-back-by-committee situation. Actually, fantasy fans should pray that he stays retired, because he'll only ruin No. 1 draft pick Ronnie Brown's value by cutting into his carries. Trying to play "Guess the Miami back" every week is going to be about as much fun as it was to try to figure out which back the Broncos were going to use during one of Terrell Davis' comeback attempts. To this day, there are fantasy football junkies who can't say the name "Mike Shanahan" without cursing afterward.
"It just might make sense [for the Dolphins] to have Williams now," Mueller wrote last month. "With Brown, they have an option. They have insurance against Williams going AWOL again, and they have peace of mind ... We all saw how risky it is to have Ricky as your only option."
If Ricky comes back, his only value will come in helping to keep Brown fresh. And to be honest, Sammy Morris can do that job just as well. But hey, if Brown is feeling a little bummed out now that the veteran itching for a comeback might be cutting into his playing time, I think I know somebody with whom he can commiserate.
Does anyone have Darius Watts' phone number?
Aaron Schatz is editor-in-chief of FootballOutsiders.com.
Aaron
Schatz
RICKY'S RUN OVER