Which year stands out there?
Ricky isn't the first running back in NFL history to have one big year and then fall back, and he isn't the last, either. Thirty different backs in NFL history have increased their per-carry averages by at least a half-a-yard from one season to the next (with a minimum of 250 carries in both years); and in year three, the per-carry yardage of those backs dropped on average three-quarters of a yard.
Only two of those running backs improved in year three: Tomlinson in 2003, and Thurman Thomas in 1991. Tomlinson couldn't get away with two straight years of big-time improvement, though. His per-carry average dropped last season from 5.3 to 3.9 yards.
This trend also hit Jamal Lewis and Ahman Green, who dropped from 5.3 yards per carry to 4.5 (Green) and 4.3 (Lewis).
The other excuse made for Williams' poorer 2003 numbers is that he couldn't be held responsible for the Dolphins' weak offensive line. But is Miami's offensive line any better now than it was in 2002? Saban has been snapping up every defensive lineman on the free agent market in preparation for his revolutionary new 7-0 alignment, but the Dolphins have added just two players – Stockar McDougle and Damion Cook – to last year's horrible offensive line.
That's right, Cook – a backup guard from that legendary blocking juggernaut, the 2004 Cleveland Browns.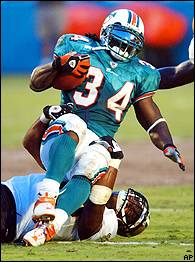 AP Photo/Alan Diaz
Dirt, Ricky -- you better get acquainted, you're going to be spending a lot of time together.
Miami marched a parade of career backups onto the field last year in an ongoing attempt to find some sort of running game. Only two Dolphins backs carried the ball at least 100 times, Travis Minor and Sammy Morris. Together, they managed 911 yards on 241 carries with seven rushing touchdowns. If you're counting at home, that means that Minor and Morris averaged three-tenths of a yard more per carry than Ricky did the year before. They managed a touchdown every 34 carries, while Ricky needed an average of 44 carries for every one of his touchdowns in 2003.
So is Ricky going to be an improvement on last year's Miami running backs? Sure, if you count Brock Forsey.
And knock it off with that "Ricky Williams gets stronger later in games" nonsense. In 2003, Williams averaged 3.7 yards per carry in the first halves of games, and 3.4 yards per carry in the second halves. In his good year, 2002, Ricky averaged 5.0 yards per carry in the first halves of games & and 4.7 yards per carry in the second halves.
The only advantage that Ricky gave to Miami in 2003 was the fear factor. He was considered a serious enough running threat that opposing coaches game-planned against him, which freed things up for the Dolphins' passing game. But after his drop-off in 2003 and no football whatsoever in 2004, do you think Bill Belichick is going to worry about stacking the line to stop Ricky? Will Mike Mularkey worry? Or Herman Edwards?
Comeback Ricky won't even be a good fantasy football player, because he's going to be – at best – part of a running-back-by-committee situation. Actually, fantasy fans should pray that he stays retired, because he'll only ruin No. 1 draft pick Ronnie Brown's value by cutting into his carries. Trying to play "Guess the Miami back" every week is going to be about as much fun as it was to try to figure out which back the Broncos were going to use during one of Terrell Davis' comeback attempts. To this day, there are fantasy football junkies who can't say the name "Mike Shanahan" without cursing afterward.
"It just might make sense [for the Dolphins] to have Williams now," Mueller wrote last month. "With Brown, they have an option. They have insurance against Williams going AWOL again, and they have peace of mind ... We all saw how risky it is to have Ricky as your only option."
If Ricky comes back, his only value will come in helping to keep Brown fresh. And to be honest, Sammy Morris can do that job just as well. But hey, if Brown is feeling a little bummed out now that the veteran itching for a comeback might be cutting into his playing time, I think I know somebody with whom he can commiserate.
Aaron
Schatz
RICKY'S RUN OVER