By David Schoenfield
Page 2
Ohio was the center of America's universe Tuesday -- one of the key swing states in the presidential election and host of the Toledo-at-Miami football game.
There was only one thing to do -- a lot of flip-flopping between channels.
7:30 ET: CNN has Bush leading Kerry 34-3, with 270 electoral votes needed for victory. Fox News starts warming up Mariano Rivera to declare victory.
7:35: Andre Ware is doing the football analysis. Somewhere, I have a stack of Andre Ware rookie cards sitting around. They didn't exactly pay off.
7:40: Larry King asks, "How can Ralph Nader have no percent?" Wolf Blitzer is speechless.
7:45: Ed Gillespie, Republican National Committee chairman, declares, "We feel great." Terry McAuliffe, his Democratic counterpart, declares, "I've never felt better." Larry King declares, "You both can't be right!" Where's Tim McCarver?
7:47: Miami takes a 3-0 lead. Across the scrolling ticker, I see Derek Jeter wins his first Gold Glove. In other news, Larry King is awarded a Pulitzer Prize for investigative journalism, Boise State moves to the head of the BCS poll and Tom Coughlin says 10 a.m. meetings will start at 10 a.m.
Tuesday Scorecard
Food consumed: Mrs. Couch Potato made a marvelous dinner of gorgonzola butter-smeared ribeye steak with onion rings.

Diet sodas: 2

Salsa: Hey, the steak filled up the tummy. I think that qualifies as a good-enough excuse to take a break from the chips routine. I'm learning that 110 percent is a hard thing.

Quote of the night: "The guts of a cat burglar." Heard at least twice during the football game.

Look of the night: Toledo coach Tom Amstutz's whistle.
8:00:
Miami takes a 6-0 lead after recovering a Toledo fumble. We also learn that if you wear Aqua Velva, hot women in bikinis will like you. You're telling me that's a better sales pitch than Pete Rose?
8:08: CNN pans to its Election Analysis Center. Theo Epstein and Bill James are working two of the computers. Kerry surges to a 77-66 lead.
8:12: Toledo goes for it on fourth-and-7 from the Miami 21 and gets the first down. A few minutes later, the Rockets score on a QB sneak to tie the game (the extra point is missed). I'm not quite into the football game.
8:42: Bush 102, Kerry 77.
8:46: Fox News introduces its newest political analyst, Curt Schilling.
9:13: Halftime score is 13-13, even though Toledo has three turnovers. Halftime analyst Tucker Carlson says it's still too close to call.
9:15: Rudy Giuliani visits Larry and Wolf. In a shocking development, he says he's giving up on the Yankees and wants to become the Mets' manager.
9:24: I flip to Fox and see Brit Hume apparently complaining about the possibility of not declaring a winner before the night is over. Gee, Brit, don't let getting it right prevent you from declaring a winner.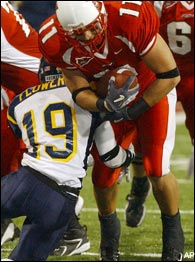 Most people in Ohio were preoccupied with other things besides football Tuesday night.
9:32: CNN goes to its big board of all the crucial states, where Mel Kiper breaks down the tally. Bush takes a 170-112 electoral lead. In Ohio, looking like the most important state of the night, Bush leads 53 percent to 46 percent.
9:37: Facing a fourth-and-three from the Miami 45, Toledo shows punt formation but then runs an option play and gets stuffed for no gain. The Rockets, who scored more than 40 points four times in winning their past six games, are making all the mistakes.
9:45: Here's Looking at You: Sen. Bill Frist and ESPN's Bill Curry.
9:55: CNN's Bob Novak explains a scenario where it could end up in a 269-269 tie. I think he was referring to a Chiefs-Colts rematch.
And apparently, Florida doesn't have its act together. Not sure if that means its election system or its football teams.
10:15: CNN projects Missouri for Bush, giving Dubya a 193-112 lead. Missouri has picked the presidential winner in 24 of the last 25 elections.
In Boston, John Kerry reminds his staff that the Red Sox were down 3 games to 0 and trailed in Game 4 with Rivera on the mound.
10:20: Miami scores on a 1-yard run on the first play of the fourth quarter to take a 23-16 lead. I'd rather be watching the election results.
10:46: With 4:48 left in the game, Toledo goes for it on fourth-and-9 from near midfield and completes the pass for a first down.
10:52:
After a sack, Toledo calls its last timeout, facing fourth-and-24.
10:54: Pass complete ... but short of the first down. Game over. Miami wins, 23-16. It even says so on the Internet.
11:00: Bush leads Kerry, 197-188. With Florida likely going to Bush, it appears Ohio is now the key state in the election.
I'm going to watch. Day Six, over.
Final game score: Three potatoes.

E-mails of the Day
I love it; you're like the castaway of football. Stranded on your couch with nothing to keep you sane but pigskin and your wife dropping care packages of salsa out the back of a C130.
-- Jeff Rich
So far, she's putting up with me. But for some reason, I couldn't pull her away from election coverage to watch Toledo vs. Miami!
Fruits and veggies? We don't need no fruits and veggies. Seriously, salsa is close enough.
-- Jhonka
David Schoenfield is an editor for Page 2 in his day job. He can be reached at davidschoenfield@yahoo.com.