By David Schoenfield
Page 2
Sports columnists and fans are foaming at the mouth like a bunch of rabid dogs fighting over a piece of raw meat.
Put an asterisk next to Bonds!
Put an asterisk next to all his records!!
Strike his totals completely from the record book!!!
Crown a new single-season home-run king!!!!
Trouble is, once you strike Bonds' 73 home runs from the "book" because you think his steroid use taints their legitimacy, who would that leave as the new single-season record-holder?
Let's find out: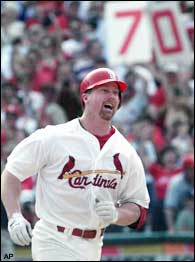 With andro Mark was more android than human. Strike it!
Mark McGwire, 70 home runs, 1998: Used Andro, which raises the level of testosterone in the body and is considered a pre-cursor to steroids. When combined with weightlifting, this will help build muscle mass. Strike it!
Sammy Sosa, 66, 1998: Suspected performance-enhancer use. Received grooved pitches from Jose Lima. Strike that one, too!
McGwire, 65, 1999: Andro, etc.
Sosa, 64, 2001: Caught cheating with corked bat. How often and when did he do this? Nobody knows.
Sosa, 63, 1999: Strike!
Roger Maris, 61, 1961: Expansion year (Senators and Angels). All records from all expansion seasons should be stricken since offensive totals always increase due to the diluted pitching.
Babe Ruth, 60, 1927: With no black players allowed, Ruth wasn't even facing the best pitchers. Stricken!
Ruth, 59, 1921: No black players.
Jimmie Foxx, 58, 1932: No black players.
Hank Greenberg, 58, 1938: No black players.
McGwire, 58, 1997: Andro, etc.
Luis Gonzalez, 57 2001: Was there something in that chewing gum? Has never hit more than 31 home runs in any other season. Definitely suspicious. Stricken!
Alex Rodriguez, 57, 2002: Nobody has accused A-Rod of taking steroids, but any total in the juiced player era (1994-2003) is questionable. Guilt by association.
Hack Wilson, 56, 1930: This was the notorious lively ball season, when the National League hit over .300 as a league! And no black players, either.
Ken Griffey Jr., 56, 1997: Juiced player era. Plus, he played in the Kingdome. Strike it!
Ruth, 54, 1920: No black players.
Ruth, 54, 1928: No black players.
Ralph Kiner, 54, 1949: Jackie Robinson had broken the color barrier, but there were still very few black players. Sorry. Needs an asterisk.
Mickey Mantle, 54, 1961: Expansion season.
Griffey Jr., 54, 1998: Expansion season (Diamondbacks and Devil Rays).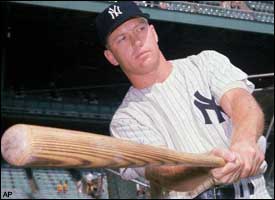 Sorry, Mick. Your competition doesn't make the cut.
Mantle, 52, 1956: This might be the winner, except ... well, there were lots of problems in the AL at this time. Black players still weren't fully integrated (the Yankees, for instance had only one, Elston Howard; and the Red Sox had none). The Kansas City A's were essentially a Triple-A team for the Yankees. If this record had been set in the NL, I think we could crown the Mick the champ. But we can't.
Willie Mays, 52, 1965: During the famous Pittsburgh drug trials in 1985, former Pirate John Milner testified that he took liquid amphetamine (which he referred to as "red juice") out of Mays' locker. We don't know when -- or, frankly, if -- Willie started using, but it raises suspicions.
George Foster, 52, 1977: As a kid, I loved George Foster and his big black bat and long menacing sideburns. I want this to be the single-season record. But ... it was an expansion year in the AL (Mariners and Blue Jays) and the first year of free agency. Basically, everything was all screwed up and the average NL slugging percentage went up 36 points. Stricken!
McGwire, 52, 1996: Andro, etc.
Rodriguez, 52, 2001: Juiced player era.
Jim Thome, 52, 2002: Juiced player era.
Johnny Mize, 51, 1947: Robinson's first year, so baseball wasn't integrated yet.
Ralph Kiner, 51, 1947: Robinson's first year.
Mays, 51, 1955: Mays surely wasn't using the red juice yet, but the Polo Grounds was just 279 feet to left field and 258 feet to right field! No way this should count as the record.
Cecil Fielder, 51, 1990: No designated hitters allowed. Stricken!
Foxx, 50, 1938: No black players.
Albert Belle (1995), Brady Anderson (1996), Greg Vaughn (1998), Sosa (2000), all with 50: All stricken for one or more of the following reasons: suspected steroids use, juiced player era, expansion year, possible corked bat.
Then we get to a bunch of guys at 49. But most of them played in either the pre-Jackie Robinson era, or in the notorious juiced-ball season of 1987, or an expansion season, or the juiced player era or, worst of all, Coors Field.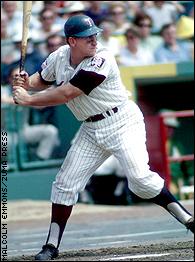 Shouldn't the single-season HR champ have a nickname like "The Killer"?
However, that does leaves us with ... drum roll, please ... the following co-record holders for home runs in a single season, with 49 each:
Ted Kluszewski, Cincinnati Reds, 1954.
Harmon Killebrew, Minnesota Twins, 1964
Frank Robinson, Baltimore Orioles, 1966
By all accounts, these guys played the game the way it was meant to be played, against fair competition and without the use of any performance-enhancing stimulants besides coffee and chewing tobacco. Big Klu's arms were so mammoth he cut off the sleeves on his jersey. And he was a real hitter -- he had more homers than strikeouts in '54. And Killebrew grew strong not from illegal supplements but from eating lots of potatoes growing up in Idaho. And Robby not only hit homers but would crush second basemen and shortstops with his hard slides.
So let's congratulate them. They're the new single-season home-run champions!
David Schoenfield has never used "the cream" or "the clear."