Single page view
By David Schoenfield
Page 2
While managing the Pirates, Jim Leyland once said, "You know what I think about stuff like leadership and chemistry? It's nice to have, but I'd rather win."
I was thinking about that quote the other day when I heard the 345th reference since the first week of April – yes, I keep track on a little sticky note by my computer at work – to the ill effects of bad chemistry on the Yankees this season.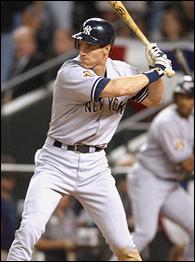 People think the Yanks are losing 'cause they're missing great clubhouse guys like Paul O'Neill. Think again.
Nobody talks to A-Rod. Kevin Brown is a jerk. Jason Giambi is a loner. Tony Womack leaves his nail clippings all over the clubhouse and Paul Quantrill drops too many "ehs" into his conversation.
Give me a break. The only bad chemistry at Yankee Stadium this year is Giambi's multivitamins don't meet the same daily allowances as his old brand.
The problem is, all this drivel about chemistry inevitably leads to statements like, "This Yankee team just doesn't have those special guys like Paul O'Neill, Scott Brosius and Tino Martinez" – said, of course, in the same hushed, reverential tones usually reserved only for Amen Corner on Sunday at the Masters.
Can you hear me groaning in anguish through your browser?
I'm not joking: I swear I was watching a Yankees game on the YES network the other day and saw a promo for an upcoming edition of "Yankeeography" – "O'Neill, Brosius and Tino: Three Very Special Players. Tomorrow night on 'Yankeeography.' "
To be followed, assuredly, by a 30-minute special, "Ten Days In May: Tino's Triumphant Return."
Don't worry, if you don't get the YES network, the DVDs will soon be available at your local Borders, with all profits going to pay for Steve Karsay's buyout.
Ugh. I know that much of the media and all Yankees fans have an absurd veneration for those three guys because their departures after the 2001 season explain all the Yankees woes of the last four years: Special guys leave, team chemistry evaporates, selfish and/or steroid-ridden and/or potential malcontents like A-Rod, Giambi and Gary Sheffield are brought in, team turns into a $200 million Titanic.
It's easy math.
Except the math doesn't actually add up.
Please take a second to consider this:
Wins for the 1999-2001 Yankees: 98, 87, 95.
Wins for the 2002-04 Yankees: 103, 101, 101.
I know, I know: the '99-'01 Yankees reached three World Series and won two of them. The last three Yankees teams reached just one World Series, lost it, and followed that with the Choke of the Century.
And so it figures that the Three Special Guys must have – well, possessed that special, unexplainable, undefinable, mystical something-or-other skill set known as … "chemistry." Why else would the Yankee faithful be so eager to welcome Tino back after his sizzling .262 batting average for the Devil Rays last season?
However, excuse more numbers, but consider another point. Here are the 1999-2001 postseason totals for those TSG:
| | | | | | |
| --- | --- | --- | --- | --- | --- |
| Name | AB | H | HR | RBI | AVG |
| Paul O'Neill | 140 | 40 | 2 | 15 | .286 |
| Scott Brosius | 149 | 27 | 4 | 15 | .181 |
| Tino Martinez | 170 | 46 | 6 | 23 | .271 |
| TOTAL | 459 | 113 | 12 | 53 | .246 |
David
Schoenfield
CHEMISTRY THEORY