By Pittsburgh Joe
Special to Page 2
EDITOR'S NOTE: Baseball's biggest rivalry resumes this weekend in ... no, not the Bronx. (Yankees-Red Sox is soooooooo overblown.) We're talking B.I.G. Much bigger than Boston-New York. We're talking about the four Games to End All Games in Cincinnati between the Pirates and the Reds. These two storied franchises have been battling for National League supremacy for over 100 years ... and there's often blood involved. So Page 2 contacted Pittsburgh Joe to get his take on the rivalry and his life as a Pirates fan.
Look, I'm only going to say this once: Lay off the yellow uniforms.
As my friend Weevil says, "All seven of us remaining Pirates fans in the 'Burgh can never, ever make fun of four things: the Disco Era, Kent Tekulve's glasses, Jennifer Beals in 'Flashdance,' and those glorious yellow unis of the '79 Pirates."
Yes, in Pirates Nation, yellow is good. Back in the '70s, the Pirates were hip-hop before hip-hop was happenin', with our polyester pullovers, our Latin players groovin' to Manny Sanguillen's 8-track, our Astro Turf, and our Sister Sledge pumping up Three Rivers with "We are Fam-i-lee."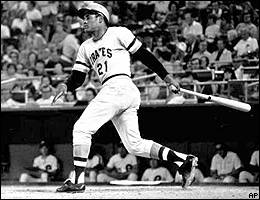 Pittsburgh fans have gotten to enjoy great heroes like Roberto Clemente.
We believed in Roberto Clemente, the Baseball Jesus.
We believed in Willie Stargell, the original Big Papi.
And we believed the Cincinnati Reds were a bunch of … wait, I can't print that word.
The Reds and Pirates first started playing each other in 1882. We Pittsburghers have generations of Cincinnati hate in our blood. Pete Rose is our vile and sworn enemy. My older brother still brings out his ratty and torn "Reds are Communists" T-shirt from the 1990 NLCS. My father still gets chafed over that play in 1978 when George Foster topped one of Bert Blyleven's big curves down the first-base line and tried to slap the ball from Blyleven's glove as Bert tried to make the tag. My grandfather went to his grave still incensed over that time in '73 when Cesar Geronimo knocked poor ol' Danny Murtaugh, our beloved skipper, out of his rocking chair because of a beanball incident.
So you want real passion action this weekend? Make sure you catch the Pirates and Reds showdown.
Weevil tells a story. He swears it's true, but with Weevil, he might be stretching it a bit. It never made it on "SportsCenter" or even in the local papers, because it happened back in the early '90s when the Pittsburgh newspaper guys were on strike. He was sitting down by the Reds' bullpen and ragging Rob Dibble and Norm Charlton and all those Nasty Boy flameouts about how lousy the "world famous" chili in Cincinnati really is. Weevil has a voice, believe me. Anyway, Charlton apparently asked one of the groundskeeper guys to tell Weevil to cram it. Next thing you know, Charlton and Dibble have the groundskeeper in a headlock and are wrestling him to the turf next to the railing.
Weevil says he accidentally knocked his beer on Randy Myers – although, knowing Weevil, I suspect that might not be exactly the way it went down. Well, Myers – and he was a bit nutty you know – just about knocked Weevil's pillbox hat off, but held back. The whole situation nearly erupted into a riot.
But that's what happens when the Pirates and Reds play.
Five things I hate about Cincinnati
1. The Big Red Machine hype. Bench, Morgan, Rose, Perez, Griffey, blah blah blah. You know how many World Series titles the Big Red Machine won in the '70s? Two. Division titles? Six. You know how many World Series the Pirates won in the '70s? Two. Division titles? Six. Yet all you ever hear about is the Big Red Machine. Like the Pirates' decade of excellence never happened. Incredible.
2. The 1973 NL MVP vote. Stargell hit .299 with 44 home runs, 43 doubles and 119 RBI. He led the NL in homers, RBI and slugging percentage. Rose hit .338  with 5 home runs, 38 doubles and 64 RBI. And somehow the MVP voters picked Rose. One of the most outrageous results in the history of the award.
3. Oct. 11, 1972.  A dark day in Pittsburgh sports history. The Pirates led the Reds 3-2 entering the bottom of the ninth inning of Game 5 of the NLCS – back when it was a best-of-five. Johnny Bench led off with a home run off Dave Giusti to tie it up. And then, after two hits and two outs, Bob Moose wild-pitched in the winning run. I was only 7 years old then, but I'll never forget that game. It was the first time I saw my older brother cry.
4. Chris Sabo's goggles, for his home run in the 1990 NLCS, probably the most important hit of that series.
5. The Bengals.
Three rivers of anguish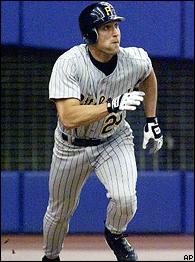 How could the great John Vander Wal do that to Pittsburgh fans?
Weevil tells another story. He's got a lot of them. Swears it's true. He used to be a bartender in this hotel lounge downtown, across the river from the old Three Rivers, and now PNC. Some of the ballplayers used to stop by after games. It was 2000, Gene Lamont's last year as manager, and the Pirates were shockingly on their way to another 90-loss season. Anyway, John Vander Wal had missed a couple games because he had a stomach virus. But Weevil saw him in the lounge, having a soda with Dante Bichette of the Reds. Apparently, the guys were old buddies from their days with the Rockies. The guy is too sick to play, but he's fraternizing with the enemy after the game? Incredible!
Weevil admits it was pretty dark in the lounge, but he insists it was Vander Wal. Man, we loved that guy. He was such a clutch pinch-hitter. It ripped my heart out to hear that story. You could have swiped my Omar Moreno autographed wristbands and I wouldn't have been as ticked off.  With attitudes like that, no wonder the Pirates were so lousy that year.
In the words of Weevil
When Weevil heard I was guest writing a column for Page 2, he insisted he get to contribute. So he e-mailed me this top-10 list.
Top 10 reasons PNC Park is better than Yankee Stadium or Fenway Park:
10. Statues are way cooler than gravestones.
9. It don't reek of urine.
8. The limestone exterior is better than Yankee Stadium's gray concrete.
7. The seats don't face the left-field wall.
6. Primanti Brothers sandwiches kick butt over Fenway Franks.
5. You can fit into the seats.
4. We don't play "Cotton-Eye Joe" as our theme song.
3. The Roberto Clemente bridge.
2. You don't have to watch Jason Giambi or Kevin Millar try to field ground balls.
1. It isn't next to an expressway or a burned-out building.
My prison in Cincinnati
I was down at the local bookstore the other day, browsing through all the Pirates and Reds books on display. I'll just say this: Don't waste your time reading the Pete Rose book.
Curse you, Sid Bream!
I know fans of other teams have suffered. But only Pirates fans have had to live through the Curse of Sid Bream.
You might not believe in curses. But ever since Bream slid home with the winning run in the bottom of the ninth of Game 7 of the 1992 NLCS, we've suffered more than James Caan in "Misery." We led 2-0. Drabek was cruising. After losing in the playoffs the two previous years, we were finally headed back to the World Series. And then … it happened. My hands shake as I write this. Say you're a Red Sox fan. Imagine David Ortiz going to the Yankees. And he runs even slower than he does now. The tying run is on third base and Ortiz is on second. Base hit to left field. And Ortiz beats the throw home. Imagine how'd you feel.
And then multiply that by 10 times. There's no way Sid Bream beats that throw from Barry Bonds.
But he does. And since then, here's what happened:
The Braves have won a division title every year since, while the Pirates haven't even had a winning season.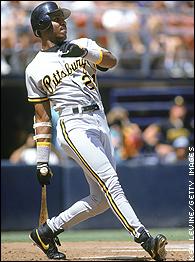 Who is this guy? Oh yeah, it's Barry Bonds.
The Pirates decided to sign Andy Van Slyke to a big contract, instead of Bonds.
Chico Lind, who booted an easy ground ball that inning, was caught driving without any pants on.
Derek Bell's Operation Shutdown.
The Jason Kendall contract. Who signs a singles hitter to a $60 million contract? As my buddy GD puts it, "Kendall was receiving 25 percent of the payroll and hitting 1 percent of the home runs and 2 percent of the RBI, though he did carry his fair share of the grittiness of the team (30 percent)."
Raul Mondesi. Pat Mears. Kevin Young.
Bryan Bullington drafted with the first overall pick in 2002. He's shaping up as perhaps the worst No. 1 pick ever.
Aramis Ramirez traded to the Cubs for Jose Hernandez.

I'll stop there. But the point is clear: I do believe in the Curse. It is real.

Parting words
There you go. I've hit my word limit. I didn't even get into the list of Reds-Pirates memories I solicited from my pals over at the Sons of Sammy Khalifa message board.

I'd like to thank the Page 2 guys for giving me the column today. The Pirates play the Reds again at the end of August. I'm sure the pennant race will be a lot more interesting by then, so maybe I can return with another column on this historic rivalry.

Pittsburgh Joe and his family have lived in Steel Town for generations, and are big fans of David Schoenfield's work on Page 2.






Pittsburgh
Joe
WAR OF THE WORLDS