It was the year of the Red Sox. It was the year of A-Rod. It was the year of the Rockies' run for the ages. It was the year of Barry Bonds, in more ways than one. It wasn't quite the year for the Cubs.
And, of course, it was a year for predictions. The American League announced Alex Rodriguez as its MVP on Monday, which is no surprise -- 10 of 18 ESPN.com experts predicted before the season he would win the MVP award.
That was a good prediction. As was Page 2's own Jim Caple picking Jake Peavy to win the NL Cy Young award -- the only one of the 18 experts to pick Peavy.
However, in stealing a theme from Tuesday Morning Quarterback, this is the bad predictions review. Hence, let the fun begin.
THE RED SOX AND WORLD SERIES PREDICTIONS
It shouldn't have been that big of a shocker to see the Red Sox win the World Series -- after all, they had baseball's second-highest payroll. Still, only four of ESPN.com's 18 experts picked the Red Sox to reach the World Series, with three picking them to win. But compare that to the Dodgers: Six of the 18 had the Dodgers reaching the World Series and 13 had them winning the NL West; the Dodgers finished in fourth place, one game over .500.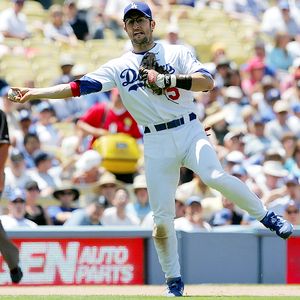 Lisa Blumenfeld/Getty Images
For all who picked the Dodgers to win the National League -- you apparently forgot that Nomar Garciaparra is a shell of his former self.
Sports Illustrated also picked the Dodgers to reach the World Series -- losing to their crosstown rivals, the Angels. The Angels did make the playoffs, but quickly bowed out. SI picked the Dodgers, Cardinals, Braves and Mets to make the NL playoffs; none made it. Jack Curry of the New York Times picked the Tigers over the Mets; neither made the playoffs.
Perhaps predictably, three of four Boston Globe baseball writers picked the Red Sox to win the World Series. Dan Shaughnessy not only didn't pick the Sox, he picked Toronto to win the AL East; Toronto missed the playoffs by 11 games. He did, however, pick the Dodgers to reach the World Series, losing to the Tigers; neither team made the playoffs.
In ESPN The Magazine, Steve Phillips wrote that Joel Pineiro was a key to Boston's season. "They thought his fastball would have more life in short stints, but his spring work didn't inspire, so Jonathan Papelbon went back to the pen. With Timlin opening on the DL (oblique), the Sox now need Pineiro for vital setup help."
Pineiro certainly didn't inspire as he posted a 5.03 ERA with the Red Sox and was eventually traded to the Cardinals; despite his failure in middle relief, the Red Sox won the World Series anyway.
Of course, the big hype for Boston in spring training was Japanese free agent Daisuke Matsuzaka, who cost the Red Sox $103 million between bidding rights and a six-year contract. Sports Illustrated wrote that Dice-K "will be a Rubik's Cube to hitters." That must have meant he would be befuddling, but such was hardly the case: Matsuzaka had a 4.40 ERA and gave up 25 home runs. In the postseason, he had a 5.03 ERA in four starts; Boston won the World Series anyway.
Sports Illustrated also wrote that J.D. Drew should hit second in Boston's order rather than Kevin Youkilis: "More simply, Drew's a better hitter than Youkilis." Youkilis finished with a higher batting average, higher on-base percentage and higher slugging percentage than Drew; Drew didn't bat second once all year and Boston won the World Series.
After rookie second baseman Dustin Pedroia got off to a slow start, hitting .182 in April, Bob Ryan wrote in the Boston Globe on April 30, "Is it time start a second base controversy?" He was alluding to Alex Cora. Manager Terry Francona stuck with Pedroia, who finished at .317, helped the Red Sox win the World Series and was named the AL Rookie of the Year -- which certainly caught ESPN's experts off guard, because none of them predicted Pedroia would win.
THE ROCKIES AND OTHER PREDICTIONS
The Colorado Rockies won the National League in dramatic fashion, winning 14 of their final 15 regular-season games just to take the wild card and then winning seven more games in a row to reach the World Series. Needless to say, nobody predicted this.
ESPN The Magazine picked the Rockies to finish last. SI picked them to finish fourth, ranking them as the 20th-best team in baseball. The Washington Post picked them to finish last, writing, "They probably should have traded Todd Helton a few years ago, back when he would have brought something spectacular in return. Instead, they held on to him too long and found he wouldn't bring back much this winter. Too bad. He deserved to get out." Helton didn't get out but did get to play in a World Series.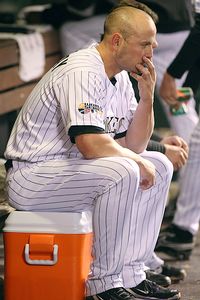 Jed Jacobsohn/Getty Images
Raise your hand if predicted the Rockies to win the NL flag? Keep your hand up if you thought Matt Holliday might be the NL MVP?
Of ESPN.com's 18 experts, none picked the Rockies to make the playoffs. In another story, 10 of ESPN's baseball contributors predicted the NL standings; eight of the 10 had the Rockies finishing last in the NL West, and only Peter Gammons had them finishing with a winning record. Four of five baseball writers for the San Diego Union-Tribune picked the Rockies to finish last; the one who didn't picked Arizona to finish last, but Arizona won the division.
ESPN's experts didn't fare much better in other divisions. The Cardinals were the consensus pick to win the NL Central (seven of 18) and in the standings predictions, all 10 picked the Cardinals to finish with a winning record; they actually finished 78-84.
Seventeen of the 18 ESPN experts predicted the Indians would not win the division; 12 picked the Tigers, three picked the White Sox and two picked the Twins; at least nobody picked the Royals. The Indians won the division by a comfortable eight games; only Rob Neyer got it right.
For years now, many fans, journalists, commentators and experts have cried about baseball's lack of parity. If only baseball were more like the NFL, they always say. If baseball lacks parity, shouldn't predicting the playoff teams be much easier?
Steve Phillips of ESPN picked only two of the eight playoff teams. Pedro Gomez of ESPN picked only two of the eight playoff teams. Enrique Rojas of ESPN picked only two of the eight playoff teams. Phil Rogers of ESPN picked only two of the eight playoff teams. Jerry Crasnick, Eric Karabell, Amy Nelson, Bob Klapisch and Sean McAdam of ESPN each picked only three of the eight playoff teams. So half of ESPN's 18 baseball experts were unable to pick even half of the eventual playoff teams.
None of the five baseball writers and columnists for the San Diego Union-Tribune correctly picked more than half of the playoff teams. Two of them picked the Reds to win the NL Central; the Reds finished 72-90. Jack Curry of the New York Times picked only three of the eight playoff teams.
Maybe baseball is like the NFL! (Oh, wait, did we know at midseason the Red Sox were a lock to win the World Series?)
ANDRUW JONES AND OTHER PREDICTIONS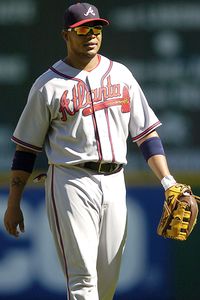 G Fiume/Getty Images
How much did Andruw Jones' bad season cost him? $100 million?
Union-Tribune beat writer Tom Krasovic picked Andruw Jones for NL MVP. So did ESPN's Amy Nelson and John Shea. Jones was coming off years hitting .262, .263, .261, .277, .264 and .261. How many MVP winners do you know who hit .262?
Of course, Jones didn't hit .262; he hit .222 and failed to drive in 100 runs; the Braves missed the playoffs and he didn't get a single point in MVP voting.
Before the season, SI.com's Jon Heyman wrote of Jones, an impending free agent, "It's easy to envision Jones becoming the fourth player, after A-Rod, Derek Jeter and Manny Ramirez, to surpass the $150 [million] mark."
Jones himself told Heyman, "I'm looking for a contract that will keep me here. And if it doesn't happen, someone else will give me the money."
After his lousy season and a growing resemblance to the Pillsbury Dough Boy, it's unlikely anyone will give Jones $150 million -- or even a fraction of that.
But Jones was hardly the only odd MVP or Cy Young pick. San Diego columnist Nick Canepa must have thought the $126 million the Giants gave to Barry Zito was a good deal since he picked Zito for the NL Cy Young; Zito went 11-13 with a 4.53 ERA. On ESPN.com, Phil Rogers picked Bill Hall to win the NL MVP; Hall hit .254 with 14 home runs. On ESPN.com, Pedro Gomez predicted Michael Young would win the AL MVP; Young hit .315, but with only nine home runs, and the Rangers finished last. Gomez, who did not pick Barry Bonds for NL MVP, predicted Mark Buehrle for AL Cy Young; Buehrle, who was coming off a 4.99 ERA and had received Cy Young votes just once in his career, did pitch a no-hitter but won just 10 games and received no Cy Young votes.
Jose Reyes was a popular MVP choice for the NL; after he hit .356 with 18 RBIs in April, some were calling him the best player in baseball. The excitement proved to be premature, as Reyes hit .280, slumped terribly down the stretch (.205 in September when the Mets choked away a big division lead), got booed by his home fans and finished as no better than third-best shortstop in his own division behind Jimmy Rollins and Hanley Ramirez. While four of ESPN's 18 experts picked Reyes for MVP, none picked Rollins, Matt Holliday or David Wright, one of whom will likely win the award.
Should we even get into fantasy predictions? (Hey, if MLB had cheerleaders, this would be a perfect excuse to run a cheerleader photo.) MLB.com predicted Jason Bay would hit 38 home runs with 116 RBIs, totals he had never reached. Rule of thumb: Unless it's a young player, predicting a player to do more than he's ever done can come back to bite you; Bay hit .247 with 21 home runs. MLB.com predicted Chris Carpenter, a good pitcher with a history of arm problems, as the No. 2 fantasy starter; he blew out his elbow in his first start. Rule of thumb when predicting pitchers: Don't overrate those with histories of arm problems. MLB.com listed Prince Fielder as the 15th-best first baseman, projecting numbers of 30 home runs and 90 RBIs, barely better than his rookie numbers of 28 and 81; Fielder, a young player, went 50 and 119. Don't predict a player to do better than he's ever done -- unless he's a young player.
Sports Illustrated listed Jose Lopez as its No. 6 breakout hitter. Lopez dropped from .282 to .252 in batting average, from .319 to .284 in on-base percentage, and .405 to .355 in slugging percentage; he wasn't a breakout player, but he did break Seattle's playoff hopes. SI listed Stephen Drew as its No. 5 breakout hitter; Drew hit .238. SI listed Andy Marte as its No. 3 breakout hitter; Marte hit .193 in 57 at-bats for Cleveland, spending most of the year instead in Triple-A, where he hit .267. SI did list Fielder as its No. 2 breakout hitter, so kudos there. (Wait, this was supposed to be the bad predictions file.) ESPN.com said Drew "could be" Derek Jeter; emphasis, apparently, on "could" -- Drew hit that .238 despite playing in one of the best hitter's parks in baseball. On the bright side, Drew still qualifies as a potential breakout hitter for 2008.
THE YANKEES
Where do we begin? After signing Kei Igawa, Murray Chass wrote in the New York Times, "Although they didn't get Matsuzaka, who is projected as a No. 1 starter some day, the Yankees feel good about filling one of their rotation spots without committing to a huge contract." True, the Yankees only committed to a five-year, $20 million deal, although the Pittsburgh Pirates would probably balk at calling that a tiny contract. Before signing him, Yankees GM Brian Cashman said in a statement, "I'm confident that if we are successful in bringing Mr. Igawa to the Bronx, the Yankees' organization, along with our passionate and diverse fan base, can provide the same type of commitment and excitement that he has become so accustomed to." True, the Yankees' fan base is passionate.
Igawa finished 2-3 with a 6.25 ERA in 14 games (12 starts) with the Yankees, giving up 15 home runs in just 67 2/3 innings. It's safe to say that Yankees fans were about as excited with Igawa as they were with Carl Pavano.
Later, the Yankees would sign Roger Clemens. "Roger Clemens is a winner and a champion, and he is someone who can be counted on to help make this season one that all Yankees fans can be proud of," owner George Steinbrenner predicted in a statement. Clemens couldn't be counted on; he went 6-6, 4.18, and averaged less than six innings per start.
After the Yankees had rallied from a 14½-game deficit to the Red Sox to climb within 1½ games, Chass wrote on Sept. 21, "Now can we talk about 1978?" Not really; the Red Sox held off the Yankees for the division title and then won the World Series.
And perhaps that happened because the Sox didn't sign Clemens. In our pick for best prediction of the year, after the Yankees signed Clemens, Curt Schilling predicted, "It would have been nice to have him, but we didn't need him. I feel like we were a legitimate World Series contender without him."
David Schoenfield is an editor for Page 2.