Commentary
News and notes from around the NFL
As teams end the grueling sessions at training camp and prepare for their season openers, Page 2 scrolls around the National Football League for news and notes.
Note: Some notes may not be factually accurate.
AFC East
Buffalo Bills: Dick Jauron enters his 10th season as an NFL head coach and said he's mentally prepared to finish with his ninth losing season. … Jauron admitted he is "definitely worried" about the offense after getting shut out 17-0 against Pittsburgh, but is glad a team leader like WR Terrell Owens will be returning from his sprained toe. … Shockingly, Steve Christie beat out Scott Norwood as the kicker on the franchise's 50th anniversary team. … The Bills haven't made the playoffs since 1999 and owner Ralph Wilson has said unless the NFL adopts some form of a salary cap, small-market teams have no chance to compete.
Miami Dolphins: Tony Sparano admitted his role in "In the Loop" was an embarrassment and that he'll stay away from acting in the future. … LB Charlie Anderson revealed he got the itch for training camp after receiving a text message from Sparano in mid-July. … WR Brandon London said of Sparano, "That guy is an amazing motivator. He'll text me some type of motivational thing and get me going." … RB Ricky Williams said he's not really into texting and doubts that would motivate him because "I'm always motivated when it comes to football."
New England Patriots: Bill Belichick nearly broke down at a press conference when addressing issues that his team practices too much. … A recent practice came to a standstill when Mrs. Tom Brady and several of her friends showed up. … Belichick shocked reporters by announcing he's going to coach this season in an Armani suit and Fratelli Rossetti ankle boots. … Belichick said he won't miss LB Tedy Bruschi or DE Richard Seymour since, after all, "Athletes are pretty much just pieces of meat that can be replaced. Except for Tom Brady. I love me some Tom Brady."
New York Jets: QB Mark Sanchez sneezed twice in practice. … QB Mark Sanchez told a funny joke to the offensive linemen during a water break. … QB Mark Sanchez texted Lions QB Matthew Stafford to report, "Life is good in New York! They love me here! How are things going in Detroit?" … QB Mark Sanchez walked off the practice field shirtless.
AFC North
Baltimore Ravens: Former coach Brian Billick has a new book coming out, which explains his penchant for punting on fourth-and-short inside the 35-yard line. … Coach John Harbaugh lashed out at fantasy football players, saying, "You're ruining football by not giving more credit to big, fat defensive linemen who plug the middle against the run." … QB Joe Flacco says he's tired of that DJ Gallo guy making fun of his unibrow.
Cincinnati Bengals: The team finally came to terms with its first-round pick, OT Andre Smith, making him the first woman to sign with an NFL team. … With just one winning season since 1990, team president Mike Brown has been complaining that the NFL needs a salary cap to help out the small-market franchises.
Cleveland Browns: The Browns released a bunch of players who probably weren't any good anyway.
Pittsburgh Steelers: QB Ben Roethlisberger said he doesn't expect his ninth chin to hold him back this season. … Coach Mike Tomlin said it "will be hard to repeat in a division that includes the Bengals and Browns, but I believe in my guys." … S Troy Polamalu said the NFL is no longer a "pansy game," but "the embodiment of man in his fundamental state of nature, fighting for turf, battling the enemy, giving life and limb, proving the size of your heart exceeds the strength of your biceps. In shoulder pads, of course. And with the ability to radio in plays to the quarterback."
AFC South
Houston Texans: A lot of people are predicting the Texans as the surprise team of 2009, but don't count on it. … Coach Gary Kubiak listed three keys for 2009: (a) better defense, (b) better special teams and (c) making sure your backup quarterback doesn't barf up the ball three times in the final eight minutes to blow a 27-10 lead.
Indianapolis Colts: The Colts' offense ranked just 15th in total yards, its first time out of the top 10 since 1998, but QB Peyton Manning assured fans that "I still had plenty of endorsement opportunities this offseason." … The cheerleaders normally practice on Tuesday but were given the day off for all their hard work. … Manning immediately questioned if the organization's work ethic is going downhill without Tony Dungy around.
Jacksonville Jaguars: Concerned that all eight of their home games will be blacked out, the Jaguars announced they are relocating to Topeka, Kan., so fans in Jacksonville can watch the games. … With the departure of RB Fred Taylor, RB Maurice Jones-Drew is now the only player on the team you've heard of. … Coach Jack Del Rio has been busy updating his résum&233;.
Tennessee Titans: RB LenDale White drank only water during training camp and recently weighed in at 139 pounds. … The team has built a special locker and shower stall for veteran P Craig Hentrich, who lost 29 pounds in the offseason after sticking to a diet of fresh vegetable juice, protein and fiber powders and other supplements, a regimen that Hentrich says makes "you smell." … QB Vince Young currently ranks 978th on the ESPN.com fantasy ranker, just behind Tim Tebow and Colt McCoy.
AFC West
Denver Broncos: Coach Josh McDaniels drove to practice in a new Chevy Camaro after passing his driver's license exam. … Other than the slight disruption when WR Brandon Marshall cut in line at the cafeteria, it was a smooth training camp.
Kansas City Chiefs: Coach Todd Haley quietly expressed his concern to reporters that, "The talent level here is worse than I imagined, but luckily I have a great offensive coordinator like Chan Gailey to get the most out of these guys." … The Chiefs haven't won a playoff game since 1993, but chairman of the board Clark Hunt said, "At least the Royals are headed for another 100-loss season. That helps take some of the heat off us. So, thank you, Kansas City Royals, for being an even bigger disaster than we are."
Oakland Raiders: The team removed jawbreakers from its candy selection in the locker room, replacing them with Gummi Bears, Fun Dip and candy cigarettes. … Players complaining that training fare late in camp included only soup and oatmeal. … Al Davis signed Usain Bolt to a contract, saying "speed kills" in the NFL. … QB JaMarcus Russell completed a pass in practice yesterday.
San Diego Chargers: RB LaDainian Tomlinson said he expects to have a big year, citing all the NFL running backs who carried the ball more than 300 times seven consecutive seasons yet still maintained their productivity after turning 30. … After breaking Ryan Leaf's team record for touchdown passes last season, QB Philip Rivers signed a $92 million contract extension. … Norv Turner is still coach.
NFC East
Dallas Cowboys: The video display board is too big. Seriously, $1.15 billion and nobody thought to measure the distance from the freakin' scoreboard to the field. … Single-game parking costs are estimated at $75. … Pizzas at the new stadium will cost $60, but are hand-delivered by Jerry Jones and include an autographed Pacman Jones jersey.
New York Giants: Coach Tom Coughlin appeared tan and relaxed all training camp. … Pro Bowl DE Osi Umenyiora left camp for a few hours because he felt like it. … QB Eli Manning's advice to rookie Jets QB Mark Sanchez: "Win a Super Bowl. That will shut up the critics. And keep your shirt on."
Philadelphia Eagles: QB Donovan McNabb has yet to throw up during training camp. … Third-string QB Kevin Kolb declined to talk to reporters, admitting all the media attention on him has been tiring him out. … RB Brian Westbrook may or may not be healthy and he may or may not have been a healthy scratch from a recent preseason game and he may or may not play 16 games this season.
Washington Redskins: RB Clinton Portis was reportedly fined $5,000 after showing up as his latest alter ego, a rich, clueless guy he called "Dan." … QB Jason Campbell played much better after coach Jim Zorn convinced him to try throwing left-handed. … DT Albert Haynesworth reportedly skipped practice after learning that his $100 million contract is not actually guaranteed.
NFC North
Chicago Bears: QB Jay Cutler told reporters that Broncos coach Josh McDaniels is "going to be a good coach. … Just the brief amount of time I was able to spend with him, he's impressive." … Cutler admitted he's feeling pressure to follow in the long line of successful Bears quarterbacks. … Long snapper J.J. Milan saw his NFL dreams end when he was put on waivers. "Do they have long snappers in the UFL?" he asked.
Detroit Lions: Coach Jim Schwartz announced that Matthew Stafford will start at quarterback despite Stafford's lackluster preseason. "I just hope he manages to make a great connection with Calvin Johnson, Charles Rogers and Mike Williams," Schwartz said. … The team is looking for pet models for its 2010 pet models calendar. … Without a winning season since 2000, general manager Martin Mayhew said it would be easier to rebuild if the NFL had a salary cap.
Green Bay Packers: QB Aaron Rodgers sported a spiffy pair of Wranglers all camp. … Obligatory note about the team's nickel package alignment goes here. … Third-string QB Brian Brohm looked awesome in red-zone drills in practice and completed 5 of 8 passes in a two-minute drill, finally alleviating concerns that he can play in the NFL.
Minnesota Vikings: There was no news of significance out of Vikings camp.
NFC South
Atlanta Falcons: QB Matt Ryan has been named the NFL's best-looking quarterback, according to researchers from Ursinus College and Southern Utah University, who report that Ryan's face is nearly perfectly symmetrical, a sign of attractiveness. … Ryan scored at 99.82 percent, ahead of Brett Favre (99.78), Matt Hasselbeck (99.56) and Ben Roethlisberger's nine chins (99.43). … Tom Brady immediately demanded a recount.
Carolina Panthers: The Panthers have installed their own version of the "Wildcat" offense, which consists of five linemen, five tight ends and RB DeAngelo Williams. … The team hasn't had a punter linked to a steroids investigation since 2004. … Jake Delhomme's five-interception performance against the Cardinals was voted the worst playoff performance since the Redskins threw eight interceptions in a 73-0 loss to the Bears in the 1940 championship.
New Orleans Saints: After RB Reggie Bush averaged 3.6, 3.7 and 3.8 yards per carry his first three seasons, Aaron Schatz of Football Outsiders predicts Bush will average 3.9 yards per carry in 2009. … K Garrett Hartley was banned four games after testing positive for working out in the offseason. … The Saints lost six games a year ago by five points or less, so coach Sean Payton said the team has been working on doing better in close games.
Tampa Bay Bucs: The riveting duel between Byron Leftwich and Luke McCown for the starting QB job ended with the team deciding to install the wishbone offense.
NFC West
Arizona Cardinals: The Cardinals have sold 14 more season-ticket packages than 2008 but hold out hope "that we can increase that to 17 or 18 before the season begins," according to a team spokesperson. … Larry Fitzgerald Sr. was on hand to write a column about Larry Fitzgerald Jr. … Coach Ken Whisenhunt said his comment that the team's recent performance against the Packers was "embarrassing" was overstated in retrospect since, after all, "it was only an exhibition game and even NFL coaches know exhibition games don't really mean anything. Heck, look at the Lions. They were 4-0 last year. Anybody who actually puts any weight into exhibition results doesn't know anything about the National Football League."
San Francisco 49ers: With six straight losing seasons, team management has reportedly pushed NFL commissioner Roger Goodell for some sort of system to help increase competitive balance. … TE Vernon Davis impressed scouts with his parallel parking skills. … WR Michael Crabtree tweeted that he hopes to sign soon and begin a "great career, just like Alex Smith."
Seattle Seahawks: QB Matt Hasselbeck said he refuses to draft a division rival like Larry Fitzgerald for his fantasy team, or anyone on the Seahawks for that matter. … Nine-time Pro Bowl OT Walter Jones admitted he's a shell of his former self. … RB Edgerrin James immediately announced his retirement.
St. Louis Rams: The Rams are reportedly still members of the NFC West.
David Schoenfield is an editor for ESPN.com.
SPONSORED HEADLINES
ESPN TOP HEADLINES
MOST SENT STORIES ON ESPN.COM
2009 NFL PREVIEW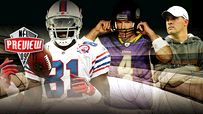 POWER RANKINGS
COMMENTARY/BLOGS
TEAM PREVIEWS
BACKUP QB PLANS
RANKING TODAY'S QBs
Wednesday, Sept. 2: We turned to a former Super Bowl-winning QB to provide a unique take on today's bunch. Trent Dilfer
HOW THEY DO IT
Thursday, Sept. 3: Breaking down AFC offensive, defensive philosophies. Scouts
Friday, Sept 4: Breaking down NFC offensive, defensive philosophies. Scouts
PREDICTIONS
10 BIG QUESTIONS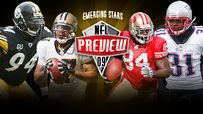 EMERGING STARS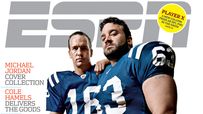 ESPN THE MAGAZINE (INSIDER)
PAGE 2