Single page view
Page 2
Wednesday, October 5
Editor's note: By popular demand of fans, skeptics, Red Sox Nation, retirees and people who love to mock other people, Second Guessing returns for more October baseball.
David Schoenfield: I'm never one to second guess Joe Torre, but I'm a little surprised Chien-Ming Wang was out there to start the seventh inning on Wednesday. I know he'd only thrown 71 pitches through six innings, and I know he hadn't been hit hard, and I know the two base runners got on via an infield chopper and a bunt, but I think you tell Wang, "Thank you, son" after six innings and then hand ball off to Tom Gordon for two innings. And if the game is still tied after that, you have Rivera for two innings.
Jim Caple: You are dead wrong. He'd thrown 71 pitches. And he got in trouble on a chopper off the plate, a bunt and another bunt? Remember, you're tied, and your bullpen isn't so good in the middle and you don't know how long this game is going to last.
David: So why take him out then after one hard hit by Cabrera? He'd still only thrown 85 pitches. My point is this: I want my best pitchers getting the wins and losses. Tom Gordon is a better pitcher than Wang. I want him in there. You should be able to count on Gordon and Rivera for at least three innings combined, probably four, since you have an off-day Thursday. And, sure, maybe the game is still tied at that point. Then you go to the back of the bullpen with Aaron Small or Tanyon Sturtze. But I'd rather get there first, rather than fall behind without ever getting the ball to Rivera with a lead or a tie.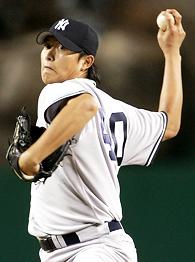 Stephen Dunn/Getty Images
Chien-Ming Wang ran into trouble in the seventh inning, and it cost the Yankees dearly.
Jim: When a starter has thrown 71 pitches and he's going well, you do not take him out. You just don't. You stay with the guy as long as he pitches well, and he was pitching very well.
If you want to take someone out so badly, remove A-Rod for that terrible error that led to a run.
David: You just had to find a way to bash A-Rod in this, didn't you? If this was a regular-season game, I agree 100 percent; you leave Wang in. But you have to manage differently in the postseason. To me, that means finding a way to get the ball in the hands of your best pitchers in the highest-leverage situations. Torre used to be the master of this, but he's been a little shakier in this regard the past couple of postseasons (like when he didn't use Rivera in that extra-innings loss to the Marlins in the 2003 World Series).
Jim: So tell me: Just what about six innings, one earned run, 71 pitches, demonstrated that he wasn't your pitcher at that moment?
After all, you proved the other day in your story that postseason experience doesn't mean much. So that can't be the reason you want Gordon in there.
David: First, let it go on the record that I suggested taking out Wang before the inning started, so I'm not suggesting this after the fact. You're right: he'd been pitching well. But the Yankees played all season to get the ball to Rivera. Heck, you know very well they've played that way since 1997. Wang had a 4.05 ERA. Gordon had a 2.57 ERA (and had thrown just 16 pitches in Game 1). Gordon is the bridge to Rivera, not because he's the "veteran," but because he's better. And now Al Leiter is in the game serving up a home run to Bengie Molina. And Mo is in the 'pen blowing bubbles.