By Dan Shanoff
Page 2 columnist
Chairman Yao? The Ming Dynasty? How about Shanghai Surprise, minus Madonna and Sean Penn?
Chinese prospect Yao Ming has spawned more draft curiosity than any player since a skinny, 6-11 high school kid from Chicago dismantled the prep-to-pro barrier. Now, we've got a real-life version of "The Air Up There II: How Yao Like Me Now?" -- only without the Kevin Bacon factor. But is the hype really deserved? Sure, he showed flashes of game in his private Chicago workout last week for a couple hundred of his closest critics, but when you stack him up with the other tallest of trees who have sprouted throughout the league recently, you get a sense of the, uh, bigger picture: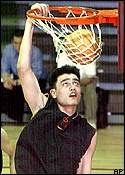 Yao Ming
THE CONTENDERS:
Yao Ming: Top NBA prospect for 2002 draft
Manute Bol: '80s oddity
Shawn Bradley: Mark Cuban's project
Mark Eaton: Utah man-mountain
Gheorghe Muresan: All-time fan fave
---
HEIGHT:
Yao:
7-5
Bol:
7-7
Bradley:
7-6
Eaton:
7-4
Muresan:
7-6
---
FROM:
Yao:
China
Bol:
Sudan
Bradley:
Utah
Eaton:
Utah
Muresan:
Romania
---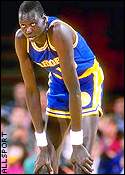 Manute Bol
CAREER STATS:
Yao: 23.4 ppg, 15.4 rpg, bpg n/a (China Basketball League)
Bol: 2.6 ppg, 4.24 rpg, 3.3 bpg
Bradley: 9.5 ppg, 7.2 rpg, 3.0 bpg
Eaton: 6.0 ppg, 7.9 rpg, 3.5 bpg
Muresan: 9.8 ppg, 6.4 rpg, 1.5 bpg
---
CLAIM TO FAME:
Yao:
Likely to be first foreign-developed No. 1 overall pick
Bol:
Teamed with Muggsy Bogues in D.C. freak show
Bradley:
Can't stop getting swung at by opponents
Eaton:
Redefined a center's presence in the paint in '80s
Muresan:
"My Giant." 'Nuff said.
---
MEMORABLE LOOK:
Yao:
Posterizing Chris Christofferson last week
Bol:
Vintage '80s short-shorts on his long, skinny legs
Bradley:
Getting clocked by Walt Williams
Eaton:
That wild red beard
Muresan:
Palling around with Juwan Howard and Chris Webber as part of D.C. couldawouldashoulda "Fab Three"
---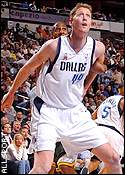 Shawn Bradley
TEAMS PLAYED FOR:
Yao: Shanghai Sharks (CBL), Golden State Warriors (???)
Bol: Rhode Island Gulls (USBL), Washington Bullets, Philadelphia 76ers, Golden State Warriors
Bradley: Philadelphia 76ers, New Jersey Nets, Dallas Mavericks
Eaton: Utah Jazz
Muresan: Washington Bullets, New Jersey Nets, Pau Orthiz (France)
---
GO-TO MOVE:
Yao:
The 15-footer
Bol:
The "Manute for 3!"
Bradley:
The Elbow
Eaton:
The Blocked Shot
Muresan:
The Bunny
---
KEY STAT:
Yao:
Best Chinese player ever
Bol:
NBA-record eight blocks in single quarter
Bradley:
No. 2 overall draft pick, 1993
Eaton:
Astounding 5.56 blocks per game in '84-'85
Muresan:
'95-'96 NBA Most Improved Player
---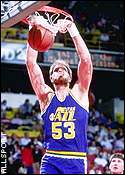 Mark Eaton
NEW NICKNAME:
Yao: Ming the Merciless Marketer
Bol: The One-Manute Man
Bradley: Man Behaving Bradley
Eaton: Eat 'Till You're Stuffed
Muresan: The Human Bobblehead
---
IDEAL POST-PLAYING CAREER MOVIE ROLE:
Yao:
"Crouching Tiger, Hidden My Giant"
Bol:
Alongside Martin Lawrence in wacky buddy-cop franchise, "Bol Boys"
Bradley:
"Space Jam II: Bradley Bugaloo"
Eaton:
Can't you see him in Billy Bob Thornton's role in a remake of "Sling Blade"?
Muresan:
All together now: "My Giant II." You know you want it.
---
IDEAL ENDORSEMENT DEAL:
Yao:
Trade relations between the U.S. and China
Bol:
"Manute Rice" (or, let him loose selling New Orleans Hornets season-ticket packages)
Bradley:
Street clothes
Eaton:
Applebee's (A layup slogan: "Eaton good in the neighborhood")
Muresan:
Wasn't that Snickers "Smells Like Cabbage" commercial enough?
---
NEEDS TO WORK ON:
Yao:
English
Bol:
Unemployment
Bradley:
Puttin' on some pounds
Eaton:
Tutoring young NBA big men
Muresan:
Improving his vaunted foot shuffle
---
WHAT HE LIKES BEST ABOUT BEING TALL:
Yao:
Opportunity to make big dollars for Chinese government
Bol:
All those "How's the weather up there?" jokes
Bradley:
Looking down on billionaire owner Cuban
Eaton:
It obscured the fact that he was kinda scary-looking
Muresan:
Chicks dig it.
---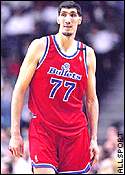 Gheorghe Muresan
VERSUS SHAQ:
Yao: Will be dead meat
Bol: Would have been broken
Bradley: Wanted to mix it up, foolishly
Eaton: Would have been interesting!
Muresan: One of few players Shaq ever had trouble with. No, seriously.
---
WHY THEY COULDN'T DOMINATE:
Yao:
Too soft
Bol:
Too skinny
Bradley:
Too fragile
Eaton:
Too deferential to Mailman
Muresan:
Too slow
---
MOST SKILLED TEAMMATE:
Yao:
Wang Zhi Zhi
Bol:
Bernard King
Bradley:
Dirk Nowitzki
Eaton:
John Stockton
Muresan:
Billy Crystal
---
THING YOU PROBABLY WON'T SEE:
Yao:
Playing anywhere near Memphis
Bol:
Jerry Krause's vision for imposing frontline: Chandler, Curry, Bol
Bradley:
Holding NBA championship trophy aloft to cheers of "MVP!"
Eaton:
Coming out of retirement to play for center-needy Knicks
Muresan:
As lead analyst for new NBA TV package next season
---
FUTURE:
Yao:
To be seen
Bol:
Kind of bleak
Bradley:
Bounced by Kings?
Eaton:
A comeback would be nice
Muresan:
Dominate pro hoops in France
Dan Shanoff is a columnist for Page 2. His "What's Hot, What's Not" trend-spotting list appears Thursdays.