By Dan Shanoff
Page 2 columnist
You've checked out all 65 team pages, ESPN Insider's Tournament Guide and ESPN.com's expert picks. But before you strike Bic to bracket, be sure to check out this list of entry-sheet DOs and DON'Ts -- plus a few other relevant tourney-related rules. You can pass it along to your friends, because you surely don't have anything but pride on the line ... right?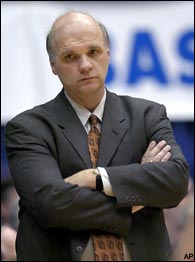 Better watch what you say about St. Joe's around Phil Martelli -- he can get cranky.
DO continue to call them the "East, Midwest, South and West" regions.
DON'T buy into this "call-them-by-the-name-of-the-city-hosting-the-regional-final" nonsense.
DO worry about St. Joe's lack of size. Worry a lot.
DON'T tell Phil Martelli that. He might whup you.
DO seek counsel from that co-worker with the gambling problem. (Um, on second thought ...)
DON'T bother finding out what a "Jasper" is (Manhattan ain't sticking around long enough).
DON'T pick a school because any of the following went there: (a) you, (b) your mom, (c) your fiancée, (d) your boss or (e) all of the above.
DO pick at least one 12-beats-a-5 upset. It's like bracket-picking law.
DON'T take all four No. 1 seeds to the Final Four. Don't even take three. Not only is it inelegant, it's got very little precedent recently. That said ...
The Ethics of Bracket-Picking
Apparently, the same legal and ethical bright line that we're happy to use to trip Martha Stewart and other wayward CEOs doesn't extend to participating in plainly illegal NCAA Tournament office pools.

(Of course, the DOs and DON'Ts in this column are purely for recreational use.)

I'm no lawyer or religious leader, but I do enjoy telling people how to live their lives. You say "busybody"; I say "ethicist" -- and I ethically release you to enjoy two more days of bracket-picking.

Who am I kidding? You're all doing it anyway. Now, about reporting your big winnings on your income-tax forms ...

-- D.S.
DO
believe in "State" schools, in this order of confidence: Oklahoma, Mississippi, North Carolina, Murray, Michigan, East Tennessee. (But DON'T pick Alabama State over Duke.)
DON'T totally fear the chalk. It's easier to laugh at the person who erroneously picks Kentucky to lose early than it is to take the mockery of your co-workers who call you a wuss for conservatively taking UK to the title game.
DON'T buy that "Gonzaga" stuff anymore.
DO prepare a dummy spreadsheet to run on your PC in case your boss walks by your desk and you have to use an emergency "ALT/TAB" to toggle off the ESPN.com running scoreboard.
DON'T read too much into Maryland's ACC Tournament run (beat Wake Forest, NC State and Duke on consecutive days).
DO look for Ashley Judd in the stands at the Kentucky games.
DON'T pat yourself on the back for picking a 9 over an 8.
DO pick at least one "directional" school in the first round (try Western Michigan).
DON'T give away all your Upset Specials.
DO make Rick Neuheisel jokes, as often as possible. And on that note ...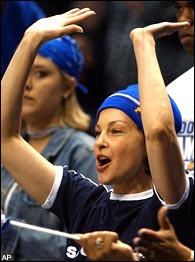 The Minutes doesn't want to be the one to have to tell Ashley Judd that Kentucky will be spending its postseason in the NIT, not the NCAA Tournament.
DON'T participate in an office pool if your employer has "University" in the name.
DO remember that Bobby Knight's "shining moments" in the Tournament came about 15 years ago.
DON'T mock Martha Stewart; the feds could send YOU to the pokey for turning in that bracket (let alone running the pool).
DO remain baffled about what to do with that sick Xavier (7) vs. Louisville (10) first-round game Friday in Orlando. (Whew!)
DON'T ask why Wisconsin gets to play in Milwaukee (or Kansas in Kansas City ... or Wake Forest in Raleigh).
DO hop from bandwagon to bandwagon (no one really knows you haven't been rooting for that unexpected Cinderella the whole time).
DON'T wear your hair like Missouri coach Quin Snyder. (That obviously doesn't work.)
DO go with your gut; DON'T waffle.
DON'T put too much stock in overall record (even though that's the only thing listed on the bracket next to the team name).
DO read Joe Lunardi's Tournament Guide.
DON'T pick against Duke or Kentucky simply because you hate them.
DO schedule a "client meeting" -- out of the office, say, at a sports bar -- this Thursday and Friday from, oh, noon to 5 p.m. (DON'T schedule it where your boss eats lunch.)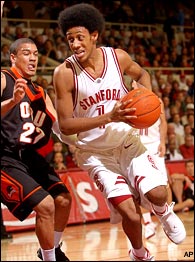 Stanford's Josh Childress could be the star of the tournament -- for his play, and his hair.
DON'T overthink the first-round matchups where you don't have the team getting past the second round; that one pool point just ain't worth the stress.
DON'T pick a team not sponsored by a major shoe company.
DO use a star's fashionable hairstyle as a barometer for projected team success (see 1997 Devin Davis) -- this year, Stanford's Josh Childress.
DON'T fill out your bracket in pencil, which is the weakling's way. Like a crossword puzzle, be gutsy enough to do it in pen. Scratch-outs are a badge of honor. (My Page 2 colleague Eric Neel suggests a Sharpie ... I like it!)
DO accept that your bracket WILL collapse within the first weekend, and when that happens, you need to root like crazy for the next best thing to you winning your pool: all Bracket Hell to break loose.
Dan Shanoff is a columnist for Page 2. His "Daily Quickie" commentary appears every weekday morning on ESPN.com.