By Bill Simmons
Page 2 columnist
You know you're getting old when you're on the clock at a fantasy football draft, sifting through names and stats for picks, and you're distracted by a conversation about baby poop.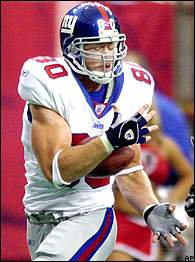 Jeremy Shockey doesn't mean doodie to some of The Sports Guy's pals.
Happened to me two weeks ago, when I convened for my annual fantasy draft with some Connecticut buddies. We were in the eighth round. I was debating between Jeremy Shockey, Qadry Ismail and Peerless Price -- and three of my friends were discussing infant waste product.
"I spend, like, five minutes sifting through it," said Camp, who just had a daughter. "If it's yellow and runny, I'm happy."
"My wife gave me that job too," Sam said. "Poop patrol."
"Wait until they get older," Jim added. "It doesn't smell bad now, but it will ... oh, it will."
"Sorry to interrupt," I said, cringing, "but I'll take Shockey."
Once upon a time, an entire weekend was built around the draft: partying like rock stars on Friday, football all day Saturday, more partying Saturday night. By Sunday's draft, some guys were two steps from death.
One year at Stoner's house, the place reeked so bad his dog left the room. I mean, a room smells bad when a dog has to leave.
ESPN.COM FANTASY FOOTBALL
The NFL season is under way, but it's not too late to get your own Fantasy Football team. You can even draft your team right now with our new Live Draft waiting room feature.
Buy a team | Take the tour
Then we hit our late 20s. Guys started getting married. Picking a weekend that worked was harder than plotting out the actual NFL schedule. Those drinking "binges" became more like "socials." Our annual game started to resemble touch football, "Cocoon"-style. After the draft, guys scurried out of there like they were on a lunch break from work. Draft-day conversations included questions like, "How did you get such a great mortgage rate?" And, yeah, a few guys legally reproduced.
When we hit our 30s, the wheels came flying off. This year's game featured two pulled hammies, with one guy bailing at the half to tend to a pregnant wife. Our drinking downshifted to one night, with four guys no-showing and everyone else heading home just after midnight. Sunday's draft took place outdoors, in Russ' back yard. All we were missing was the croquet set.
Thankfully, we still enjoy drafting players and busting on one another. Fresh off an overnight flight from the West Coast, Stoner picked Jeff Wilkins in the fifth round, prompting a barrage of "We'll buy your red-eye ticket next year" jokes. Wiker's first pick (Curtis Martin) was directly preceded by a black cat strolling into the back yard, setting everyone into a "You're doomed!" frenzy. New dad Camp embraced the "I'm just taking guys I like" philosophy. Sam tabbed Steve McNair in Round 3, prompting everyone else to make sure Sam already paid for his team. I took the enigmatic Ricky Williams, the injury-prone Michael Pittman and the brittle Fred Taylor as my backs, leading someone to predict that Taylor and Pittman would be in the hospital by Week 4, with Ricky unable to visit because of his social anxiety disorder.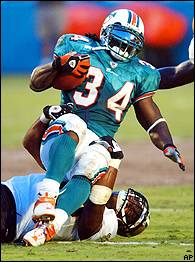 AP Photo/Alan Diaz
Maybe he was distracted by baby talk but despite his better judgment, The Sports Guy drafted Ricky Williams.
Jim snagged Isaac Bruce in Round 3, then admitted, "I've never had him ... I've always wanted him," as if he were talking about a high school crush. Wiker took Trent Green, then jumped out of his seat, pointed at me and yelled, "I like my team, screw you!" But the highlight occurred when Russ' two dogs engaged in a long butt-sniffing contest, seconds after Stoner grabbed Lamar Smith in Round 10. It seemed fitting.
After the draft, we all zipped back to our adult lives. I drove to Boston, impossibly sore from Saturday's game, bemoaning my shaky-looking team, still reeling that Wyman got Rod Gardner just before me in Round 7. When you miss your big sleeper, and your team's destiny rides on the papier-mâché groin of Freddie Taylor ... well, it's definitely not party time in Fantasyville.
The whole day was enough to make me feel like baby poop. And not the runny yellow kind.
Bill Simmons is a columnist for Page 2 and ESPN The Magazine. This column also appears in the Sept. 2 issue of ESPN The Magazine.