By Bill Simmons
Page 2 columnist
Egads! A good three months into the NBA season, I haven't written a single analytical hoops column for Page 2. Not a one. I didn't just hand over my "Page 2 Basketball Guru" belt to Charley Rosen, I rolled over and let him pin me without a fight.
Yeah, I know what you're saying:
Aren't you one of the last 20 NBA fans on the planet? How can you turn your back on your favorite sport? Instead of writing your 15th consecutive "Jimmy Kimmel is my hero" column, couldn't you have pumped out one measly NBA posting? How could you hand over the Page 2 belt to Phil Jackson's buddy like that? Have you no shame???

Can you make a baby?
I don't have any answers for you, just apologies. Sure, there were mitigating circumstances -- like the fact that I changed coasts, gave up my Celtics tickets and went more than two months without DirecTV's NBA package at my disposal -- but that doesn't excuse the callous way I treated you, the home reader. So I'm here to apologize. As an olive branch, I'm offering you a whopping 4,000 words on the NBA from a guy who watches way too much basketball.
All right, all right ... maybe it's not that whopping, considering you were treated to 34,000 words per week from Gregg Easterbrook during the NFL season. But it's the thought that counts, right? By the way, can you tell I'm a little defensive about the fact that Page 2 is surviving without me? Could somebody throw some water on Dan Shanoff? In the time it took me to write this paragraph, he just posted three more columns. And this Eric Neel ... does he warm up for every column by watching the last 15 minutes of "Brian's Song"? And what's up with Jason Whitlock being disgusted by Hugh Hefner's Super Bowl Party? Here's a man who clearly understands his audience -- horny college kids and frustrated guys at work. Next up from Jason: "What does Anna Kournikova have that Lindsay Davenport doesn't?" (By the way, I'm testing out material for the upcoming Page 2 Roast, which really needs to happen at some point. I also spent way too much time in Jeffrey Ross' dressing room last week. Wait, where was I?) We'll tackle the potential playoff teams over the next couple of weeks. Today's column: a look at the Lottery Teams from both conferences, in order from "Not quite good enough" to "Stinkier than my Uncle Bob's feet." What do these teams have in common? They're all potential landing spots for that LeBob guy. You might have heard of him. The high schooler? Is his name LeBob or LeRon? I can't remember. They should really run some more stories about him, I don't know nearly enough about him. Anyway ... Seattle SuperSonics
Along with the Celtics and Magic, one of those "If we're making jumpers, we can beat anyone on any given night" teams, as they proved with victories over the Nets, Kings, Mavs and Spurs this season. Throw them in the East and they're probably a sixth seed right now; in the West, they won't even make the playoffs. Regardless, Sonics fans will consider 2003 a success since they successfully unloaded Vin "Mr. Lightheaded" Baker. Any time you're on the good side of The Dumbest Trade In Sports History, the rest of the season doesn't even matter, does it?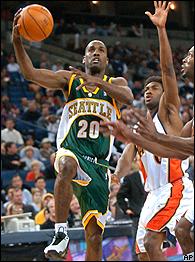 The Glove gets no love in Seattle.
(Hey, you know who else is lightheaded? Me! I have to stare at Vinny's box scores every morning without pouring hot coffee into my eyes. That always makes me lightheaded. 22 minutes, 0-for-2, no FTs, two rebounds, one turnover, six fouls, three three-second violations, two illegal defense violations, three seasons and $43 million to go after this one. Yep. Feeling lightheaded again.)
Since he's probably getting traded this month, let's spend a few seconds discussing
Gary Payton
's tenure in Seattle, one of the more unique NBA careers in recent memory. Remember those first two years, when he struggled and Seattle tried to pawn him off? He never became "GP" until his fourth season ('93-'94), subsequently rolling off nine (and counting) seasons of 19-plus points and seven-plus assists, including a superb '96 season (when the Sonics made the Finals) and a 1999-2000 season where he averaged 24.2 a night. He has been carrying crappy Sonics teams for the past four years. He missed five -- count 'em, five -- games in 13 seasons. And he always has been original and entertaining, even now, as he's edging into his mid-30s. So here's my point: Two more seasons at this level and GP has to be considered one of the best point guards ever, right? So why doesn't anyone ever mention this? Is there another NBA star who slipped more under the radar screen than GP over the years, with the possible exception of Paul Mokeski? Maybe a trade to a contender like San Antonio or Indiana would thrust him back into the limelight. I hope so. New York Knicks
Not much to say here, other than that they're dangerously and improbably close to the eighth playoff spot in the East right now. Also, I just threw up in my mouth. Miami Heat
You have to hand it to Pat Riley. He easily could have seen the writing on the wall when Alonzo Mourning's kidneys acted up, pulled a Jeff Van Gundy and fled the premises. Instead, he keeps coaching this relatively crummy team, almost like he feels guilty for spending a combined $180 million on two guys (Brian Grant and Eddie Jones) who aren't even among the Top 10 at their respective positions. Savvy. Then again, Riles was the same guy who tried to give Juwan Howard $100 million. Have we mentioned that he hasn't won a title without Kareem or Magic? No, I'm not bitter about the '87 Finals or anything.
Three more comments
: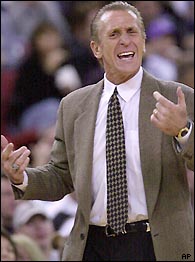 At this point, they should start taking Riley's rings away.
A. Caron Butler ... I have to say, I'm a little disappointed. He's still good for 14-5-4 every night, but I thought he would be lights-out, like "Every five games, he scores 38 points," that type of stuff. Maybe there's still time. But when you watch Miami on TV -- and believe me, I try to avoid it -- he just doesn't look comfortable shooting the ball. Maybe he'd feel better if he played without the electronic tracking bracelet.
B.
It just ain't happenin' for Travis Best, the crunch-time point guard on a team that made the NBA Finals three years ago. Turned out to be the highlight of his career. Frankly, I've stopped trying to figure it out. Always thought he would make it.
C.
There are NBA fans, there are hard-core NBA fans, and then there are the fans who can give you the first names of "M. Allen," "M. James" and "R. Butler." We're an elite group, all 20 of us. Come on, could Charley Rosen come up with "Malik, Mike and Rasual" without calling Phil Jackson for help? I say no. Memphis Grizzlies
I can't beat that Hubie Brown Impersonation into the ground again, right? (Thinking ...) Nahhhhh. But the fact remains, this situation in Memphis has
tons
of upside. They finally snapped Pau Gasol out of his inexcusable funk (he averaged a 23-11 in January). White Chocolate looks as good as he has looked since his rookie season; he's actually in control most of the time, even if he probably gives Hubie a quadruple bypass before everything's said and done. And there are some interesting pieces here for the trading deadline, including Drew Gooden, Stromile Swift and even Gasol, who looks hopeless trying to guard the Duncans and Webbers. Don't forget, unless they win the Lottery, the Pistons get their No. 1 pick this summer ... so they might as well deal for the present. Whatever happens, let's make this perfectly clear:
Something
needs to happen. There are too many quality players in the mix here, none of whom complement one another. And since I have nothing else to add ... I mean, did you
see
that Michael Jackson special on ABC last week? Wasn't that the most absorbing two hours in the history of mankind?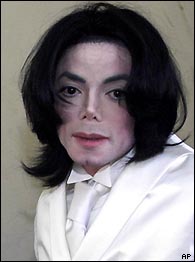 Michael's campaign to unseat LaToya as the "crazy Jackson" is working beautifully.
There was Michael, climbing trees, feeding his veiled baby with milk bottles, denying that he has had anything more than two nose jobs, calling himself Peter Pan, holding his baby over a balcony, fondly remembering the time he shared a bed with the Culkin kids, playing with gorillas, claiming that his white babies had black mothers ... and that wasn't even the most unbelievable part. We met his little buddy, Gavin, just 12 years old, who couldn't wait to tell the story about the time he slept in Michael's bed for the first time. Wait a second ... that wasn't the most unbelievable part. What about every close-up of Jackson's face? What about him claiming that he would jump off a balcony if there were no more children in the world? And we thought Ron Artest was strange.
Toronto Raptors
Way too many injuries. What else can you say? The interesting subplot here is Vince Carter, who couldn't stay healthy for the second consecutive season. Keon Clark had some eye-opening comments last month, killing Vince for being overrated, even pointing out how the Raptors played best without VC last spring (a fact, by the way). It's not like Keon Clark is sitting around taking shots at people; he barely knows where he is half the time. Why would he come out and throw Vince under the bus like that? Makes you wonder about VC, as if you weren't wondering already. Personally, I think he needs a change of scenery -- new team, new country, new everything. The Wizards would be perfect for him. Can you imagine MJ's reaction the first time Vince absorbed a hard foul, then rolled around like he was just shot, then took another 20 seconds to get up? Don't you wish the cap rules weren't so stringent, just so we could see the Wizards and Raptors teaming up on a "Kwame & Stackhouse for VC" trade? Say what you want about Vince, but he's only 26, and it was only two years ago when he was trading hoops with Iverson in one of the best playoff series of the past decade. Even if he freefell out of Kobe-TMac territory, I'm not ready to stick a fork in him yet. He just needs a new team. L.A. Clippers
From my
NBA preview
: "Has any team looked better on paper and more doomed at the same time? They're heading into the season with Michael Olowokandi six months away from skipping town, as well as Andre Miller, Elton Brand and Lamar Odom all hoping for contract extensions. In other words, every man for himself! They might as well stick them all on a sinking ship, then have them fight over two lifeboats." Fast-forward three months ... and the Clips are 17-32. I'm not tooting my own horn here -- after all, I'm the same guy who guaranteed that
Yao Ming would be a stiff
-- just pointing out that this was all pretty predictable. The only surprise? Andre Miller's mystifying decline, which started during the World Championships and carried over into this season; even Mira Sorvino didn't fall this fast. Since I'm stuck in L.A., I watch the Clippers all the time -- I've probably said, "Good God, What the hell's wrong with Andre Miller?" at least 200 times over the past month, to the point that the Sports Gal has banned me from mentioning his name in our house. How can someone go from a guaranteed 17 points and 11 assists a night (last year) to 12 and six (his numbers in January)? His agent must be having a seizure right now. Probably cost himself $40 million over the past six weeks. One more thing: Say what you want about Lamar Odom -- and frankly, it has all been said -- but if the right team signs him this summer and Odom somehow gets his head on straight ... well, I don't even need to say it.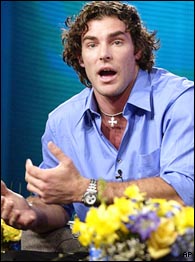 "Wait, you're not giving me $50 million?"
Golden State Warriors
This year's winner of the "Fantasy hoops team sprung to life" award. The Warriors' offense runs through three skill position guys -- Gilbert Arenas, Jason Richardson and Antawn Jamison -- who don't pass the ball (they aren't even averaging nine assists a game conbined). Their only reliable ball-handler is Earl Boykins, all 5-foot-5 of him, which brings me back to one of my favorite theories: Any time an undersized player is logging big minutes, that's always a cry for help. I'm convinced that a team with Boykins at point, Jason Terry at the 2, Clarence Weatherspoon at the 3, Carlos Boozer at the 4 and Juwan Howard playing center would go 0-82, only every guy on the team would have killer stats.
On the bright side, the Warriors feature two of the most intriguing white players in the league. And I'm talking about true white guys, not Euro white guys. Anyway &
1.
No. 3 pick Mike Dunleavy Jr., who has the Joe Millionaire "I hope none of these girls asks me any questions" Face going at all times. I haven't seen anyone look this overwhelmed since the last time I was on TV. Let's see & Jay Bilas, Mark Alarie, Christian Laettner, Danny Ferry, Bobby Hurley, Cherokee Parks, now Dunleavy. Yep, it's official. Beware of any white guys from Duke.
2.
Troy Murphy, quietly averaging a double-double (you read that correctly) and getting on just about everyone's nerves. The Murphy Saga is a very sore subject with my father, who openly campaigned for the Celtics to draft him during The 2001 Debacle -- when Celtics GM Chris Wallace had the 10th, 11th and 21st picks and somehow didn't end up with anyone who's currently contributing to the team, even though Murphy, Tony Parker, Vlad Radmanovic, Arenas, Jamaal Tinsley and Richard Jefferson were all on the board at the time. Well, at least Wallace didn't trade for Vin Baker. Oh, wait a second & A couple more thoughts here, only because I'm fascinated by the Warriors:
A.
Gilbert Arenas -- likable game, good upside, certainly a steal as a second-rounder ... and I can't shake the fact that his team doesn't seem to play well when he's running the show. There's a reason Boykins keeps sneaking in there at crunch time. Just remember I said this when someone signs Arenas for $25 million this summer.
B.
NBA players should always improve in their second seasons, at least in theory. You struggle as a rookie, make your mistakes, get used to the traveling, learn how to fend off the groupies, figure out ways to get your extended family and friends to stop asking you for money, knock up your first girlfriend & by the time season No. 2 rolls around, you've ready to play some basketball. So what the hell's wrong with Jason Richardson? He averaged 14.4 a game last season, shooting 43 percent in 32.9 minutes a game & and this year he's averaging 15.4 a game and shooting 39 percent. Where's the learning curve? And what happened to the guy who used to drive fearlessly to the basket?
C.
Remember when Chris Mills fought with Bonzi Wells, then searched for revenge after the game, even going so far as to block the Blazers bus? Not only was that my "Favorite NBA Incident of the Year," narrowly edging Ron Artest waking up every morning, but it brought us one step closer to the day when an NBA player shoots another NBA player after a game. I'm not even kidding. I wish we could bet on this stuff in Vegas.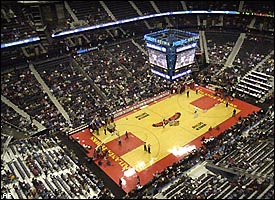 The Hawks average 17 fans and 3,145 posse members per game.
Atlanta Hawks
They're like the poster child for everything wrong with the league (and remember, I like this league): Waves of empty seats, no chemistry, a revolving door at point guard & last month, they brought in some guy named "Wilks" who suddenly started playing in crunch-time for them. They made a big deal about trading for "franchise guy" Shareef Abdur-Rahim two summers ago. Franchise guy? Is he even one of the best 40 players in the league? Has he ever played on a winning team? They made the classic Loser NBA Franchise mistake of overpaying for a college coach -- Lon Kruger, recently canned -- even though it's impossible to remember a college coach succeeding in this league. And they guaranteed their fans that they would make the playoffs, always a mistake. Their fans suck, anyway -- why antagonize them?
Throw in Theo Ratliff inadvertently catching rigor mortis from Dikembe Mutombo, and this Hawks season has been an absolute fiasco. I say this every year, but let's say it again: Can't we get rid of the Hawks? Just merge them with the Nuggets, Warriors, Nets and Clippers and move them all to Vegas? Who's against this? Chicago Bulls
Tons of questions here. Why isn't this team more competitive? Is Jalen Rose happier being The Man on a crappy team than he would have been contributing to an excellent Pacers team? And if the answer is "yes," well, that doesn't reflect too well on J-Ro, now does it? Is there any reason on the planet why someone as talented as Tyson Chandler isn't averaging a double-double every night? Before Marcus Fizer blew out his knee, why weren't contenders trying to trade for him when he was so obviously the next Corliss Williamson? Is Jamal Crawford the next Alvin Williams or the next Keyon Dooling? When Rick Brunson leaves Chicago, heads elsewhere and eventually plays for every team in the league, will they have a halftime ceremony for him or something? And then there are the bigger questions ...
1.
On Opening Night in Boston, my Dad and I watched (the abominable) Eddy Curry get yanked, then proceed to scream and bitch at everyone in the Chicago huddle during a timeout -- it was like watching a little kid who wasn't getting his way. Meanwhile, Jerry Krause was sitting two rows behind us and repeatedly punching himself in the face for passing on Pau Gasol in the 2001 Draft. Good times. Have I mentioned that I miss going to Celtics games?
2.
When will the Bulls finally realize that the triangle offense doesn't work for young players? How many years in a row can this fail ... 20?
3.
I knew Jay Williams would struggle because of the whole "shooting guard trapped in a point guard's body" conundrum, which won't fully be resolved until they start using him like Philly uses Iverson. But his free-throw shooting struggles -- a problem at Duke that snowballed when he blew the Indiana game -- have been killing his rookie season (just 9.2 ppg., 5.0 apg., 37 percent shooting) over everything else. Here's someone with one of the best first steps in the league, a guy who can absorb contact and control his body in the air as good as Marbury or Kidd ... and he has only attempted 93 free throws in 43 games? We're edging dangerously close to the Nick Anderson Zone here.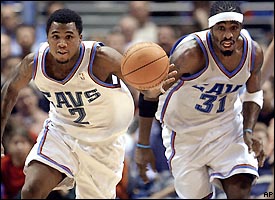 Run Dajuan, Run! Ricky's right behind you!
Cleveland Cavaliers
Remember when they were cruising to the pole position in the LeBron Sweepstakes? They traded Miller for Darius Miles, certainly not a "We're winning now!" move. Nobody batted an eyelash when John Lucas trotted out Milt Palacio and Bimbo Coles as his new point guards (Plan C was Dirk Minnefield). They revolved the offense around Ricky Davis, who makes Rasheed Wallace seem bubbly. They encouraged Zydrunas Ilgauskas to play as many minutes as possible, always a good idea when you're 7-3 with bad wheels. Once the season started, players openly argued on the court. Miles was getting booed. Davis openly campaigned to get moved. Ty Hill bitched with teammates left and right; he hasn't made this many enemies since the last time he played poker with Charles Oakley. Rookie DaJuan Wagner was hoisting up bad shots and having a grand old time.
Yep, Project LeBron was working like a charm. Then ... boom! They fired Lucas. Are you
kidding
me? That's like hiring the skipper from the Titanic to ram your luxury yacht into an iceberg, then replacing him when he's 100 feet away. What else did this man have to do? He delivered dysfunction, disorganization, chaos
and
a losing attitude. What else was left? I don't get it. Now Keith Smart is running the show. If the Cavs are smart, they should tell their new coach to start dropping bowling balls on Ilgauskas's feet during timeouts. Surely, Lucas would have thought of that if they gave him a little more time. One more thing: You can't make blanket statements like "He's the strangest story of the season" in a year that's already includes a 7-foot-5 Chinese guy -- as well as Ron Artest inching closer and closer to the league's first-ever "Flagrant Foul, Level Four: Homicide" -- but there isn't a stranger day-to-day player than Ricky Davis. He's one of a handful of players who simply can't be stopped when he's on -- it's a list of like 12 or 13 guys, and he's one of them. He would be the captain of the "I'll Dunk On Anybody" Team if Amare Stoudemire wasn't around. And he's the meanest-looking player in the league. As an added bonus, Ricky flips out every so often and gets suspended by his own team. Good times! Somebody give this man a sneaker commercial! Denver Nuggets
You have to love Nuggets GM Kiki Vandeweghe, who distinguished himself during last year's draft by speaking to Denver fans like he was filming a Toby Robbins infomercial. He was so smooth and smarmy that you almost forget how he screwed up his picks, grabbing two teenage forwards and somehow passing up on Amare Stoudemire not once but twice. Defend this any way you want -- Nene Hilario looks like the real deal, Stoudemire refused to work out for anyone but Phoenix, there were major red flags about his background, whatever ... Stoudemire is the next Moses Malone. End of story. And Denver passed him up twice.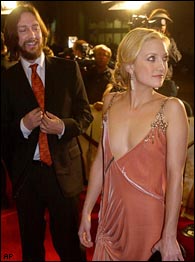 Hey, Chris -- Celebrity Mole called back. They said no thanks.
Wait, it gets better. The season started. New addition Marcus Camby went on the injured list with WATFOitis in his hip (note: WATFO is the acroynm for "What are the f---ing odds?"). Juwan Howard became their go-to-guy, just one more notch on Juwan's belt in his quest to become the Great Bad Player of his generation. Other than Hilario (a keeper) and James Posey (a decent swingman), everyone else belonged in the CBA. And yet they never stopped fighting all season; they're the most overachieving team in the league. If I had a "Coach of the Year" vote, I'd vote for Jeff Bzdelik. Seriously. This is a five-win team that might win 20-25 games. That's not just a good coaching job, that's a miracle along the lines of Chris Robinson bagging Kate Hudson.
So last month, Kiki rewards everyone for playing so hard by giving away Posey -- probably the most indispensable guy on the team -- for Mark Bryant and a crappy No. 1 pick from Philly. Not that I'm against dumping for LeBron purposes, but this was an absolute outrage -- if one of your buddies made this trade in a fantasy league and his blood-alcohol level wasn't at least 2.5, you'd kick him out of the league. Kiki should have just gone the whole nine yards, fired Bzdelik and hired John Lucas. Maybe that's his next move. Anyway, I think the Karma Gods will handle this situation appropriately. What goes around comes around. And just for the record, I think Toronto gets LeBron. Blue-chippers always seem to have a habit of ending up on decent teams that were racked with injuries the previous season: Like Duncan and San Antonio, Yao and Houston, or Ewing and New York. Toronto fits the mold. And the thought of LeBron trying to figure out the Canadian exchange rate ... that's fun for the whole family, isn't it?
Bill Simmons is a columnist for page 2 and ESPN The Magazine, as well as a writer for Jimmy Kimmel Live. He'll examine the playoff contenders in the East and West over the next few weeks on Page 2.