By Bill Simmons
Page 2 columnist
Editor's Note: This column appears in the March 31 edition of ESPN The Magazine.
We all love the same things about March Madness. Like combing through the USA Today team capsules for hours, then filling out that first doomed office pool. Or spending that first weekend in Vegas -- the Mardi Gras for male bonding, everyone wagering on as many games as possible as the casinos sway with every big play.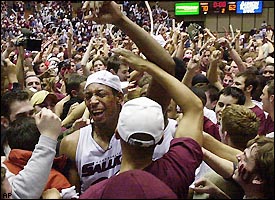 AP Photo/Michael Dwyer
It doesn't get better than a team storming the court.
And then there's the more subtle stuff. Here, in the spirit of our Tournament coverage, are 10 underrated reasons why I love the Big Dance.
1. The Round 1 replay of the Cinderella team draining a clutch shot, followed by their bench guys jumping up and down like girls at a Justin Timberlake concert. Does anyone celebrate better than bench guys on a 15 seed? In my replay pantheon, this ranks up there with "guys jump out of dugout to watch home run."
2. When the Sports Gal comes home Thursday or Friday of Round 1 and asks how I spent my day, I answer, "I watched games." Then she asks what we're doing that night. I respond, "Um, watching games." And then there's that long, awkward, "I can't believe I'm dating (marrying!) this guy" pause before she walks away. It's a family tradition.
3. The string of memorable NCAA games on ESPN Classic, like they decided, "There isn't enough basketball on -- let's make sure no one leaves his house for three weeks." Do you ever tire of Lorenzo Charles and Keith Smart, the Fab Five's box haircuts or UNLV's Larry Johnson looking like he's already 35? Good times!
4. When CBS includes majors in the on-air bios of Final Four players. Who knew you could major in Undergraduate Studies or Letters and Sciences? We're one savvy athletic department away from Breathing and Soup.
5. Seeing the same network promos 675,000 times. After a while, you pray for shills like: "Monday on The King of Queens, Doug chokes to death on a piece of pizza! Followed by Becker, at a special day. This week, Becker suffers a cerebral hemorrhage!"
6. My top pet peeve: CBS' insistence on running men's and women's scores together on their ticker. It is my crusade in life to get them to stop doing this. Don't they realize gamblers everywhere live and die with that ticker? Nobody bets on women's hoops! Couldn't they run the women's scores in pink type or something?
7. I love getting riled up about this: When Billy Packer refers to somebody like Mike Krzyzewski as a "genius." Albert Einstein and Stephen Hawking, move over ... here comes Coach K! Please.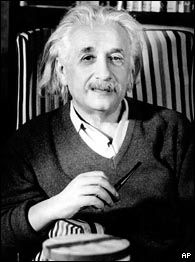 AP Photo/Michael Dwyer
Albert Einstein knows a lot.
8. Cracking on lesser-known coaches. This Tournament is a smorgasbord of cheap dentures, bad toupees and cheesy fashion. They all look like they want to sell you an '83 Impala. I love the uniforms of the lower-profile squads, too. You know, like St. Bonnie's. I'm pretty sure its school color is "poop brown." No wonder they're having all those problems.
9. I have a thing for those random upstart colleges. Jackson State? Who else thinks it should only be allowed to recruit guys with the last name "Jackson"? That's the kind of stuff I'd enforce if I were president of the NCAA, right up there with abolishing Title IX and getting Clark Kellogg to look at the camera.
10. And finally, my favorite March Madness story: Remember the Rhode Island-Valpo game from five years ago, when a smoking-hot Bryce Drew nearly willed Valpo into the Elite Eight. I watched the game with my pal J-Bug at a local Irish bar, the kind of place where everyone jumps on bandwagons without thinking twice. After Drew buried a 3, someone bellowed, "This kid is unbelievable!" I seized the chance to compare him with Jimmy Chitwood. Everyone nodded, but I wasn't sure they understood what I meant.
Later, one of the strangers said, "I think it's about time I started playin' ball again." Without missing a beat, his buddy grabbed a cocktail napkin off the bar, ripped it in half and said, "Coach stays." That was it. For the next hour, we rooted for Valpo, threw down beers and cracked Hoosiers jokes. Yes, Valpo ended up losing; that's not the point. The Chitwood Factor -- a no-name kid takes everyone for a ride-had struck again. That's what I love about March Madness.
Bill Simmons is a columnist for Page 2 and ESPN The Magazine, and he's a writer for Jimmy Kimmel Live.