By Bill Simmons
Page 2 columnist
You know me by now: I couldn't possibly narrow an "underrated movie" list down to just 12 movies. Heck, I couldn't even narrow it down to one group for honorable mention. So here are two sections for you, just so I didn't leave anything out:
SECTION ONE: UNDERRATED MOVIES THAT WERE JUST A TAD TOO POPULAR TO MAKE THE FINAL CUT
1. Secret Admirer
Any time the careers of C. Thomas Howell, Lori Loughlin and Kelly Preston peak in one movie, you know you'll be telling your grandkids about the experience. Bonus points for the dopey '80s plot (the love letter that keeps falling into the wrong hands) and the textbook love triangle (Loughlin loves C-Tom, only he loves Preston). And if that's not enough, Kelly Preston is at her absolute apex in this movie -- maybe the hottest "Generic Hot High School Chick" in Hollywood history. Just a textbook '80s flick all around. It even played the Zabka-esque "Rich Boyfriend Who's A Jerk" card.
2. Bad Boys
After Sean Penn accidentally kills Esai Morales' little brother, Esai responds by violating Penn's girlfriend ... and now they're stuck in the same juvenile detention prison. As plots go, does it get any better than that? This doesn't make the cut only because too many people love this movie. And with reason.
You have one of Penn's best performances. You have the prison guard from Shawshank as one of the bad guys, only with a Bird-Sikma-Ziering blonde mullet perm. You have Poppy from Seinfeld as Penn's mentor in prison. You have the "soda cans in the pillow case" fight scene, as well as the ending (an absolute tour de force). There's just a lot to love here.
(Note: It kills me when TBS shows this and cuts out the section where Penn escapes to go visit Ally Sheedy after the assault -- they rip out something like 15 minutes! That should carry a jail fine. I hate when networks do that.)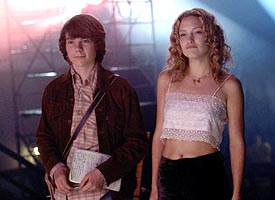 Kate Hudson -- one reason why the Sports Guy loved "Almost Famous."
3. Almost Famous
Underrated for about six months ... then it proved to be the most re-watchable cable movie since "Boogie Nights." I don't have enough time or space to explain why I liked this movie so much. Maybe some other time.
4. Beverly Hills Cop II
Just a tad disappointing when it was released ... now it's aged like a fine wine. Special kudos to Eddie Murphy (right before his fastball started to dip into the mid-80s); the Hugh Hefner cameo; Paul Reiser's astonishing weave; the always-good Brigitte Nielsen (some of her finest work since "Cobra"); and the Judge Reinhold-John Ashton cop combo, which -- inexplicably -- was never spun off into its own TV series. I defy anyone to say that they don't enjoy this movie.
5. The Jericho Mile
We'll deal with this one when I unveil my "Best 30 Sports Movies Ever" list at some point. And just for the record, everyone at Sports Illustrated should be drawn and quartered for what happened in last week's issue. Don't even get me started.
6. American Movie
One of the first vehicles (movies or TV) that grasped the concept of "unintentional comedy." Before its time.
7. Singles
The definitive early-'90s movie. Makes me happy. I'm not sure why I look back at that era so fondly; those were my prime dating-drinking years, only women weren't promiscuous and wore six layers of clothing, plus everyone was terrified of hardcore drugs and unprotected sex. Not good times. I'm getting bitter all over again. Let's just move on.
8. Escape From New York
Misses the cut only because they made a sequel. By the way, I still think they should turn New York into a maximum security prison. It's not too late.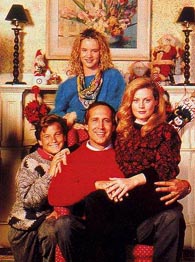 Ahh, the Griswolds...makes you look forward to winter.
9. Can't Buy Me Love
Probably my favorite dopey '80s movie. The rise, fall and redemption of Ronald Miller remains one of the most incredible journeys in the history of filmmaking, right up there with Tony Montana, Michael Corleone and Dirk Diggler. I still can't believe he threw dog crap at the guy from "Children of the Corn"'s house. I may never get over that. And by the way, we've mentioned this before in this site, but Amanda Peterson was a charter member of the Lacey Underall All-Stars -- smoking-hot chicks who burst onto the scene, won everyone over and were never seen again.
10. Christmas Vacation
The last enjoyable Chevy Chase performance. Why don't we put this on par with "It's a Wonderful Life" and "The Grinch That Stole Christmas"? Isn't it a mandatory holiday film at this point? Maybe I'm crazy.
SECTION TWO: UNDERRATED MOVIES I WANTED PUT ON THE FINAL LIST, EXCEPT I LIKED THEM A LITTLE MORE THAN EVERYONE ELSE PROBABLY DID:
1. The Vanishing
Only because of Jeff Bridges. He was like a 25-game winner on a 65-win baseball team in this one.
2. Six Degrees of Separation
Indisputable evidence that Will Smith could have (and should have) been a great actor. You can't blame him for gunning for the A-List ...but still ...
3. And The Band Played On
A made-for-HBO movie tracing the AIDS outbreak in the mid-'80s. Really informative, loaded with great cameos, well-written ... and it's surprisingly re-watchable. I like the acting in this one, especially when Matthew Modine gets carried away with the Red Cross and does the "How many people have to die, huh? One thousand? Five thousand? Give us a number so we won't bother you anymore!" scene. He should have worn his windbreaker from Vision Quest.
4. The Late Shift
Another made-for-HBO movie, the one about the Letterman-Leno battle for Johnny Carson's show. I watch this every time it's on. By the way, the guy who played Letterman also played the ultra-fey dog owner in "Best in Show" (a Hall of Fame 'That Guy').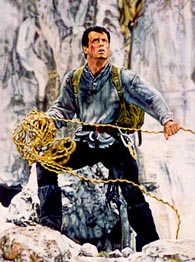 Sly always seems to be bleeding in his movies, doesn't he?
5. Cliffhanger
Stallone's lost classic. He plays Gabe, a mountain rescue worker haunted by the fact that he couldn't save Michael Rooker's girlfriend in a climbing accident. Keep in mind, she was dangling from a rope 300,000 feet from the ground, he shimmied across the rope with no protective gear, then nearly fell to his death trying to save her. Whatever. The whole experience was so traumatic, Sly's girlfriend (Janine Turner, back when she was piping hot) ends up leaving him, but not until she rubs it in with one of those "What happened to you ... maybe part of you died on the mountain that day" scenes.
Within 10 minutes, you know it's headed for the Enjoyably Bad Hall of Fame. I won't spoil the rest; think "Die Hard on a Mountain," only with John Lithgow ripping off the villain from "Die Hard," and Sly fighting everyone in sight, sliding around the mountain and letting out grunt-screams like Errrrrrrrrrrrahhhhhhhhhhhhh!!!!!!' and "Eeeeeeeeeeeeeeeyaaaaaaahhhhhhh!" This movie kills me.
6. Legend of Billie Jean
Fair is fair!
7. Eddie
I'm not proud of this one. Some of the basketball scenes were pretty entertaining, though. Malik Sealy and GP going one-on-one in the projects? Olden Polynice explaining the scientific concept of a black hole between free throws? John Salley sparking the team's big resurgence? Dwayne Schintzius taking the game-winning charge to put the Knicks in the playoffs? Besides, if Terry Porter can be put in charge of his own NBA team, then Whoopi Goldberg coaching the Knicks isn't that improbable.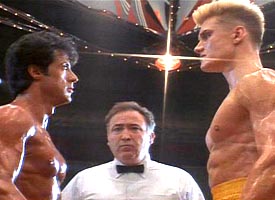 "If I can change ... and you can change ..."
8. Dirty Work
Norm McDonald at his finest. Only about 20 people liked this movie. And that might be generous.
9. Rocky 4, Over the Top, Lockup, Tango and Cash, Daylight, Cobra (6-way tie)
Remember, when in doubt, go with Stallone.
10. Outside Providence
Hey, I loved this movie. You can't go wrong with anything centered around Shawn Hatosy, Amy Smart and Alec Baldwin. The '70s soundtrack was just about perfect. Baldwin was tremendous. The scene at the Pats game was priceless. The Drugs Delaney letter was one of the funniest movie moments of the '90s (I'm not kidding). And when Hatosy and Smart "bond" for the first time ... you really need to be in the right frame of mind to fully appreciate that scene. Good work all around. The toughest omission of all.
Bill Simmons is a columnist for Page 2 and ESPN The Magazine, as well as one of the writers for Jimmy Kimmel Live