By Bill Simmons
Page 2 columnist
Editor's Note: This column appears in the Nov. 10 edition of ESPN The Magazine.
Here's the best thing about writing a column: you can vent. This week, I'm venting. I have two fantasy football teams -- one on the East Coast, one on the West. Both stink. I hate them. I hate the guys on them. I'm filled with hate. Fantasy hasn't ruined my NFL season, it's obliterated it.
I spend Sundays watching nine games at once, hissing things like "Cool, Koren Robinson dropped another pass!" or "It's been 10 minutes since Kerry Collins overthrew someone." I'm beyond sarcastic; I'm vicious. I feel bad about myself all the time. My beloved Pats are cruising toward a division title ... I don't care. My bets pay off ... I don't care. Two crappy Roto teams trump all else.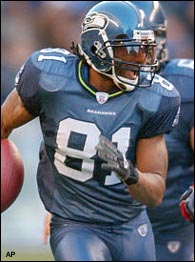 AP Photo
The Sports Guy regrets having Koren Robinson instead of Jamal Lewis.
I blame myself. In August, Springsteen's date at Dodger Stadium clashed with my East league's online draft. I chose The Boss. I spent the morning ranking my top 200 players, then empowered the computer to select the highest guy left on my list in each round. The upshot: I should have had Elgin Baylor pick for me. Robinson over Jamal Lewis? Tom Brady and Collins in the fifth and sixth rounds? Marcel Shipp and Stacey Mack in any round?
My top picks were Edge James and Corey Dillon. In my defense, I didn't get the memo that Edge planned on playing only once a month. I also didn't know Dillon bought Fred Taylor's groin on eBay. Chad Johnson is the one bright spot on a lousy team (like real life!). My friends make offers for him every week. I'm officially That Guy -- the floundering owner who makes others think, "His team sucks so much, maybe he'll be dumb enough to make this trade." At least I get first choice of free agents each week. Dane Looker, I'm coming for you!
My other league is much more painful. My partner Tony and I picked Ricky Williams and Stephen Davis. And if I hadn't just returned from my honeymoon and had been able to do some homework, we might have surrounded them with a decent team. Instead, we jumped on Aaron Brooks and Donte' Stallworth, thinking they were ready to explode. Read that again. We picked Dillon as trade bait. And with Tim Brown and Curtis Conway decomposing, we've spent roughly 750 hours discussing deals. It's all we do. I walk into work, Tony scowls, we talk deals. Lather, rinse, repeat. Tony isn't exactly a calming influence. Once, he screamed, "Someday you'll wake up and realize we have a fantasy team!" Sadly, he was serious.
My combined Roto record through nine weeks: 5-13. It's a nightmare. I'm lashing out at everyone. I'm like the guy from Camp Jim. When someone traded Peyton Manning straight-up for Amani Toomer, Tony and I launched an e-mail campaign to void the trade. We were Norma Rae and Erin Brockovich. Sure, it was the dumbest fantasy trade ever, but did it warrant all the scathing e-mails? Look, when you're scouring the wires, debating Todd Pinkston vs. Andre Davis -- either of whom can start for you -- anything can set you off. 
Like a young Matt Millen, I'm "looking ahead to next season" and hoping to make it to January without committing homicide. At least I've learned some valuable lessons. For instance, never join two Roto leagues. You always end up confused, like the week Brooks threw for 352 yards when I had him and was going against him. Never choose Springsteen over a fantasy draft, especially if his wife is going to pull a Brenda Warner and pretend she's on a par with Little Steven. Never schedule a honeymoon in late August: you miss the preseason stories, and when you go online to catch up, your new wife mutters, "Can we annul this thing?"
If you do decide to field two teams, and Corey Dillon is on both of them . . . hoard the canned goods and prepare for a fantasy apocalypse. And make sure you have a column so you can vent about it.
There. I feel better.
Bill Simmons is a columnist for Page 2 and ESPN The Magazine, as well as one of the writers for "Jimmy Kimmel Live" on ABC. He is pinning hope for future happiness on Marcel Shipp's last two big-yardage weeks.