By Bill Simmons
Page 2 columnist
Editor's Note: This column appears in the Nov. 24 edition of ESPN The Magazine.
Midway through the World Series, I called in for a scheduled ESPN Radio appearance in New York. The producers put me on hold and hurried a caller -- Vinny from Brooklyn (or was it Mario from Yonkers?) -- who was whining about the Yanks like a disgruntled ex-wife. Keep in mind, the Yanks were two wins away from their kajillionth title. Of course, that didn't stop this guy from griping about Soriano and Giambi, questioning Torre's mental faculties and wondering if Aaron Boone should be legally disemboweled. Even more amazing, the hosts seemed to agree with him.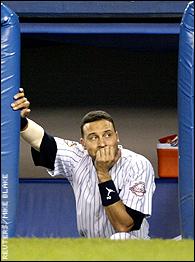 Derek Jeter and Yankee will not go undefeated in 2004.
When I finally made it on the air, I had to clarify one thing: "Wait a second ... aren't you guys in the World Series right now?" You'd have thought it was July and they were 20 games out. Apparently, winning four titles since '96, plus vanquishing the Mets once and the Red Sox twice, wasn't enough.
You shouldn't be allowed to take winning for granted. Look, I'm a Sox fan -- we sit around asking each other questions like, "Would you sacrifice one of your big toes for a World Series?"
If you can't appreciate good fortune, you shouldn't be following sports in the first place. That's why when I become Commissioner of Sports -- and don't shake your head, it could happen -- championship teams will be rewarded with prolonged grace periods. Translation: no bitching for five years from their fans. I'm not saying that competitive fire should shift to cruise control, but, honestly, how can you complain about anything once you get that ring?
Admittedly, nothing feels stranger than those first seasons after your team wins a title. Sure, you want them to keep winning, but the desperation just isn't there. Suddenly, you're shrugging off excruciating losses. You feel stupid for questioning anything, even as your guys are sticking a stamp on the season. Hey, your number just came up in the Lucky Sports Line -- whether you supported the Angels, Ravens, Rams, D-Backs or whomever -- but unless you have Kobe and Shaq, or Steinbrenner's checkbook, you know it won't happen again for a while. C'mon, you won the title. Kick your feet up and relish the next few years. It's like gambling with the house's money.
After my Patriots reached the Promised Land (Feb. 3, 2002), I unveiled a new favorite sentiment: "That's all right, we won the Super Bowl." Those eight words have remained a personal mantra for the past two seasons, even as I continued to follow the team with the intensity of Andrew Shue reading a cue card. A 99-0 defeat to the Dolphins wouldn't faze me. It's like I'd ODed on happy pills. Deep down, I wondered if I'd ever care as much about football again. How can you top climbing Mt. Everest for the first time?
Week 11 Picks
(Home team in caps)

BUFFALO (-7) over Houston
NY Giants (+3.5) over PHILLY
Arizona (+6.5) over CLEVELAND
CINCY (+6) over Kansas City
CHICAGO (+6) over St. Louis
TENNESSEE (-10) over Jacksonville
CAROLINA (-6) over Washington
Baltimore (+6) over MIAMI
Atlanta (+8.5) over NEW ORLEANS
NY Jets (+6) over INDIANAPOLIS
DENVER (-6) over San Diego
TAMPA BAY (-4) over Green Bay
SEATTLE (-10) over Detroit
OAKLAND (+4.5) over Minnesota
Dallas (+4) over NEW ENGLAND
SAN FRAN (-4.5) over Pittsburgh

Last week: 5-6-3
Season: 54-50-3
With that sense of urgency in hibernation, leftover players and coaches from the championship team become like family. You still want them to succeed, but you won't hold it against them if they lose. If only we always felt like that.
This year's Pats team fended off a relentless injury bug, then rattled off five straight wins (and counting), including dramatic turns in Miami and Denver. That Broncos game -- a Monday night comeback, no less -- even left me a jittery wreck, but in a good way. Unlike the recent Red Sox roller coaster ride, it didn't feel like life or death. There was no urgency, and no negativity. That's a good place to be. And hey, if they win again this time, I get five more years tacked onto the three I already have ... that takes me into my 40s!
So for all those ungrateful Yankee fans out there -- at least the few who can read -- put a sock in it. As one of my readers once wrote, rooting for that team is like rooting for the house in blackjack. With 26 grace periods in the bank, you should be walking around with one of those permanently dumb smiles on your face. You know how Michael Douglas looks now that he's got Catherine Zeta-Jones? That should be you. I don't want to hear another peep until the year 2053.
Bill Simmons is a columnist for Page 2 and ESPN The Magazine, as well as one of the writers for "Jimmy Kimmel Live" on ABC. He is pinning hope for future happiness on Marcel Shipp's last two big-yardage weeks.