By Bill Simmons
Page 2 columnist
LeBron James, Bill Parcells and fantasy hoops.
That just
sounds
like a fun sentence, doesn't it? Now you know why I flew back to Boston last weekend. As it turned out, I caught the worst game of LeBron's short career, and the Pats-Cowboys game was a snoozefest (even if we went home happy). But my annual fantasy hoop draft ... now
that
was a winner. In fact, keeping with tradition, I even kept a running diary that's way too long.
Rules of the draft
Ten franchises draft in "snake fashion," so the guy picking 10th in the first round leads off the second round.
Everyone picks 15 players and starts 10 of them (one center, four forwards, four guards, one swingman).
Scoring system: Total points + rebounds + steals + assists + blocks for your 10 starters. Every three weeks, you can change your starters and pick up free agents. All team stats are retroactive to the start of the NBA season.
During the draft, unprovoked attacks, inappropriate comments and vicious putdowns are legal and encouraged.
This year's draft order: 1. The Rookies, 2. The Sull-Bugs, 3. Carver High, 4. Dutch Oven, 5. Coast-to-Coast, 6. George & Louis, 7. Port-O-Jons, 8. The Trinity, 9. The Commish, 10. The Petes.
Three things you should know about this year's draft:
1. Because of various scheduling conflicts, we couldn't hold our draft until the third week of the actual NBA season. That alters strategies. Instead of looking for sleepers like Zach Randolph and Michael Redd, you're wondering if those guys can keep it up. When proven stars like Paul Pierce start slowly, they can drop out of the first round. And you forego the sheer delight of hearing about Elton Brand's broken foot, then taunting one of your friends because they took him in Round 2. (On the bright side, with a few games under the belt, somebody always takes the Quentin Richardsons of the world waaaaaaaaay too early. That's always fun.)
2. I proposed two new rules this year. First, I thought everyone should be required to draft a minimum of three white guys, just so Brian Cardinal and Mark Madsen could realize their dreams of getting taken in a fantasy draft. And second, I thought the stats of Lorenzen Wright and Stromile Swift should be combined into one super-center named "Stromenzen Wrift." Sadly, both suggestions were voted down. Maybe next year.
3. Since we rarely see each other because we live on opposite coasts, my Dad and I decided to team up again for this year's draft (located at our friend Lee's house in a Boston suburb). As far as emotional reunions go, this was somewhere between Springsteen and Little Stevie screaming into the same microphone this summer ... and Philip Michael Thomas appearing on "Nash Bridges." Did we still have the old magic? Did we ever have magic in the first place? Here's what transpired: 4:05 p.m.: All right ... does it get any dumber than a group of grown men crammed into a living room, hiding their homework from one another, arguing over burning questions like, "Is Brad Miller a forward or a center?" I think not. By the way, Dad and I are going with the team nickname "Coast to Coast" this year. Just feels right. 4:15: Just drew the fifth pick. Not bad. We immediately take turns heckling this year's rookie team, the Sull-Bugs (Sully and J-Bug), only because they're using a laptop and snappy computer program to make their picks. Isn't that like bringing your own catheter to a keg race? After drawing No. 2, they already look overwhelmed. J-Bug has Byron Scott's "How Am I Supposed to Coach These Guys without Eddie Jordan?" face going. That leads to this exchange: Me: "J-Bug, you need some water or something?" Bug (staring at his laptop screen, trying to seem confident): "You guys have no idea what's in store for you ... you have no idea." Dad (after a beat): "I think I have an idea."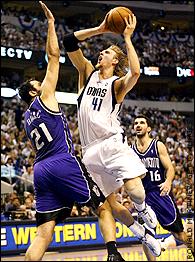 The Sports Guy is counting on plenty of Boogie Nights with Dirk Diggler.

4:22: Duncan and Shaq get taken before KG, who drops to an ecstatic Dave at No. 3. Unbelievable. We go through this every year. KG should always be the first pick unless he's trapped under something. Dutch Oven follows with Allen Iverson at No. 4 (not to be confused with his son, Allen Iverson II, or his new half-brother, Mister Allen Iverson, and no, I'm not making this up).

Now, Dad and I are on the clock. We can't go near T-Mac, not on that crummy Magic team. As much as Baron Davis is playing like Teen Wolf right now, the 5-spot seems high for him. Neither of us can root for J-Kidd. And none of us can stomach the thought of Kurt Thomas or Erick Dampier as our starting center. There's only one choice: We need to go German. That's right ... Der Diggler himself, Dirk Nowitzki. "I've never had him," Dad gushes, as if he's talking about a convertible or something. 4:25: After George & Louis pounce on T-Mac at No. 6, somebody says, "He's got a bad back, he's talking about retiring, and his team is 1-8 ... best of luck!" When the Port-O-Jons follow with Davis, somebody starts a 30-second discussion on the Baron's back, capped off by somebody mentioning that a bulging disk can flare up at any time ... followed by Jon tersely saying, "Thanks for the update." (And yes, in each case, I played the role of "somebody.") 4:28: You know how every fantasy draft gets ruined by the cell-phone guy babbling with his partner who didn't show up? And you're rooting for him to choke to death on a Cheeto by Round 8? Well, in our league, Anthony is Cheeto Choker and Joe House is Cell Phone Buddy. Somehow, they won last year's title, although they lost money in the long run (because the winnings were less than Anthony's phone bill for the draft). Here's my point: This year, House showed up in person. On the bright side, we don't have to endure their annoying cell phone calls. On the flip side, we have to listen to them bitch at one another in person. They're like an old married couple. They just took Jermaine O'Neal eighth (as a forward). And neither seems happy about it. "Somebody's sleeping on the sofa tonight," I joke. Everyone in the room hates me, and we're not even out of Round 1 yet.

Week 12 NFL Picks
(Home team in Caps) BUFFALO (+3) over Indy
Jacksonville (+4) over NY JETS
BALTIMORE (-3) over Seattle
PHILLY (-5.5) over New Orleans
CLEVELAND (-3) over Pittsburgh
San Fran (+5) over GREEN BAY
Detroit (+10.5) over MINNESOTA
Carolina (+3) over DALLAS
HOUSTON (+5.5) over New England
DENVER (-10.5) over Chicago
ARIZONA (+8) over St. Louis
ATLANTA (+6.5) over Tennessee
KANSAS CITY (-11.5) over Oakland
SAN DIEGO (+3) over Cincy
Washington (+6.5) over MIAMI
NY Giants (+5) over TAMPA BAY Last week: 8-8
Season: 62-58-3

4:30: J-Kidd and Pierce wrap up the first round. Three weeks ago, I picked Pierce for MVP on ESPN.com. Now I wouldn't take him at gunpoint. The lesson, as always ... well, you know already. By the way, we're officially in Kobe Range. What does it say about me that I was eight feet away from Britney Spears on the "Jimmy Kimmel Live" set last Thursday night, and I'm twice as excited to see where Kobe's about to go? (Wait ... don't answer that.) 4:33: Kicking off the second round, the Petes take Gilbert Arenas, launching a barrage of "Is this the fourth round already?" jokes. Those never get old. 4:34: Lee takes Marbury, then House & Anthony end the Kobe Watch. It's simply the biggest gamble in fantasy history. He might play 40 games, he might play 80. Nobody knows. On our big board, Lee accidentally writes Kobe down as a forward. "He might play forward on his prison team," someone jokes. Ouch. 4:36: I'll let you guess who just went 14th: "I am humbled and honored to be selected so early in your fantasy endeavor. Being awarded such coveted status feels like a refreshing ocean breeze on a lobster's tail ... "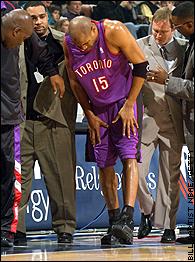 Immediately after the draft, Bill Simmons started waking up in cold sweats, unable to get this image out of his mind.

4:38: After considering Randolph, LeBron and Francis with our 15th pick, Dad and I order a dose of Vin-sanity. We had to do it -- Vince was the only "Tremendous Upside Potential" superstar left on the board. Plus, it's always fun to have the softest guy in the league.

(You're right, you're right ... we should have just flown to Toronto, pulled his groin and gotten it over with. Damn it. What were we thinking???) 4:44: Francis, LeBron, Gasol and Randolph finish off the second round. Will we regret passing on LeBron? Just for historical purposes, shouldn't we have taken him? Why is this already making me uneasy when we're not even in the third round yet? Damn, I can't stand Vince Carter. Do you have that one athlete who just inexplicably rubs you the wrong way? He's mine. Now we have him and a German guy. That's our team. "Are we gonna regret not taking LeBron?" Dad asks me. The words hang in the air. 4:44: I feel ill. 4:47: The Rookies (Willy and Ari, now in their third year) kick off the third round with Zydrunas Ilgauskas. Just 24 hours earlier, I saw the Big Z in person at the Fleet Center -- at no point did I ever imagine that he would be the 21st pick in our draft. I think my exact thoughts were "Wow, he's walking gingerly." 4:52: After Ben Wallace goes about nine picks too early to the Sull-Bugs, Dave (from Carver High) curiously selects Ron Artest at No. 23. He's already on his third Bud Light. "Dave, how's your marriage?" Lee wonders. 4:53: After Dutch Oven gambles on C-Webb, Dad and I follow with Carmelo Anthony, who narrowly edged Darko Milicic on our board because he plays 40 more minutes a game. Sure, maybe it's a little early ... we just wanted a guy on our team that we actually liked. As Dad explains, "We couldn't take Antoine there. I couldn't take another year of looking at those 6-for-23 games. It was bad enough when he was playing for us. I just need a break from him." You won't be seeing that quote in the Mavericks media guide this season. 4:56: Apparently, we entered the "Everyone Just Takes Guys They Like" portion of the draft. For at least the 15th consecutive year, George & Louis grabbed Karl Malone. "I got a little tingle just saying the words," a giddy George announces. Needless to say, the room is in absolute chaos right now. That was the worst decision since Adam decided to room with CT in "Real World: Paris." 4:57: Coming back from the bathroom, Dad looks at the Big Board, notices Karl Malone's name and yelps, "Oh, no!!!!" That was the highlight of the draft so far. 5:00: A run of forwards wipes out the third round: Wallace, Artest, Webber, Anthony, Malone, Walker, Shareef and Stoudemire. Nine picks, nine forwards, 21 years apart. I feel like David Aldridge should be standing next to the Big Board and placing this in some sort of historical perspective. 5:02: After two decent centers (Curry and Thomas) get taken, Joe and Anthony switch gears and gamble on Elton Brand and his broken ankle. For the umpteenth straight year, they're trying to win with a Donut Team. I hate this tactic. It's like somebody refusing to punt in a video game -- even when it works, it leaves a bad taste in everyone's mouth. (One bright spot of the Brand pick: My Dad was able to make his annual "We have their money, right?" joke.) 5:04: I'm starting to like our team. Pining for Michael Redd, we catch a break when Jason Richardson and GP go in front of us. Suddenly I find myself saying, "You know, if Vince comes through this year, we might be in the running." Of course, Lenny Wilkens said these same words last year, and he's mowing his lawn right now. 5:06: Sully and J-Bug just grabbed Steve Nash about 10 picks too early. I'm not sure they agreed on that one -- J-Bug has the Pedro Martinez "I Can't Believe Grady Just Left Me In For 123 Pitches" face going.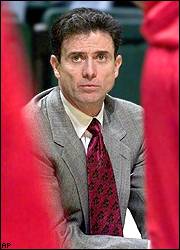 And just to make things really fun, we'll have Rick Pitino draft in the spot after The Sports Guy.

5:07: The Rookies take Billups, launching a three-minute group discussion about Rick Pitino. Remember, the Rick-tator drafted Billups third in '97, then traded him for Kenny Anderson and his onerous (the perfect word!) contract after 50 games. Now Billups is one of the better guards in the league. Amazingly, that wasn't even one of Pitino's top-five worst moves in Boston. "I don't think he could finish in the top half of our draft," Lee says confidently.

(You know my "How much would you pay?" game? I think I'd pay $2,500 to be in the same roto draft as Pitino. Seriously.) 5:08: Dave takes Allan Houston at No. 43, then adds, "Mr. 25, 1 and 1" for emphasis. I love those random fantasy jokes that only other fantasy owners can get. It's like our own little language, isn't it? By the way, if there's a God, Corey Maggette's about to fall to us ... 5:10: Yes! Dutch takes Andrei Kirlienko, who's headlining a Jazz team that could redefine the Ewing Theory landscape as we know it. We happily grab Corey Maggette in front of a bitter George, followed by this exchange: George: "I think we've picked next to you for each of the past five years." Me: "And every year, I was relieved when you picked Karl Malone."

The First 45 Picks
1. Shaq, 2. Duncan, 3. KG, 4. Iverson, 5. Nowitzki, 6. McGrady, 7. Davis, 8. J. O'Neal, 9. Kidd, 10. Pierce, 11. Arenas, 12. Marbury, 13. Kobe, 14. Yao, 15. Marion, 16. Carter, 17. Francis, 18. Lebron, 19. Gasol, 20. Randolph, 21. Illgauskas, 22. B. Wallace, 23. Artest, 24. C-Webb, 25. Anthony, 26. Mailman, 27. Lewis, 28. Antoine, 29. Shareef, 30. Stoudemire, 31. Curry, 32. K. Thomas, 33. Brand, 34. J-Rich, 35. GP, 36. Redd, 37. Dampier, 38. Peja, 39. Nash, 40. Billups, 41. K-Mart, 42. Terry, 43. Houston, 44. Kirilenko, 45. Maggette.

5:15: Wow, I'm liking our team more and more by the minute. I am now convinced that Vince could average 30 a game. Time to mess with Jon, who has the terrified look of a guy who can't stop himself from picking Lamar Odom. I run through all the standard lines, including "Jon, Lamar Odom's on the phone ... he says he really wants to be on your team," and "Jon, it's Lamar Odom again ... he says he hasn't smoked pot in almost four months, and he just wants another chance." Finally, Jon whines, "Don't do this to me!" 5:15: Jon takes Odom. Huge laughs. Dad pats me on the shoulder. He's like a proud father. Literally. 5:15: A giggling Lee asks everyone who has ever had Lamar Odom to raise their hands. Six of us oblige. Then he asks how many of us would do it again. None of us raise our hands. Somebody else mentions how Odom is one puff away from his third strike (and a one-year suspension). And somebody else mentions, "Is there an easier place in the country to buy drugs than Miami?" Needless to say, Jon looks like he's trying to swallow his own tongue. 5:17: Somebody needs to console Michael Finley in the Green Room -- Flip Murray and Quentin Richardson just got taken ahead of him. Wow. (Hey, I forgot to mention that Rasheed Wallace got taken at No. 46! Did you hear his quote last weekend when asked about the rumors that he might get traded to Dallas? "I don't (care) about no trade rumors. As long as somebody CTC at the end of the day, I'm with them. For all you that don't know what CTC means, that's 'Cut The Check'. I just go out there and play. So long as somebody CTC, it's gravy with me." Me, too. Hey ESPN, CTC! I mean it! You want more columns, CTC!) 5:19: Good run on white guys in the sixth round: Divac, Van Horn, Ginobili and Harpring in a six-player stretch. And yes, Dad and I were involved. We took Van Horn at No. 55 to a variety of catcalls and snickers. "Is that jetlag setting in?" Lee asks. Whatever. He's just jealous. (Note: Ginobili is the winner of this year's "Nice Pick!" award, given to the pick who generates the most disproportionate amount of compliments and good will in the room upon selection. Everyone loves Ginobili for some reason. Just for the record, this is never a good sign.) 5:30: Why does it scare me that I'm feeling this good about our team: Nowitzki, Vince, Carmelo, Redd, Maggette, Van Horn ... and now, Mr. Jalen Rose. Better yet, we talked that pick out like good partners should -- now we have seven guys who all play big minutes. "I like our team," I whisper to Dad. He nods in agreement. We are now both convinced that Vince Carter could average 35 points a game. 5:35: Lee takes Troy Murphy. "I needed a white guy," he explains. Oh. 5:36: Kicking off the eighth round, the Petes get Carlos Boozer and a complimentary handful of chest hair. 5:40: Well, it's time. Eighth round ... we need a forward ... we need a token Celtic ... and I need a good plot twist for this column. Dad and I look at each other. After two decades of drafting together, we could practically do this telepathically. "Are you thinking what I'm thinking?" I ask him.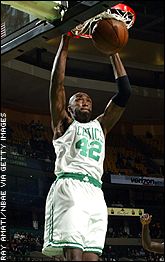 Not everyone at the draft was caught up in the feel-good story of Vin Baker.

Dad suppresses a smile. "It's the right round for him."

"We'll take Vin Baker," I tell the crowd. For about 1.2 seconds, it's one of the most heartwarming stories in the history of fantasy sports. Nobody was a bigger Baker critic than me. I wrote entire columns about the guy. He drove me insane. He was the centerpiece of the worst trade in Boston sports history. When I was debating whether or not to move to Los Angeles last year, the thought of watching Baker at the Fleet Center actually made the "Reasons to Leave" section of my "Pro-Con" list (no joke). As it turned out, Vin says he was drunk every night. Not just some nights ... every night. Now he's sober. And skinny. His legs have some hop again. His deadly fadeaway has magically reappeared from thin air. He isn't just a different guy, he's another guy. The Boston crowd cheers his every move. You can't possibly not root for the guy. Anyway, he needed to be on our team, for the purposes of closure more than anything. And for 1.2 seconds, it feels really good. And just as Dad and I are slapping hands ... "Vin and Tonic is off the board!" a delighted George screams. "Just think," Dave adds, "when he falls off the wagon, it will be like a Double Whammy for you." "Yeah," House chimes in. "You'll have your NBA season and your fantasy season ruined at the same time!" (What goes around comes around.) 5:50: Thank God for the food break. I need to regroup from the Baker-bashing. 6:15: Just spent the past 25 minutes throwing down chili and caesar salad. The Food Break is always dangerous -- you never know when it will wreak havoc with somebody's draft. Stay tuned. 6:20: I notice teammates Joe and Anthony shaking hands. Any reason? As Anthony explains it, they just made a bet about "whether a player we both like will still be there for our next pick." Without missing a beat, Dad replies, "He probably will be." 6:23: We finally lose out on someone we wanted: Carlos Arroyo. Nine rounds into the draft, that's not bad. And yes, I know I made fun of him four weeks ago. Just shut up.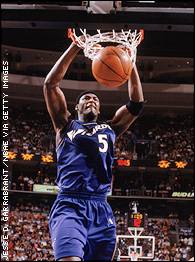 Kwame Brown? Somebody apparently didn't do their homework.

6:25: Lee takes five minutes to pick, rummages through some box scores and comes up with ... Mr. Kwame Brown. The lesson, as always: When somebody is on the clock and frantically scouring last night's box scores, nothing good is about to happen.

6:28: Moments after asking the question "Is there something with the chili like with turkey, where it puts you in a coma?" Lee finds himself on the clock again in Round 11. He's about to take the BAWG (best white guy available -- in this case, Mike Miller). "I just can't believe my next pick," Lee says. "We couldn't believe your last pick," Dad replies. He's officially on fire. 6:30: We follow with Antawn Jamison in Round 9 with Dion Glover in Round 10. "He plays a lot of minutes," Dad says confidently. When I ask him what Glover looks like, he responds, "He plays a lot of minutes." 6:33: Dave wins the booby prize: He just jumped ahead of Dutch's pick to take Al Harrington. I love when that happens. "Crack him another beer!" House says. Dave has been drinking more heavily since he realized 10 minutes ago that Rasho Nesterovic was his starting center. By the way, we're officially in the "Guys Who Aren't that Fun To Take But Always End Up Starting for Someone" portion of the draft -- Eric Snow, P.J. Brown, David Wesley and so on. 6:35: Jamaal Magliore goes to the Sull-Bugs with the second pick of the 11th round. In real life, he would have been in the bathroom for that pick, not expecting to get taken for another 20 minutes. Looks like my "Take Sully and J-Bug out the night before the draft and get them bombed" ploy worked to perfection. Sully hasn't moved in an hour. 6:45: Here's the name of Lee's team this year: Chili Coma. He just took Mark Blount in the 11th round. You read that correctly. "Jeez, I can't believe the silence after that last pick," Lee says, writing it down on the Big Board. "It's an awkward silence," I explain. 6:59: Mired in the 12th round, the draft is getting just plain ugly. Joe and Anthony take Jamal Crawford in the 12th ... and the neck brace jokes start flying. Jon takes McDyess to a barrage of broken kneecap jokes. George announces that he's taking "Alonzo 'My Kidneys Are In' Mourning," and cackles hysterically for 10 straight seconds. It's almost enough to make you wish Grant Hill was still around. There isn't a crueler room in the universe than a roto draft. 7:03: George tells Lee, "This wine's starting to hit me a little." Starting? Four minutes ago, he just said that the only way he would ever draft Alonzo Mourning is if somebody invented a rolling dialysis machine. Meanwhile, Dave just tried to take Vlad Radmanovic about two rounds after he was already taken. Could somebody take away his car keys, please?

Sports Guy's Team
Here's the final product:
Center: Nowitzki.
Forwards: Anthony; Maggette; Van Horn; Baker.
Guards: Carter; Redd; J. Rose; Glover.
10th Man: Jamison.
Bench: Lue; Ford; Szczerbiak; Collins; Bosh.

7:08: Here's why you shouldn't allow computers at a roto draft: The Sull-Bugs just grabbed Doug Christie in Round 13. Maybe he could design them matching purses. By the way, I think Sully has been flat-lining for the past 25 minutes. 7:10: Dad and I grab Wally Z. Everyone groans. Somebody threw his name out a couple of rounds ago, then they ended up not taking him. Somehow he lasted all the way to now. Just a delightful turn of events. I'm now convinced that Vince Carter can average 40 points a game. 7:13: Rummaging through more box scores, Lee wonders aloud, "What's the deal with Elden Campbell?" I mean ... how do you answer that question? 7:15: Dave rushes off to meet his wife for dinner -- he left a list of potential selections for the last two rounds. The odds of us giving him Wang Zhi Zhi or Ruben Boumtje-Boumtje in Round 15 have just been taken off the board in Vegas. 7:20: We take Chris Bosh as our last pick. "I really like him," I tell Dad. "He was one of my sleepers." I am now convinced that Vince Carter is about to break every record in the book. 7:25: Lee tabs Scottie Pippen as his final pick, then explains, "He makes my team look better on paper." And that's no small feat. 7:30: The draft comes to a merciful end. Dad and I shake hands. We just drafted our deepest team in years. There wasn't a single pick that caused an argument. We landed a coveted center (Nowitzki). We took one of the most entertaining guys in the draft (Carmelo). We nailed most of the younger guys on our list, including Redd, Maggette, Bosh and Ford. We're five-deep at both skill positions. We rolled the dice with a couple of upside guys (Jamison and Szczerbiak). We even showed a little faith in Vin Baker. And if Vince can stay healthy ... "I just hope we didn't screw up by not taking LeBron," Dad says. Me, too. But that's the great thing about these drafts ... you never know. I'm just glad I came home. Until next year. Bill Simmons is a columnist for Page 2 and ESPN The Magazine, as well as one of the writers for Jimmy Kimmel Live on ABC.