By Bill Simmons
Page 2
Editor's Note: This column appears in the September 27 edition of ESPN The Magazine.
Should they even play the games any more? What's the point? After the Colts self-destructed-again-against the Patriots last week, Mike Vanderjagt said, "They're clearly not a better team than us."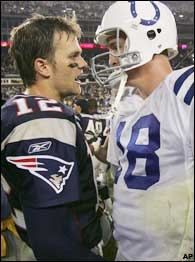 If Brady is only about luck, then he should head straight to Vegas.
Well, I'm glad that's settled. Too bad we don't score football games like ice skating or gymnastics -- just some judges voting on the best performance. Because that's the only way the Colts could actually beat the Patriots right now. It certainly can't happen on the field, not even with the referees allowing less contact than at a ninth-grade prom.
See, I'm old school. I still think the games are played to figure out which team is better. I know it's crazy. I'm dumb enough to take a 16-game winning streak at face value. I watched every Patriots victory from beginning to end -- a span that stretches to last October, back when Shaq and Kobe were still speaking and Howard Dean still had a career -- and they deserved every one of them. You know why? When the game ended, their score was higher than the other team's. That's the only statistic that matters. At least to me.
If you're breaking out a batch of sour grapes, you'd better have a really good reason. Like that South Korean gymnast who was robbed of Paul Hamm's gold medal, or the 1993 Sonics, 1994 Bulls or 1985 Cards, all of whom who were screwed by comically poor officiating. But to complain about someone's good fortune seems petty to me. Fans have a habit of thinking that one side was fortunate because the other side couldn't get it done ... but what is luck? Was Nick Faldo lucky that Greg Norman shot 78 to blow the 1996 Masters, or does Faldo get credit for shooting the 67 that made Norman skittish in the first place?
Here's a news flash: every champion needs luck. What about the Blazers missing 200 straight shots in Game 7 at the Forum in 2000? Ray Knight's ugly bleeder against Calvin Schiraldi dropping over the second base bag at Shea? Mike Eruzione randomly finding that corner against the Russians at Lake Placid? Should we put an asterisk next to every champion who didn't win decisively? Or should we accept that luck is part of the battle? The best players and teams avoid crippling mistakes, take care of business when it matters ... and always seem to get the big break. That's how you win, whether you're Chris Moneymaker, Chaz Noll's Steelers or Hickory High.
Everyone knows Bill Russell's Celtics captured 11 of 13 titles. But unless you're a diehard Boston fan, you probably don't know the 1957 clincher took two OTs, or Frank Selvy missed a title-clinching 15-footer for the 1962 Lakers, or the 1965 Sixers had the ball and a chance to win Game 7, or that Don Nelson's clutch shot bounced high off the rim before dropping in against the 1969 Lakers. All four games could have gone either way, but those Russell teams were like a hot poker player -- the cards kept finding them. At some point, that has to be considered a strength, doesn't it?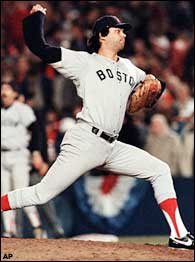 Forget luck. It wasn't just in Game 6 that Calvin & Co. dropped the ball.
And then there's this: as Game 6 at Shea proved, pivotal moments in big games are microcosms of everything right with one team and wrong with the other. The 1986 Sox were haunted by their bullpen all season. They needed three outs to win a World Series and simply couldn't get them. The terrific Milwaukee Bucks teams of the 1980s lost a series of heartbreakers, and only because none of them had a player as good as Doc, Moses or Larry. The 2003-04 Colts have the most talented offense in the NFL, but they can't stop screwing up in big games. Hence, three losses to the Patriots in 10 months.
On the flip side, the Patriots keep winning because their running backs don't fumble inside the 5; their kicker makes crucial 48-yard field goals; their QB raises his game when it matters; their defense always makes one big play when they need it. In short, this Patriots team doesn't beat itself. Throw in a little luck, and you have a 16-game winning streak. Sure, maybe they could have lost some of those games -- I can remember five -- but when it came down to it, their opponents weren't able to take them.
That's sports. And yet we embrace some champions and refuse to believe in others. To explain an abnormal stretch of dominance, we need charms like rally monkeys or homer hankies, or superheroes like MJ or Shaq. We need mystique like Yankee Pride and the Celtics leprechaun, unstoppable offenses like the 1999 Rams, prodigies like Tiger, outdriving everyone by 25 yards.
The Pats have none of that, so there can be only one conclusion: they're the luckiest bastards on earth. Lucky to win the last 16 games. Lucky to win both Super Bowls. They have a lucky coach and a lucky QB. (Did I miss anything?)
Bill Simmons is a columnist for Page 2 and ESPN The Magazine. His Sports Guy's World site is updated every day Monday through Friday.