Single page view
By Bill Simmons
Page 2
Count me among the Red Sox fans who aren't quite ready to start the 2005 baseball season. How can anything top what happened last October? As one of my buddies (who shall remain nameless) joked, "I feel like I woke up after having a threesome with Natalie Portman and Scarlett Johansson, only they're still asleep and I'm pounding the snooze alarm every nine minutes."
I'm not even sure what that means. Somehow, it makes sense. I spent my winter secretly hoping that the steroids saga would morph into a prolonged, unexpected lockout, just to give me more time to appreciate what happened. It was too improbable, too surreal, too magnificent. On Oct. 16, the Sox were getting last rites. On Oct. 27, they were pouring champagne in St. Louis. Remember the book "Thirteen Days," the one about the Cuban Missile Crisis? This one could have been called "Twelve Days." In eight games over 12 days, everything changed.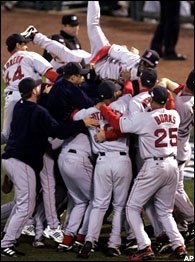 This image may be remembered forever, but everything starts over on Opening Day.
Here's the best way I can explain it: You know how Locke carries himself on "Lost"? He's overwhelmed by what happened, grateful for the ability to walk again, clearly relishing every moment ... and yet he seems a little amused by the whole thing, like he knows it could end at any time? That was me this winter. And yes, I know where this is probably heading. The front office changed too many players from last year's team. The players seem a little too pleased with themselves. The fans seem happy to be embarking on Year 1 of an indefinitely long Grace Period. One of my readers even argued the similarities between the 2005 Sox and the first 25 minutes of "Rocky 3."
I'm just not sure that I'm bothered by any of these things.
They won a World Series in the best possible way: The greatest comeback in sports history (against the Yankees, no less), followed by an immensely satisfying sweep. The following things were immediately rendered moot: "1918," "The Bambino" and the (rhymes with "schmurse"). Now I can raise my children as Sox fans without feeling remorseful that I inadvertently saddled them with 80 years of heartache. I can read a spring training story without thinking, "I hope they don't bring up something negative." I can see someone wearing a Yankee hat without wanting to punch him in the face. I can look forward to the upcoming season without feeling like it's a race against time.
(As I wrote numerous times in this space, true Sox fans worried about dying without seeing a championship, not whether the Babe had put a ridiculous hex on the franchise. When the big day finally happened, it was a little annoying to watch so many writers and announcers belatedly jump on this angle – epitomized by Tom Verducci's SI cover story, which was excellent, by the way. That should have been the angle all along: A baseball team that couldn't get over the hump, supported by millions of fans spread across the country who kept sticking with them. Looking back, did every Fox and ESPN playoff telecast have to start with 435 pictures of Babe Ruth? Couldn't Verducci have written a similarly good story about Sox fans before the Roberts steal happened? I will never understand this.)
This is where the naysayers say, "See, I told you, once they won the World Series, those losers wouldn't know what to do with themselves."
Not exactly. I never thought I would say the words "Thank God for the Yankees," but I'm saying them now. Thank God for the Yankees. As soon as Sunday night rolls around and Yankee fans are booing Boomer, Manny, Damon and everyone else, every Sox fan will snap right into, "All right, it's time to defend the title now" mode. You can't help it. We're natural enemies in the wild. And if it wasn't for them, we would be content playing with house money for the rest of the decade.
Instead of another Dr. Jack breakdown, here are 10 relevant Sox/Yankees questions to ponder heading into Opening Night on Sunday:
1. Did the Yankees really need to get Randy Johnson?
On paper, probably not. If their bullpen hadn't blown leads in Games 4 and 5 of the Boston series, the trade wouldn't have happened. I also thought that A) they gave up too much; and B) they gave up on Javy Vazquez too soon. When I expressed those thoughts to my buddy Jack-O, a diehard Yankee fan and Republican who muttered angrily after the 2004 ALCS, "If Bush loses the election next month, I'm buying a log cabin and becoming the next Ted Kaczynski," he ended up making a pretty good point.