"I know we gave up too much," he said. "I know Javy's probably winning 20 games some day, and I know it looks like George did something just to do something. But we lost Games 6 and 7 at the Stadium – we didn't have one pitcher who could go out there and stop what was happening. You guys had Schilling, we didn't have anyone. Now we have the Unit. You can't put a price on that."
He's right ... you can't.
(Plus, you don't have to worry about putting a price on it, not when your team has a $225 million payroll.)
2. Did the Red Sox tinker with last year's team a little too much?
Not that I'm arguing, since we're in Year 1 of a 500-year grace period and all ... but I thought they made two moves too many. Just indulge me.
The first: Instead of spending $30 million over four years to bring back Orlando Cabrera (the winning shortstop in the 2004 World Series), they spent an extra $10 million for Edgar Renteria (the losing shortstop in the 2004 World Series). Everyone agrees that Renteria is slightly better on paper than the OC – higher OPS, a little more speed, not as much of a free swinger – although I can't remember watching the 2004 World Series and thinking, "Man, if only we had Renteria instead of Cabrera." Throwing in Cabrera's defense, clutch hitting and happy demeanor (remember, he won the High Comedy MVP Award in the post-season DVDs), this was somewhat confusing – like "Curb Your Enthusiasm" replacing Jeff Garlin after the first season with John Goodman because he's a slightly bigger name. Why even bother?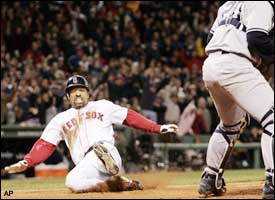 Thanks for everything, Dave ... now turn in your number, we're giving it away.
The second: After Dave Roberts gently requested a trade because he wanted to play every day, the team sent him to San Diego. Now we don't have a proven fourth outfielder/late-inning baserunner/good clubhouse guy, as well as a walking reminder of the most important moment in Red Sox history and someone who would have been A GUARANTEED STANDING $%#%@%& OVATION EVERY TIME HE CAME TO FENWAY!!!!!!!!!! How could this happen? We couldn't have found Roberts 300 ABs this season? Couldn't have given him a million-dollar bonus to stick around? Can you imagine the Pats winning their first Super Bowl, followed by Adam Vinatieri gently asking for a trade because he wanted to kick AND punt ... followed by Bill Belichick trading him for 50 cents on the dollar because he "owed it to him?" Would that ever happen? Seriously, how can you trade Dave Roberts? Why not just throw in the Bunker Hill Monument and the set from "Cheers" while you're at it?
3. After witnessing the greatest choke in sports history, why didn't Steinbrenner blow up this winter like one of the characters in "Glengarry Glen Ross"?
When he was relatively silent for those first few days, I kept envisioning the post-Lufthansa heist murder scene from "Goodfellas," with "Layla" playing in the background as Joe Torre's bloody corpse gets pulled out of a pink Cadillac, followed by Brian Cashman frozen to death in a meat truck. But he kept himself in check, which makes me wonder if George is just plain old and we haven't fully realized it yet. Remember, this is the same guy who hired someone to basically frame Dave Winfield, whose biggest crime was that he wasn't quite as good as Reggie Jackson. Now George is watching the Red Sox celebrate at Yankee Stadium ... and there are no major repercussions? Huh?
(We're sure he's still alive, right?)
4. When the Red Sox started taking shots at A-Rod during the beginning of spring training – tricked by the media into saying some of those things, but still – what was the strangest subplot to that whole thing?
The staggering number of Yankees who stepped up to defend him. In fact, here's the complete list:
Hold on, let's run that same list in Spanish:
Here's what it looks like in Japanese: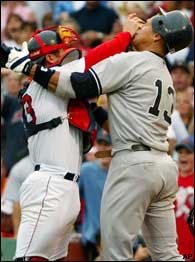 AP
Seems like A-Rod's teammates aren't mad at Varitek as much as they are jealous.
That's right ... zero Yankees stood up for him. ZERO! You could almost picture Jeter reading the morning paper in some decked-out condo in Florida, coming across that day's A-Rod slam and giggling happily to himself. He must have loved it. If we can have a show called "Everybody Loves Raymond," then we should definitely have a show called "Everybody Hates A-Rod." I'm telling you, he needs to pull a P. Diddy and change his nickname to "A-Guez" or "Lex-Ro." He needs a clean slate.